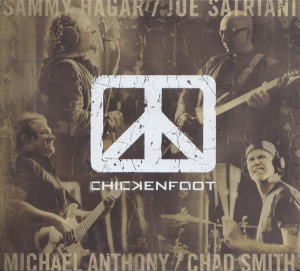 It only saw release a few years back, but hard-rock supergroup Chickenfoot is reissuing their out-of-print debut album with a nice amount of extra tracks.
The incredible pedigree of the band - featuring former Van Halen members Sammy Hagar and Michael Anthony on vocals and bass, respectively, along with guitarist Joe Satriani and Red Hot Chili Peppers drummer Chad Smith - earned a heavy amount of media attention upon first release, particularly as Hagar and Anthony's former bandmates in Van Halen re-recruited David Lee Roth to join them on tour. Don't expect VH clones on Chickenfoot's self-titled debut, though. Smith's kinetic drumming and Satriani's always-virtuosic six-string licks kept hard rock traditions alive while marking new territory for the quartet.
Amazingly, despite its A-list status (and, for a modern rock album, impressive gold record from the RIAA for over 500,000 copies shipped), the album fell out of print in recent years. To remedy this, the group acquired the masters are partnering with the eOne label (who released the band's sophomore disc, Chickenfoot III, in 2011) to expand and reissue the disc.
The double-disc set will feature newly-heard live tracks recorded during the group's Different Devil Tour, in support of Chickenfoot III - all of which seem to be songs from that album - as well as "Bitten by the Wolf," a studio bonus track on import pressings and digital editions of the original album. (No word as to whether or not the new pressing will retain the neat original cover, printed with heat-sensitive ink.)
Hit the jump to pre-order your copy and view the track list. (A hat tip to Ultimate Classic Rock for getting the scoop on this set!)
Chickenfoot: Deluxe Edition (eOne, 2012)
Disc 1: Original LP (released as Redline Entertainment 20091, 2009)
Avenida Revolution
Soap on a Rope
Sexy Little Thing
Oh Yeah
Runnin' Out
Get It Up
Down the Drain
My Kinda Girl
Learning to Fall
Turn Left
Future in the Past
Disc 2: Bonus material
Bitten by the Wolf (bonus track on international pressings - Ear Music 0197542ERE, 2009)
Lighten Up (Live)
Big Foot (Live)
Last Temptation (Live)
Something Gone Wrong (Live)
Tracks 2-5 recorded live in 2011/2012 and previously unreleased