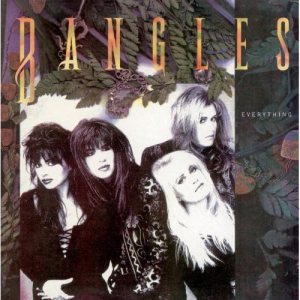 Close your eyes, give us your hand and let's talk about a new reissue of Everything, The Bangles' final album for Columbia Records, from the Cherry Pop label.
Released in 1988, Everything was the latest effort from a band riding high for the past two years. Different Light, released in 1986 (and also expanded by Cherry Pop), had made them MTV superstars thanks to killer cuts like the Prince-penned "Manic Monday" and "Walk Like an Egyptian." The following year, a hard-hitting cover of Simon & Garfunkel's "Hazy Shade of Winter" was the lead single off the Rick Rubin-produced soundtrack to Less Than Zero, the adaptation of Bret Easton Ellis' acclaimed debut novel.
Featuring individual songwriting credits from all four members of the group, Everything was primarily anchored by two tunes from lead singer Susanna Hoffs and pop songwriting duo Billy Steinberg and Tom Kelly ("Like a Virgin," "True Colors," "So Emotional"). The first, rollicking single "In Your Room," was a Top 5 hit, follow-up ballad "Eternal Flame" hit No. 1 in the U.S., U.K. and other parts of Europe, their second and final chart-topper after "Walk Like an Egyptian."
[youtube=http://www.youtube.com/watch?v=tC_VSjBDOz0]
Despite Everything's success, internal tensions led to the band's breakup by the release of a 1990 greatest-hits compilation and single, "Everything I Wanted." In the latter part of the decade, Hoffs reunited with guitarist Vicki Peterson, bassist Michael Steele and drummer Debbi Peterson and released a new album, Doll Revolution, in 2003. Steele departed the group two years later, and in 2011 the group released the album Sweetheart of the Sun with producer Matthew Sweet filling in for her.
Cherry Pop's expanded Everything features three bonus cuts: a non-LP track, "What I Wanted to Say" (the flip-side of "Eternal Flame") and two remixes of "In Your Room." It's out in the U.K. on September 24 and will hit the U.S. roughly a week later.
Hit the jump to place your order!
The Bangles, Everything: Expanded Edition (originally released as Columbia 44056, 1988 - reissued Cherry Pop CRPOP110 (U.K.), 2012)
In Your Room
Complicated Girl
Bell Jar
Something to Believe In
Eternal Flame
Be With You
Glitter Years
I'll Set You Free
Watching the Sky
Some Dreams Come True
Make a Play for Her Now
Waiting for You
Crash and Burn
What I Wanted to Say (B-side to "Eternal Flame" - Columbia 38-68533, 1989)
In Your Room (12" Extended Version) (12" A-side - Columbia 44-08170, 1988)
In Your Room (7" Remix) (single A-side - Columbia 38-08090, 1988)