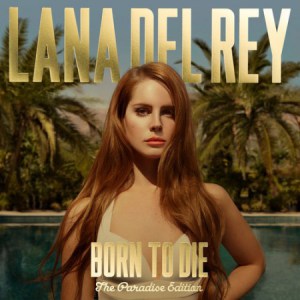 Hey, remember Lana Del Rey? The pouty-lipped, perpetually dazed young lady responsible for some vaguely ineffectual chamber pop and the most histrionic vortex of critical backlash of the year - possibly of the nascent century? Back when we weighed in on her, we did so because there was talk of reissuing some of her early independent works through her contract with Interscope.
Well, it looks like we are indeed getting a reissue from the erstwhile Lizzy Grant, and holy cow, you guys. Her debut LP Born to Die, which features the U.K. hit "Video Games" and other assorted hazy songs about being a devil-may-care youth in a large metropolitan area, is getting grotesquely expanded for the holiday season, with a new almost-album of extra material and, in some cases, a CD/DVD/vinyl box set! What?!
Hit the jump to read on and determine whether or not you should buy the box set to impress someone you know who works at H&M.*
*This is speculative.
Born to Die: Paradise Edition features the original LP that drove some music critics insane for seemingly no reason, appended with three bonus tracks. Those tracks appeared on another deluxe edition of the album released in the U.K.; two of them appeared on the album configuration exclusive to Target stores in America. Then, there are eight extra tracks (nine if you order it from iTunes) on a separate disc called Paradise, also to be released separately, including new singles "Ride" and an oddly appropriate cover of Bobby Vinton's "Blue Velvet," and at least one re-recorded old track, "Yayo," which appeared on Del Rey/Grant's independent debut EP and subsequent LP.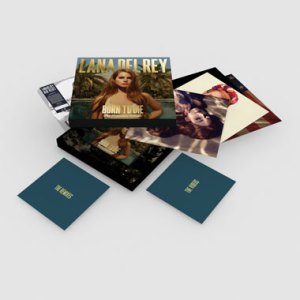 Now, for those Lana Del Rey superfans out there, there's a box set edition of Born to Die: Paradise Edition which will feature those two discs plus a third CD of remixes (most of which have been released on various singles around the world), a DVD of music videos and a picture-disc vinyl single including "Blue Velvet" with a remix of the same track.
All these sets are due out on November 12. Amazon links aren't live yet, but you can get the box directly from Universal here.
Born to Die: Paradise Edition (Interscope, 2012)
Disc 1: Expanded LP (originally released as Interscope B0016425-02, 2012)
Born to Die
Off to the Races
Blue Jeans
Video Games
Diet Mountain Dew
National Anthem
Dark Paradise
Radio
Carmen
Million Dollar Man
Summertime Sadness
This is What Makes Us Girls
Without You
Lolita
Lucky Ones
Disc 2: Paradise
Ride
American
Cola
Body Electric
Blue Velvet
Gods & Monsters
Yayo
Bel Air
Burning Desire (iTunes bonus track)
Disc 3: The Remixes
Video Games (Joy Orbison Remix)
Video Games (Omid 16B Remix)
Born to Die (Moodymann Remix)
Born to Die (Gemini Remix)
Blue Jeans (Gesaffelstein Remix)
Blue Jeans (Penguin Prison Remix)
National Anthem (Fred Falke Remix Edit)
National Anthem (Tensnake Remix)
Disc 4: DVD - the promo videos
Video Games
Born to Die
Blue Jeans
Blue Jeans (Lana Del Rey Clip Version)
National Anthem
Summertime Sadness
7" vinyl: Blue Velvet b/w Blue Velvet (Penguin Prison Remix)
Disc 1, Tracks 13-15 released on deluxe edition (Polydor 2793087 (U.K.), 2012).
Disc 1, Tracks 13-14 also released on Target-exclusive edition (Interscope B0016454-02, 2012)
Disc 3, Track 1 released as Interscope single A-side INTR-12736-7, 2011
Disc 3, Track 2 released on digital EP (Stranger Records, 2011)
Disc 3, Track 4 released as Interscope single B-side B0016702-21, 2012
Disc 3, Tracks 5-6 released on Polydor 12" single 371 080-7 (FR), 2012
All other tracks on Disc 3 previously commercially unreleased