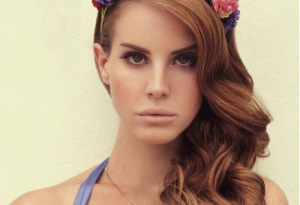 Although we make our claim as tireless reporters on all things in the catalogue music world, we at Second Disc HQ are music lovers first and foremost, regardless of the era. So it gives me a bit of weird pleasure to speak a little bit out of the usual comfort zone for a second and talk about one of pop music's weirdest current trend stories, which actually, tenuously, has some ties to our usual reportage.
If you're a voracious consumer of all topics musical, you've probably read anywhere from one to a thousand words on Lana Del Rey, whose major label debut Born to Die was released this week. If you haven't, here's her story in a nutshell: her brooding, densely arranged pop and Nancy Sinatra by way of Nico vocals made her a darling of tastemaking blog Pitchfork last summer, when hypnotic single "Video Games" was released. In due time, a massive amount of backlash ensued: Del Ray was previously known as a more sensitive singer-songwriter type named Lizzy Grant, the daughter of a magnate in the Web domain name business (seriously, you can't make this stuff up) before she changed her name (and, some would argue, her appearance, with a fuller set of pouty lips springing seemingly out of nowhere) and signed a deal with major label Interscope Records.
[youtube=http://www.youtube.com/watch?v=HO1OV5B_JDw]
Over time, the backlash spun into a demented maelstrom of hype and antihype, the likes of which pop culture has arguably never seen. The U.K. embraced her almost immediately - "Video Games" peaked at No. 9 - while the music press continued shredding her for her appearance, her bizarre live stage presence (exemplified in a not-that-great performance on Saturday Night Live) and just about anything under the sun. The blog Hipster Runoff turned into a one-stop shop for all nutty analysis of Del Rey.
What made the whole ordeal maddening was twofold. First of all, the controversies were dissected far away from the eyes of mainstream music listeners. (Very few personal friends were fully aware of her existence until weeks after the discussion reached fever pitch.) Second, the discussion almost completely ignored the music, most of which was only partially heard through videos Del Rey uploaded to YouTube. Taking the music into consideration, it's rough around the edges but not worth all the excoriation. In some places, it's actually rather good - Del Rey's shapeshifting voice and strangely evocative lyrics need some work, but the busy, hip-hop-lite arrangements and dreamy chord changes are signs of promise.
So what, then, does this have a damn thing to do with The Second Disc? It turns out the "first" Lana Del Rey - released in 2010 on the 5 Points label under "Lana Del Rey a.k.a. Lizzy Grant" - might be reissued some time this summer. (Del Rey bought back the album from the label, theoretically for the very purpose of giving Interscope something else to sell.) So hopefully everyone will have their opinions together on the new album by the time the old one comes back out.
Have you heard Del Rey's new album? Does the amount of hoopla over the whole thing bother you? What do you think? The Lana Del Rey a.k.a. Lizzy Grant track list, with links to hear the songs, is after the jump.
Lana del Rey a.k.a. Lizzy Grant (5 Points Records (digital), 2010)
Queen of the Gas Station
Oh Say Can You See
For K Part 2
Jump
Mermaid Motel
Raise Me Up (Mississippi South)
Pawn Shop Blues
Brite Lites
Put Me in a Movie
Smarty