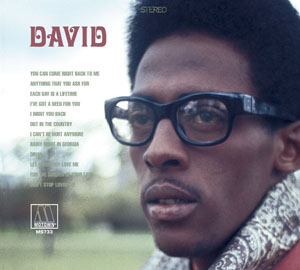 Two new releases from Hip-O Select are on the horizon: one closing the book on a trumpeting legend at a beloved jazz label, and one reissue spotlighting one of Motown's most underrated voices.
First, the Motown news: David Ruffin's self-titled, unreleased LP is coming back to the CD format. David was intended for release in 1971 and featured songwriting and production from the brightest stars on the roster at the time, including Henry Cosby co-writes "Each Day is a Lifetime" and "I Can't Be Hurt Anymore," Smokey Robinson-aided composition "Dinah," and covers of The Jackson 5's "I Want You Back," Stevie Wonder's "Heaven Help Us All" and Tony Joe White's "Rainy Night in Georgia."And yet, the passionate David was surprisingly shelved in favor of a duet album between David and his brother Jimmy.
Outside of two singles from the album sessions, David wouldn't see a release until 2004, when the original 12-track album, four single mixes and seven session outtakes were released by Select. That release sold out its original pressing of 3,500 copies; due to popular demand, another 2,000 units of the expanded program is finally being repressed to CD with all the same notes (the only packaging difference is the original digipak being replaced with a standard jewel case). Special thanks to super reader Jonathan Peters for the tip!
After the jump, take a look at Select's latest project for Clifford Brown, featuring the vocal talents of Sarah Vaughan, Helen Merrill and Miss Dinah Washington!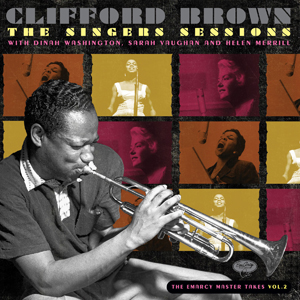 Clifford Brown's prowess as a trumpeter far outlived the man himself. Brown died in a car crash in 1956, leaving only four years' worth of work in the jazz genre. But what work it was! Brownie, as trumpet player for his hard-bop quintet with Max Roach and Sonny Rollins, was as articulate and harmonic a player as they ever found, and he spent much of the end of his career playing sessions for one of Dinah Washingston's first long-playing records, as well as the first of Sarah Vaughan's and Helen Merrill's for the format.
Verve Select's The Singers Sessions: The EmArcy Master Takes Vol. 2, a sequel to the first such volume from 2009, showcases the final takes of those sessions - 29 in all. Two discs find him backing Dinah on standards like "I've Got You Under My Skin," "You Go to My Head," "I'll Remember April" and others, then a final CD collects the Vaughan and Merrill LPs. For this set - the first time all of this work has been available under one roof - all tracks have been newly-mastered, and the hardback book package - limited to 5,000 copies - features rare photos and new liner notes by author Aaron Cohen.
Both titles are available to pre-order direct from Select; David has a retail release date of next Tuesday, October 9 while the Clifford Brown box is available
David Ruffin, David: The Unreleased LP and More (originally released as Hip-O Select/Motown B0002509-02, 2004 - reissued 2012)
Each Day is a Lifetime
I Want You Back
Out in the Country
You Can Come Right Back to Me
I Can't Be Hurt Anymore
Rainy Night in Georgia
I've Got a Need for You
Anything That You Ask For
Let Somebody Love Me
For the Shelter of Your Love
Dinah
Don't Stop Loving Me
It's Gonna Take a Whole Lot of Doin'
I Want Her to Say It Again
Your Heartaches I Can Surely Heal
Get Away Heartbreak (Keep On Moving)
You Make Me Do Things I Don't Want to Do
Mountain of Memories
Heaven Help Us All
Each Day is a Lifetime (Mono Single Mix)
Don't Stop Loving Me (Mono Single Mix)
You Can Come Right Back to Me (Mono Single Mix)
Dinah (Mono Single Mix)
Tracks 1-12 intended for Motown LP 733 (cancelled), 1971
Track 1 first released on The Best of David Ruffin: 20th Century Masters - The Millennium Collection (Motown , 2000)
Track 2 first released on Motown Sings Motown Treasures (Motown 314 530 960-2, 1998)
Track 9 first released on The Ultimate Collection (Motown 314 530 959-2, 1998)
Tracks 20-21 released as Motown single M-1178-F, 1971
Tracks 22-23 released as Motown single M-1187-F, 1971
Clifford Brown, The Singers Sessions: The EmArcy Master Takes, Vol. 2 (Hip-O Select/Verve B0016096-02, 2012)
Disc 1: Dinah Washington
Introduction by Bob Shad
What is This Thing Called Love?
I've Got You Under My Skin
No More
Move
Darn That Dream
You Go to My Head
Disc 2: More Dinah Washington
Medley #1: My Funny Valentine/Don't Worry 'Bout Me/Bess, You is My Woman Now/It Might As Well Be Spring
Lover Come Back to Me
Medley #2: Alone Together/Summertime/Come Rain or Come Shine
Crazy He Calls Me
There is No Greater Love
I'll Remember April
Disc 3: Sarah Vaughan and Helen Merrill
Lullaby of Birdland
April in Paris
He's My Guy
Jim
You're Not the Kind
Embraceable You
I'm Glad There is You
September Song
It's Crazy
Don't Explain
You'd Be So Nice to Come Home To
What's New
Falling in Love with Love
Yesterdays
Born to Be Blue
'S Wonderful
Disc 1, Tracks 2 and 5-6 and Disc 2, Track 1 released as Jam Session (EmArcy LP MG-36002, 1954)
Disc 1, Tracks 3-4 and 7 and Disc 2, Tracks 2-3 and 5 from Dinah Jams Featuring Dinah Washington (EmArcy LP MG-36000, 1954)
Disc 2, Tracks 4 and 6 released on Jams 2 (EmArcy EP 195J-2 (JP), 1983)
Disc 3, Tracks 1-9 released as Sarah Vaughan (EmArcy LP MG-36004, 1954)
Disc 3, Tracks 10-16 released as Helen Merrill (EmArcy LP MG-36006, 1954)