"I'm not kidding myself. My voice alone is just an ordinary voice. What people come to see is how I use it. If I stand still while I'm singing, I'm dead, man. I might as well go back to driving a truck."
Though Elvis Aron Presley's vocal instrument was one of the greatest in the entirety of American popular music, the singer wasn't simply being modest.  Whether threatening staid fifties culture in a pair of tight pants, shaking his famed pelvis, or taking to the Las Vegas concert stage in gold and glitter, Elvis knew he was more than the sum of his parts, an entertainer in every aspect.  And by 1972, nobody would have dared describe any quality of Elvis Presley's as simply "ordinary."  Hence The New York Times' headline proclaiming the once and future King as a "prince from another planet" describing his sold-out stand at Madison Square Garden.  His brief engagement at the Garden quickly became the stuff of rock and roll lore, the return of the prodigal singer to the Big Apple after an absence of fifteen years.  During that period, the rock-and-roll pioneer had served his country, starred in a string of Hollywood hits and most recently been reinvented as a Las Vegas headliner.  These were also Presley's first (and as it would turn out, only) New York concerts; the earlier appearances were all television broadcasts.
One week following Elvis' concerts, an album chronicling the event was released.  It went triple-platinum.  Forty years later, Elvis as Recorded Live at Madison Square Garden has gained a new mix, a new title and a new lease on life as Prince from Another Planet: Elvis as Recorded Live at Madison Square Garden  - 40th Anniversary Edition from RCA and Legacy Recordings (2 CDs/1 DVD, 88697 195388 2).  Produced by Rob Santos and Ernst Mikael Jorgensen and with the inclusion of newly-discovered video from the Garden, it's even more electrifying than before.
Elvis sold out four shows at the Garden, the first artist to do so.  The concert presented on the original album was from Saturday evening, June 10, 1972. That day's afternoon performance was also recorded, though it wasn't issued in full until 1997's An Afternoon in the Garden. Prince from Another Planet pairs both albums for the very first time, with key sonic upgrades:  Michael Brauer has remixed both shows, and Vic Anesini has mastered the two CDs.  As a result, both shows have more vivid presence than ever before.
But the main attraction of this anniversary reissue is the three-segment DVD component, available only in the box set edition.  What will you find here?  Hit the jump for that, and more!
A 25-minute documentary sets the stage, featuring recent interviews with journalist, guitarist and concert attendee Lenny Kaye; TCB Band members Glen Hardin and James Burton; Elvis' pal Jerry Schilling; musical director Joe Guercio; and MSG photographer George Kalinsky.  All reminisce fondly about the concerts, with Burton and Hardin both stressing that these performances were a pinnacle of Elvis' live career with regard to his singing as well as the musicianship of the band.  The concerts, with a $10 ticket price for orchestra seating ($7.50 and 5.00 for lesser seats, natch) and a simple, bare stage that would hardly pass muster at today's rock extravaganzas, are remembered by Kaye as an appearance by "a god" at "Mt. Olympus."  He eloquently speaks of Presley's "aura," in which viewers, too, can bask on the DVD's next two features.
NBC New York's footage of Colonel Parker's press conference trumpeting Elvis' MSG stand has been included.  Elvis and his father Vernon Presley are on the dais at the New York Hilton, taking questions from local reporters. An exceedingly polite Elvis smiles a lot, but despite his well-mannered, genial nature, his savvy is apparent.  He's careful throughout the conference not to express any personal or political views despite the journalists' prodding, and pokes fun at his flamboyant garb as well as his once-dangerous persona: "Man, I was tame!"  His observation that "the image is one thing, and the human being is another" still rings true today, and though he deflects the questions about women's liberation or the Vietnam war, the 10-minutes of conference highlights still offer a glimpse of the man behind the jumpsuit.
Most remarkable, though, is the newly-discovered concert footage shot on a handheld camera that Legacy has acquired.  This film of the afternoon show has been synched with the concert audio and released in full as the centerpiece of Prince from Another Planet.  Elvis may have been playing a role as entertainer, but it's impossible to doubt that you're seeing the real man when you watch this stunning performer at work, establishing what seems like an intimate bond with an arena audience of thousands.  As the roughly 20 minutes of footage covers numerous moments in the hour-long show, the presentation is unusual: the entire concert audio is presented in 48/24 PCM Stereo, and the screen simply goes black when the footage drops out.  So while two-thirds of the concert isn't available visually, it's worth the time to watch the entire hour for the electrifying film which might just be a few seconds of one song, or a near-complete performance of another.  (For those keeping score: you'll find footage of "That's All Right," "Never Been to Spain," "Proud Mary," "Suspicious Minds," "Polk Salad Annie," "Heartbreak Hotel," "Reconsider Me," "Hound Dog," "I'll Remember You," "An American Trilogy" and "Funny How Time Slips Away.")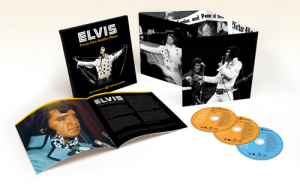 There's some brief and interesting footage of the exterior of the venue (the "Center" has been dropped in the ensuing years from the "Madison Square Garden Center" entrance signage) but all eyes are on Presley when he enters the frame.  With a supremely assured swagger that lasts the entire concert length, he stabs the air emotively, gyrates, and even does a dance step or two when the spirit moves him.  Some might be surprised at just how lithe and animal-like he is as he prowls the stage; many today still associate the larger-than-life, jumpsuit-clad Elvis with the out-of-shape performer he later became.    Here, he's still in his prime, a conduit for, and conjurer of, the music of his life.  There's precious little banter in the concert; it's a breakneck, full-throttle performance from the first downbeat of Sun Records rocker "That's All Right" to the final, lush note of the romantic "Can't Help Falling in Love."
Though they're unseen, the audience plays as major a role in the film as do Elvis and the TCB Band.  Screams are audible throughout, and the limber Elvis seems to relish every yelp as he does a little karate in "Suspicious Minds" or whips himself and the audience into sheer frenzy with "Polk Salad Annie" accompanied by the most smokin' band in New York City or anywhere else.  ("Well, that woke me up, anyway," he quipped.)  There are very few breathers during the energetic set, though he takes things down for a torrid "Heartbreak Hotel" and slow-burning "Love Me Tender."  (Alas, no footage exists of the latter.)  Elvis brought Las Vegas to the Big Apple with his brassy, sometimes bombastic arrangements, but could - and did - still rock-and-roll, too.  Elvis, Burton and the band turn "Hound Dog" into a greasy funk number, and deliciously amp up the southern R&B in a loose "Suspicious Minds."  Burton, Hardin and the band match the singer with effortless control.  Kathy Westmoreland and the Sweet Inspirations, and J.D. Sumner and the Stamps Quartet lend solid vocal support, too.
The show's end is particularly transfixing, as nearly every song transcends its original romantic intent to become a statement directed at the audience.  "For the Good Times," "Funny How Time Slips Away," "I Can't Stop Loving You," "Can't Help Falling in Love" all spellbind.  As big as Elvis was with the bravura showbiz of "An American Trilogy," he was able to create these moments of unexpected intimacy, too.  When a beatific Elvis triumphantly splays his cape as on the original album (and the new edition)'s cover, even the veterans in the band applaud.  What a treat it is to finally have a visual complement to an album that was already an important document of an incendiary concert.
After watching the footage of the afternoon show, many will want to compare with the evening's concert on CD.  The set lists are incredibly similar, though the matinee boasted a few more songs ("Blue Suede Shoes," "Reconsider Baby," "I'll Remember You," "Until It's Time for You to Go") and the evening show added "The Impossible Dream (The Quest)."  Sound is strong on both CDs.  The recording of the evening performance preserves the amusing post-show announcement hawking souvenirs "only available inside of Madison Square Garden" including a poster for $2.00, a souvenir album for $2.00, and an 11 x 14 picture for just one buck.  How times have changed!
The contents of Prince from Another Planet are packaged in an 8 x 8" box/slipcase similar to that of Heart's recent Strange Euphoria set, also from Legacy.  The discs slip in and out of an illustrated folder, and a full-color, fully-loaded, 50 page softcover book is also enclosed.  It includes an introduction from Presley reissue gurus Ernst Mikael Jorgensen and Roger Semon, a Q&A recap from the press conference, the original New York Times review that gives this collection its title, plenty of photographs, and a "you are there" essay from Lenny Kaye.  In his entertaining essay, the Patti Smith Group guitarist and Nuggets creator reflects on the larger-than-life figure of Elvis, and how he was both "real" and "unreal" at the same time during the MSG concert.  There are copious illustrations of memorabilia including 8-track cassettes, LPs, copious labels and international sleeves, newspaper clippings, and advertisements.  The quadraphonic issue of Recorded Live at Madison Square Garden is also seen in numerous photos; if only this four-channel surround mix had been included on the DVD as a bonus!
In the years that followed the Madison Square Garden shows, Elvis Presley continued to play American stages with concerts alternately triumphant and shocking, as he experienced a very well-publicized series of ups and downs until his death in 1977.  But for a brief, shining moment in 1972, Elvis was the toast of New York.  This prince from another planet was the undisputed King, and all was certainly right with planet earth.
You can order Prince from Another Planet here!