Shuggie Otis was born into a musical family, the son of Johnny Otis, the "Godfather of Rhythm and Blues."  Bandleader, songwriter and performer Johnny (real name: Ioannis Alexandres Veliotes) scored successes with Etta James, "Little" Esther Phillips, Big Mama Thornton, Johnny Ace, Gladys Knight and the Pips, and more, so it could have been no surprise that Shuggie (born Johnny Alexander Veliotes Jr.) would follow in his father's footsteps.  A multi-instrumentalist primarily known for his work on guitar, Shuggie began performing with his father before he reached his teenage years, played for Al Kooper and Frank Zappa, and even joined Johnny in 1969 for some lyrically explicit ribaldry as two-thirds of Snatch and the Poontangs.  Shuggie hit his stride, however, with a series of albums for Epic Records beginning with 1969's Here Comes Shuggie Otis and ending with 1974's Inspiration Information.  And that was it for Shuggie Otis as a solo artist; he has not released a solo album since.  The reclusive artist is about to return, however, and Legacy Recordings isn't sitting idle for the occasion.
Otis is returning to the concert stage for The Shuggie Otis Rite tour which hits Los Angeles on December 5 after a run of dates in Europe.  To mark the occasion, 2013 will see the release of an expanded 2-CD edition of Inspiration Information.  The release, slated for April 16, 2013 from Epic and Legacy, has been prepared under Otis' supervision and offers no fewer than 18 unreleased tracks of prime Shuggie Otis!
After the jump, you'll find plenty of details on this upcoming release, including the new cover art and track list for this set!
Inspiration came on the heels of 1971's Freedom Flight; that album introduced "Strawberry Letter 23," which in 1977 became a hit single for The Brothers Johnson as produced by Quincy Jones.  Inspiration was arguably even more personal than Otis' first two Epic albums, and took nearly three years to complete as the artist wrote, performed, produced and played virtually every song himself.  In addition to lead and backing vocals, Otis took on guitar, bass, drums, organ, piano, vibraphone, percussion, and made groundbreaking use of analog drum machines which added to the record's unusual sound.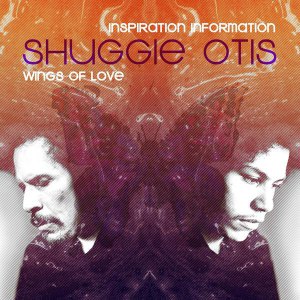 Otis' songwriting had evolved, too, and Inspiration exists in a psychedelic soul state with touches of blues and funk.  The album didn't fare well on the charts, barely cracking the Billboard 200 (No. 181) and its title track only getting as far as No. 56 on the R&B charts.  Yet its trippy soundscapes have been championed by artists including David Byrne, Sean O'Hagan of the High Llamas and Tim Gane of Stereolab, and its songs recorded by artists including Sharon Jones and the Dap-Kings.  Its songs have even been sampled on pop hits such as Outkast's "Ms. Jackson," and Beyonce's "Be With You" and "Gift From Virgo," and tracks by Digable Planets and J Dilla.
Legacy's deluxe reissue of Inspiration Information will include the original album (last reissued on CD by David Byrne's Luaka Bop label in 2001) alongside four previously-unreleased bonus tracks on the first disc.  The second CD, titled Wings of Love, sweetens the pot even more, and finally gives fans a follow-up album to Inspiration.  Wings will premiere 14 unreleased live and studio tracks recorded by Otis between 1975 and 2000. Columbia artist and soul man Raphael Saadiq has penned a foreword for the new set.
You can check out details on Otis' tour here, and the track listing for the expanded Inspiration Information follows.  You can pre-order below, too!.
Shuggie Otis, Inspiration Information/Wings of Love (Epic/Legacy 88697 74700-2, 2013)
Disc 1: Original LP (originally released as Epic KE 33059, 1974) and unreleased bonus tracks
Inspiration Information
Island Letter
Sparkle City
Aht Uh Mi Hed
Happy House
Rainy Day
XL-30
Ping!
Not Available
Miss Pretty
Magic
Things We Like to Do
Castle Top Jam
Disc 2: Wings of Love (all tracks previously unreleased)
Intro
Special
Give Me Something Good
Tryin' to Get Close to You
Walkin' Down the Country
Doin' What's Right
Wings of Love
Give Me a Chance
Don't You Run Away
Fireball of Love
Fawn
If You'd Be Mine
Black Belt Sheriff
Destination You!