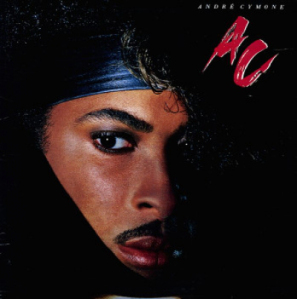 Way back in January 2012, The Second Disc reported on Funky Town Grooves' planned reissue of former Prince bassist André Cymone's 1985 Columbia breakthrough record A.C., which yielded the Top 10 R&B hit "The Dance Electric."  This long-aborning reissue from FTG finally arrived last week in an edition expanded from its original planned track listing.
A.C. received its first-ever CD reissue from the U.K.'s Big Break Records label in 2011; BBR's deluxe edition appended a generous five bonus tracks to the original eight-song album, among them 12-inch mixes and single edits.  BBR and Funky Town Grooves have both served their respective markets with expanded reissues of Cymone's complete three-album output for Columbia Records, and the newly-upgraded A.C. marks the conclusion of FTG's series for the artist.
Of course, the careers and lives of Prince Rogers Nelson and André Cymone (born André Anderson) are inextricably linked.  Prince's tumultuous childhood resulted in his living at one point with Anderson's family.  And so Prince's cousin Charles Smith called on both Prince and his close friend André (while both were still attending high school!) to join his nascent band Grand Central, which also counted Morris Day among its members.  When Pepe Willie, the husband of Prince's cousin Shauntel formed the band 94 East with Marcy Ingvoldstad and Kristie Lazenberry late in 1975, both Prince and Anderson were called on to record with the band.  By the time it came for Prince to form his first proper band, Cymone took his place on bass alongside Dez Dickerson on guitar, Gayle Chapman and Doctor (Matt) Fink on keyboards and Bobby Z. on drums; this unit made its debut on January 5, 1979 in Florida, a long way from the music's Minneapolis roots.  (Of course, Doctor Fink, Bobby Z. and Dickerson would all join Prince in his most famous band, The Revolution.)
After the jump: what will you find on FTG's 2-CD expansion?  Hit the jump!
By 1981, though, relations between Prince and Cymone had become strained, and Cymone seized the opportunity to go solo at Columbia and spread the Minneapolis gospel of funk and steamy R&B.  A.C. followed 1982's Livin' in the New Wave and 1983's Survivin' in the '80s, and became Cymone's greatest success largely on the strength of a song gifted him by his old friend.  "The Dance Electric" was written and produced by Prince, and scored Cymone a Top 10 R&B hit.  Unfortunately, Cymone didn't build on the moderate success of the single – at least, not as a solo artist.  He moved into the realm of production, producing and writing for artists including his then-wife Jody Watley (including her smash No. 2 pop single, 1987's "Looking for a New Love"), Adam Ant, Jermaine Stewart and Lalah Hathaway.  More recently, Cymone released a digital single in support of Barack Obama's second campaign for the U.S. presidency, and hinted that a new album might be soon breaking his long silence as an artist.
Funky Town Grooves' 2-CD reissue of A.C. is expanded by 23 bonus tracks, including 11 which are previously unreleased.  The bonus material includes 12-inch mixes, single edits, instrumentals, outtakes and more.  Sean Brennan at Battery Studios has remastered in 2013 from the original master tapes.  This expansive edition is available now and can be ordered at the link below!
Andre Cymone, AC: Deluxe Edition (Funkytowngrooves FTG-325, 2013)
Disc 1: Original LP and bonus material
The Dance Electric

Lipstick Lover
Pretty Wild Girl
Book of Love
Satisfaction
Sweet Sensuality
Vacation
Neon Pussycat
On Your Back *
Telephone *
Checking You Out *
Vacation (Andre Cymone Mix) *
Satisfaction (Instrumental) *
Anything (Instrumental) *
Let Me Kiss the Bride (Instrumental) *
Vacation (Instrumental) *
Disc 1, Tracks 1-8 released as Columbia LP FC 40037, 1985. All other tracks previously unreleased.
Disc 2: More bonus material
Fallin' Fallin'

Fallin' Fallin' (Instrumental) *
Red Light
The Dance Electric (Single Version)
The Dance Electric (Long Version)
The Dance Electric (Extended Version) *
Lipstick Lover (Single Remix)
Lipstick Lover (Radio Version)
Lipstick Lover (Club Version)
Lipstick Lover (Instrumental)
Satisfaction (Single Remix)
Satisfaction (Edited Version)
Satisfaction (12" Version)
Satisfaction (Dub Mix)
The Harder You Try (Satisfaction) (Instrumental) *
Disc 1, Track 1 released as Columbia single A-side 38-05743, 1985
Disc 1, Tracks 3-4 released as Columbia single 38-05435, 1985
Disc 1, Track 5 released as Columbia 12" A-side 44-05249, 1985
Disc 1, Tracks 7 and 10 released as Columbia single 38-05710, 1985
Disc 1, Tracks 8-9 released on Columbia 12" 44-05315, 1985
Disc 1, Track 11 released as Columbia single A-side 38-05787, 1985
Disc 1, Tracks 12-14 released as Columbia 12" single 44-05335, 1986
All other tracks previously unreleased