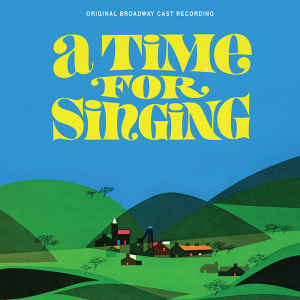 Kritzerland is going Green just in time for St. Patrick's Day.  Richard Llewellyn's 1939 novel How Green Was My Valley was an immediate sensation, winning the 1940 National Book Award and attracting Hollywood's attention.  Set in South Wales, the story of the Morgan family's struggles during the reign of Queen Victoria struck a chord with readers and spawned three sequels and numerous adaptations.  The 1941 Twentieth Century Fox film version, directed by John Ford, is certainly the most notable.  But theatre music fans have long held a soft spot for the 1966 Broadway musical adaptation, retitled A Time for Singing.  Kritzerland has pulled off a coup with today's reissue of both Alfred Newman's soundtrack for the 1941 film and John Morris and Gerald Freedman's score for A Time for Singing.
The Academy Award-winning film How Green Was My Valley starred Walter Pidgeon, Maureen O'Hara, Donald Crisp and Roddy McDowall in the pivotal role of Huw Morgan.  It's a mark of the movie's success that it beat out Citizen Kane for Best Picture that year, winning four other Oscars (including one for director John Ford) and receiving five additional nominations, including one for Alfred Newman's majestic score.  As reissue producer Bruce Kimmel describes, the score "is simply one brilliant cue after another, each capturing the humanity and warmth of the characters, setting the mood, underscoring the drama and pathos and humor as only Alfred Newman could."
The out-of-print 1993 CD from Fox and Arista Records contained much of the score, but was incomplete.  Kritzerland's reissue is a significant upgrade, derived from the studio's archival ¼" rolls made in the 1980s off the first generation optical film and was newly restored, mixed and assembled.  This allowed for the "opening up" of many of the cues that had previously been combined together.  Most of the cues were recorded with separate close-up and long-shot perspectives, creating a stereo image.  Kritzerland's reissue presents the score in chronological order, with mono and stereo tracks indexed separately, and the label promises improved sound on all but the main and end titles which were available only in pre-existing quality.  The end title has been included in stereo without its original vocal as a bonus track.  The restored edition of Alfred Newman's lush score to How Green Was My Valley is limited to 1,000 copies, and CDs are slated to ship the last week of April though pre-orders frequently arrive four weeks early.
After the jump: it's A Time for Singing!
Unlike today, musical adaptations (whether of films, plays or novels) in the past frequently asserted their own identities by devising new titles.  Green Grow the Lilacs yielded to Oklahoma! , Liliom became Carousel, Pygmalion gave way to My Fair Lady, Nights of Cabiria morphed into Sweet Charity, and The Apartment turned into Promises, Promises, just to name a few.  And so, in 1966, How Green Was My Valley was transformed by writers John Morris and Gerald Freedman and composer Morris into A Time for Singing.
Morris was already a veteran dance arranger for Broadway when he embarked on the journey to A Time for Singing; he would later find greater fame as Mel Brooks' musical right-hand man and composer for many of Brooks' most beloved films.  For Singing, he wrote book, music and lyrics, and was joined on book and lyrics by Gerald Freedman, who also directed.  Impresario Alexander H. Cohen assembled a cast including Tessie O'Shea, Shani Wallis, Laurence Naismith and Ivor Emmanuel; O'Shea and Emmanuel were actually of Welsh descent, like their characters.  With orchestrations by Don Walker (Carousel, Cabaret) and musical direction by Jay Blackton (Annie Get Your Gun, Wish You Were Here), A Time for Singing opened its tryout in Boston.  Trouble was in the air when Cohen summoned Gower Champion (Bye Bye Birdie, Hello, Dolly!) there to restage some of choreographer Donald McKayle's work, but the show soldiered on to its New York opening at The Broadway Theatre, today the home of Rodgers and Hammerstein's Cinderella.  Following just ten previews in New York, it opened on May 21, 1966 to tepid reviews, closing after a mere 41 performances.   As critic Ken Mandelbaum explained in his book Not Since Carrie, "the show suffered from a problem of focus; it was supposed to be about the Morgan family but it was presented as the recollection of David Griffith, who couldn't have been privy to some of the events that occurred in the Morgan household."  Mandelbaum added that "there were too many principal characters in the musical," causing audience confusion, too.
But like so many other musicals from Broadway's past, A Time for Singing survived due to its cast album, one of just a handful of cast recordings to have been released on the Warner Bros. Records label.  Morris and Freedman's score is lush, romantic, dramatic and emotional while still rooted in the style of Broadway in the 1960s.  It boasts both a song called "How Green Was My Valley" and a title song! Producer Bruce Kimmel has overseen the first-ever CD reissue of A Time for Singing, which has been remastered from the original master tapes in stunning sound.  This release has been years in the making; Kimmel first told The Second Disc about it back in 2010 in this interview.  How glad we are to finally have this CD premiere come to fruition.  A Time for Singing is limited to 1,500 copies and is expected to be a quick sell-out, so those interested are encouraged to order early.  Like its companion title How Green Was My Valley, it is due to ship the last week of April, with pre-orders arriving earlier.
You can order both titles below!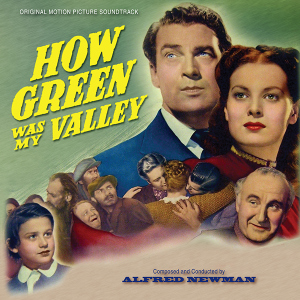 Alfred Newman, How Green Was My Valley: Original Soundtrack Recording (1941 – reissued Kritzerland, 2013)
Men of Harlech (Main Title)
Huw's Theme
The Family and Bronwen
The Strike
Dad and Huw (*)
Mother and Huw in Broken Ice
Treasure Island/The Spring Birds
Beth and Morgan
Angharad and Mister Gruffyd
Command from the Queen (**)
Huw Walks Among the Daffodils
Angharad with the Minister
Love Denied
School (**)
Huw's Lesson
The Mine Tragedy
Morgan is Discharged
Two More Brothers Leave
The House on the Hill
Miners on Street
Gossip
Goodbyes
Huw Finds His Father
Finale
End Title
Finale (Orchestra Only) (Bonus Track) (*)
Score originally issued on CD on Arista/Fox Film Scores 07822-11008-2, 1993
(*) denotes previously unissued track
(**) denotes previously unissued material within track
John Morris and Gerald Freedman, A Time for Singing: Original Broadway Cast Recording (Warner Bros. HS-1639, 1966 – reissued Kritzerland, 2013)
Come You Men
How Green Was My Valley
Old Long John
What A Good Day is Saturday
Someone Must Try
Oh, How I Adore Your Name
That's What Young Ladies Do
When He Looks at Me
Far from Home
I Wonder If
A Time for Singing
Medley: Let Me Love You, I've Nothing to Give, Let Me Love You (Reprise)
Why Would Anyone Want to Get Married?
I'm Always Wrong
There is Beautiful You Are
Three Ships
Tell Her
The Mountains Sing Back
Medley: Peace Come to Every Heart/Gone in Sorrow/How Green Was My Valley (Reprise)