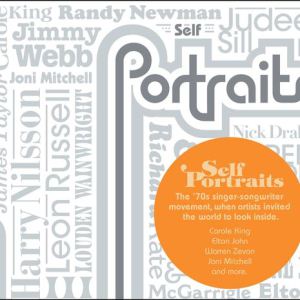 Some of the music featured on Starbucks Entertainment's latest compilation album, Self-Portraits, is a bit atypical for a coffeehouse setting: Warren Zevon, Judee Sill, Randy Newman, John Prine, Loudon Wainwright III.  The songs on Self-Portraits, by and large, demand attention, as all are drawn from the realm of the singer-songwriter with an emphasis on confessional or first-person songs.  The 16-track CD focuses on the 1970s (with just one track from 1969), and although there are a few unquestionably familiar, oft-anthologized songs, there are also a few that might make this disc worth perusing.
The hit singles come first on Self-Portraits.  Carole King's "I Feel the Earth Move" kicks off the disc, as it did King's 1971 sophomore solo album Tapestry.  That was, of course, the album that ignited King's career as a solo artist, and the same could be said for James Taylor's second long-player.  "I Feel the Earth Move" is followed by "Fire and Rain," from the troubadour's 1970 Sweet Baby James, which featured (you guessed it) Carole King on piano.  Though Judy Collins had the hit single of Joni Mitchell's "Both Sides Now," Self-Portraits includes Mitchell's version from her 1969 album Clouds, and then segues to British piano man Elton John for a track off his second album: the ubiquitous "Your Song."
Following "Your Song," the disc - as curated by Starbucks' Steven Stolder - veers off in interesting directions.  Leon Russell, whose style was an influence on budding artist John's, is represented with his piano-pounding "Tight Rope."  Like Leon Russell (a key player in the Los Angeles "Wrecking Crew" of session musicians), Jimmy Webb spent his formative years behind-the-scenes.  In Webb's  case, he was a songwriting prodigy with hits like "Up, Up and Away," "By the Time I Get to Phoenix" and "Wichita Lineman" under his belt by the time he began his proper solo career with 1970's "Words and Music."  From that album, Self-Portraits draws "P.F. Sloan," Webb's remarkable, multi-layered ode to a songwriting colleague.  Any discussion of popular songwriters would be incomplete without a mention of Bob Dylan, and his "If You See Her, Say Hello" from his singer-songwriter masterwork Blood on the Tracks is the choice here.  Perhaps the least-known songwriter here is Judee Sill, the troubled Lady of the Canyon whose small discography yielded touching and unusual gems like "The Kiss."
Self-Portraits also includes tracks from artists with more explicitly folk leanings than, say, King, Webb and Taylor.   Both Loudon Wainwright III (whose only hit single remains "Dead Skunk," alas) and his wife Kate McGarrigle are heard here; Kate is joined by her sister Anna for "Talk to Me of Mendocino" from their eponymous album.  Another folk hero, John Prine, gets a spot with "Sabu Visits the Twin Cities Alone," with which Prine draws comparisons between the Indian actor's life and his own.  From the Brit-folk scene, Richard and Linda Thompson ("Dimming of the Day") and Nick Drake ("Northern Sky") appear.
After the jump: we have much more on the new comp, including the full track listing and an order link!
In addition to Wainwright, three more artists on Self-Portraits are known for their ability to blend incisive humor and emotional truth into their compositions.  Harry Nilsson's "Don't Forget Me" is one of his most touching songs, but he still couldn't help but throw some of his trademark humor into it.  Warren Zevon's elegant "Desperadoes Under the Eaves" likewise makes acerbic observations in its darkness, narrated by a barfly at the Hollywood Hawaiian Hotel.  (Only Zevon would have made music of the air conditioner's hum in his narrator's drab existence.)  Perhaps the most famous singer-songwriter to give voice to the "unreliable" narrator is Randy Newman, whose "Last Night I Had a Dream" is deliciously nightmarish.
A 26-page booklet with track-by-track notes from Stolder is also part of the package.  A number of artist photographs have also been included.  These sixteen Self-Portraits of some of the best practitioners of the "confessional" style of songwriting are available now on CD from Starbucks Entertainment and can be ordered below!
Various Artists, Self-Portraits (Starbucks Entertainment OPCD-8685. 2013)
I Feel the Earth Move – Carole King
Fire and Rain – James Taylor
Both Sides Now – Joni Mitchell
Your Song – Elton John
Tight Rope – Leon Russell
P.F. Sloan – Jimmy Webb
The Swimming Song – Loudon Wainwright III
Talk to Me of Mendocino – Kate and Anna McGarrigle
Dimming of the Day – Richard and Linda Thompson
Northern Sky – Nick Drake
If You See Her, Say Hello – Bob Dylan
Sabu Visits the Twin Cities Alone – John Prine
Last Night I Had a Dream – Randy Newman
Don't Forget Me – Harry Nilsson
The Kiss – Judee Sill
Desperadoes Under the Eaves – Warren Zevon
Track 1 from Tapestry, Ode, 1971
Track 2 from Sweet Baby James, Warner Bros., 1970
Track 3 from Clouds, Reprise, 1969
Track 4 from Elton John, DJM/Uni, 1970
Track 5 from Carney, Shelter, 1972
Track 6 from Words and Music, Reprise, 1970
Track 7 from Attempted Mustache, Columbia, 1973
Track 8 from Kate and Anna McGarrigle, Warner Bros., 1975
Track 9 from Pour Down Like Silver, Island, 1975
Track 10 from Bryter Later, Island, 1970
Track 11 from Blood on the Tracks, Columbia, 1975
Track 12 from Bruised Orange, Asylum, 1978
Track 13 from Sail Away, Reprise, 1972
Track 14 from Pussy Cats, RCA, 1974
Track 15 from Heart Food, Asylum, 1973
Track 16 from Warren Zevon, Asylum, 1976