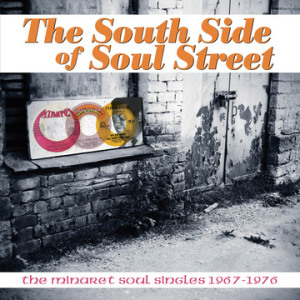 One dictionary defines a "minaret" as "a lofty, often slender tower or turret attached to a mosque...from which the muezzin calls the people to prayer."  So it's appropriate that the Minaret Records label was a beacon itself, inspiring soulful fervor in those who made the pilgrimage to its platters.  Founded in Nashville in the early 1960s, it was purchased in 1966 by Finley Duncan.  Three years later, the producer-entrepreneur founded the Playground Recording Studio in Valparaiso, Florida, where he helmed a number of sizzling R&B singles.  These 45s might have missed the charts, but they have tantalized R&B collectors ever since.  The musical archivists at Omnivore Recordings are coming to the rescue, though, with the 2-CD, 40-track collection The South Side of Soul Street: The Minaret Soul Singles 1967-1976.  The set is due to be released on August 13, 2013.
With Valparaiso not far from the Alabama state line, Duncan and Shelby Singleton - Sun Records owner and Minaret distributor via his SSS International label - established Playground as a southern soul incubator to rival the likes of Muscle Shoals, Fame and Stax.  The South Side of Soul Street brings together 20 of the label's original R&B sides - 40 songs total - released between 1967 and 1976. Even if you managed to collect each (pricey!) single, you still wouldn't have everything in this package, as Omnivore has added a full-color booklet with new liner notes by Bill Dahl detailing the history of the label and studio, as well as the stories of the artists represented on the singles.
What will you find on Omnivore's new anthology?  Hit the jump for details plus a full track listing with discography and pre-order link!
Expect to hear eighteen tracks in all from Big John Hamilton, one of Minaret's leading artists.  Big John appears on 18 tracks (including four duets with Doris Allen), backed by musicians including legendary songwriter and Muscle Shoals mainstay Spooner Oldham and the Memphis Horns. Hamilton was managed by fellow Minaret artist and guitarist Leroy Lloyd, and Lloyd's instrumental recording of "Sewanee Strut" is another highlight.  Harmonica great Willie Cobbs, whose "You Don't Love Me" has been performed by the Allman Brothers Band, Grateful Dead and the Kooper/Bloomfield/Stills "Super Session" group, is heard on 1969's "I'll Only Love You" and "Don't Worry About Me."  And Omnivore lets a Genie - Genie Brooks, that is - out of the bottle with 1967's "Fine Time" and "Juanita," and 1969's "Helping Hand" and this collection's title track, "The South Side of Soul Street."
The South Side of Soul Street: The Minaret Soul Singles 1967-1976 appears to be a spiritual successor to Omnivore's acclaimed exploration of the Bay Area's Music City label via three volumes of The Music City Sessions (as well as solo releases from Darondo (Listen to My Song: The Music City Sessions) and The Two Things in One (Together Forever: The Music City Sessions).  It's due on August 13, and can be pre-ordered directly from the label just below!
Various Artists, The South Side of Soul Street: The Minaret Soul Singles 1967-1976 (Omnivore, 2013)
CD 1
The Train - Big John Hamilton (MIN-124, 1967)
Big Bad John - Big John Hamilton (MIN-124, 1967)
I Have No One - Big John Hamilton (MIN-129, 1967)
I Just Want to Thank You - Big John Hamilton (MIN-129, 1967)
Fine Time - Genie Brooks (MIN-130, 1967)
Juanita - Genie Brooks (MIN-130, 1967)
Blue Diamonds - The Double Soul (MIN-133, 1968)
I Can't Use You - The Double Soul (MIN-133, 1968)
Big Fanny - Big John Hamilton (MIN-136, 1969)
How Much Can a Man Take - Big John Hamilton (MIN-136, 1969)
Pretty Girls - Big John Hamilton (MIN-139, 1969)
Before the Next Teardrop Falls - Big John Hamilton (MIN-139, 1969)
The Night the Angels Cried - Johnny Dynamite (MIN-141, 1969)
Everybody's Clown - Johnny Dynamite (MIN-141, 1969)
Helping Hand - Genie Brooks (MIN-142, 1969)
The South Side of Soul Street - Genie Brooks (MIN-142, 1969)
Breaking Up is Hard to Do - Big John Hamilton (MIN-143, 1969)
Love Comes and It Goes - Big John Hamilton (MIN-143, 1969)
Sewanee Strut - Leroy Lloyd and the Dukes (MIN-146, 1969)
A Taste of the Blues - Leroy Lloyd and the Dukes (MIN-146, 1969)
CD 2
I'll Love Only You - Willie Cobbs (MIN-147, 1969)
Don't Worry About Me - Willie Cobbs (MIN-147, 1969)
If You're Looking for a Fool - Big John Hamilton (MIN-148, 1969)
Take This Hurt Off Me- Big John Hamilton (MIN-148, 1969)
A Shell of a Woman - Doris Allen (MIN-149, 1969)
Kiss Yourself for Me - Doris Allen (MIN-149, 1969)
I'm Your Man - Gable Reed (MIN-151, 1969)
Who's Been Warming My Oven - Gable Reed (MIN-151, 1969)
A Place in My Heart - Big John Hamilton and Doris Allen (MIN-156, 1969)
Let a Little Love In - Big John Hamilton and Doris Allen (MIN-156, 1969)
Row Row Row - Willie Gable (MIN-157, 1969)
Eternally - Willie Gable (MIN-157, 1969)
Them Changes - Big John Hamilton and Doris Allen (MIN-159, 1970)
Bright Star - Big John Hamilton and Doris Allen (MIN-159, 1970)
Lift Me Up - Big John Hamilton (MIN-200, 1970)
Just Seeing You Again - Big John Hamilton (MIN-200, 1970)
I've Got to Tell You - Count Willie with LRL and The Dukes (NR-6156, 1975)
Double Funk - LRL and the Dukes (NR-6156, 1975)
I Got to Get Myself Somebody - Big John Hamilton (Minaret 7611, 1976)
Free Me - Big John Hamilton (Minaret 7611, 1976)