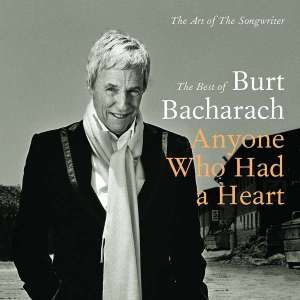 Time stands still for Burt Bacharach.
Rumer's 2010 single "Some Lovers," from Bacharach and Steven Sater's musical of the same name, is the most recent track on Universal U.K.'s new box set Anyone Who Had a Heart: The Art of the Songwriter.  Yet 2010 melts into 1965 like a ray of sunshine on the "cloudy Christmas morning" in the song lyric.  Sleigh bells gently underscore wistful flugelhorns as it begins, with Rumer's dreamy, comforting vocals gracefully gliding over the bittersweet melody.  "Everything we touch is still a dream," she sings, and for three minutes or so, it is.  Even shorn of its lyrics, "Some Lovers" would radiate the warm glow of nostalgia without ever seeming dated.  And it's just one of 137 tracks found on the box's six CDs, all standing as a testament to the songwriter's signature style, remarkable consistency, and uncanny ability to render emotions through his musical notes.  The music of Burt Bacharach is sophisticated in its composition but simplicity itself in its piercing directness.  So why is this handsomely-designed, large box less than the sum of its (formidable) parts?
Anyone Who Had a Heart has been released to coincide with Bacharach's memoir of the same name, and is also available in two 2-CD configurations, one each for the United States and the United Kingdom.  The 6-CD version follows in some rather large footsteps: that of Rhino's 1998 box set The Look of Love: The Burt Bacharach Collection.  As expertly curated by Patrick Milligan and Alec Cumming, that sublime 3-CD box was the first to trace the arc of Bacharach's career in context, and it played a mighty role in his career renaissance.  Yet over the ensuing fifteen years, Bacharach has continued to write with a frequency that would impress his much younger colleagues, so the time was certainly right for an updated package.  (The Look of Love concluded with Bacharach and Elvis Costello's 1996 recording of "God Give Me Strength.")  The ambitious Anyone Who Had a Heart is the first box since The Look of Love to take on the entirety of Bacharach's career, though Hip-o Select's 2004 Something Big: The Complete A&M Years collected all of his solo work for Herb Alpert and Jerry Moss' label with a handful of rarities included for good measure.  But the new box is best enjoyed as a complement to The Look of Love, not an update or expansion.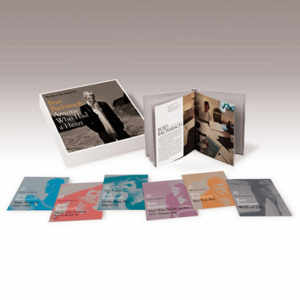 The first four discs of this box are dedicated to a chronological account of Bacharach's work, from 1955's "(These) Desperate Hours" to 2010's "Some Lovers."  The fifth disc is essentially a single-disc distillation of the Hip-o box set, dedicated solely to Bacharach's own, primarily instrumental recordings of his songbook.  The sixth disc shows the breadth of his influence as it presents an entire collection of jazz interpretations (both vocal and instrumental).  The fifth and sixth discs present an expanded view of his career not found on The Look of Love.  The first four discs cover the same territory as the Rhino box, but best it with 95 tracks vs. 75.  However, the approach by producers Kit Buckler, Paul Conroy and Richard Havers is a more idiosyncratic, less focused one.  Whereas The Look of Love concentrated on original versions of songs – most of which Bacharach produced and/or arranged – Anyone Who Had a Heart casts a wider net to give great attention to cover versions.  This approach does allow for stylistic variety but leaves the listener with a less definitive account of "the essentials."  The new box is successful in fleshing out the periods that bookend Bacharach's career, addressing his earliest and most recent songs with more depth than the 3-CD format of The Look of Love allowed.
Hit the jump as we explore the Art of Bacharach!
Disc One, Magic Moments, includes some genuine rarities from 1955-1962.  (Alas, Bacharach's very first recorded song, 1952's "Once in a Blue Moon" played by Nat "King" Cole, is absent.)  Sherry Parsons' silly "Peggy's in the Pantry," one of the earliest songs co-written by Bacharach and longtime lyricist Hal David, is a tune that Bacharach has lived down ever since.  Yet it's a welcome addition, illustrating how Bacharach and David were tailoring their songs to every genre imaginable, from jazz to R&B to rockabilly to country-and-western and everything in between.  There are unexpected treats from early rock-and-rollers like Sonny James ("Dream Big"), Charlie Gracie ("I Looked for You") and Gene Vincent ("Crazy Times"), film tie-ins (Jerry Lewis' "Sad Sack," The Five Blobs' "The Blob," and Gene Pitney's hit "The Man Who Shot Liberty Valance") and early chart successes (The Shirelles' "Baby, It's You," Marty Robbins' "The Story of My Life," Perry Como's "Magic Moments").  This is the disc where Bacharach finds footing as a purveyor of uptown soul with The Drifters' "(Don't Go) Please Stay" and "Mexican Divorce," with background vocals from a future star then named Marie Dionne Warrick.  Unfortunately, his seminal recording of "Make It Easy on Yourself" with Jerry Butler isn't here; that 1962 single marked the first time Bacharach was fully in control in the studio.  It's the embryonic style on these R&B songs – not on rarities like Gale Storm's "Winter Warm" or The Four Aces' "Paradise Island" – that morphed into the songwriter's familiar rhythms.  But the early, infrequently-anthologized songs on this CD are both valuable and fascinating.
The second CD, There's Always Something There to Remind Me, covers the pivotal period of 1963-1965 in which The Bacharach Sound blossomed.  Bacharach and David had decided to enter into an exclusive songwriting partnership after a decade of on-again, off-again collaborations, and Bacharach was firmly in control as not only a songwriter, but as a producer and orchestrator.  This disc uncovers  worthy nuggets (Adam Wade's shoulda-been-a-hit "Rain from the Skies"), reprises pivotal hits (the renamed Dionne Warwick's "Walk On By" and title track "Anyone Who Had a Heart," Jackie DeShannon's "What the World Needs Now is Love") and reintroduces rare originals (Richard Chamberlain's "(They Long to Be) Close to You").  Dusty Springfield shows up a few times here with her divine takes on "Wishin' and Hopin'," "I Just Don't Know What to Do with Myself" and "24 Hours from Tulsa."  Her performances sit comfortably alongside those by more unlikely Bacharach interpreters like Doris Day (the delightful "Send Me No Flowers") and Marianne Faithfull ("If I Never Get to Love You").  Unfortunately, two of the great, early Bacharach voices – the supremely soulful Lou Johnson and Chuck Jackson – are altogether absent from these six discs.
The third CD, Let the Music Play, is a wall-to-wall treat.  It takes in 1965-1973 - a span of time in which Bacharach and David were regular visitors to the charts with their urbane mini-symphonies.    During this period, the duo also made a splash in Hollywood with their work on films such as What's New Pussycat, Alfie, After the Fox, Casino Royale, Butch Cassidy and the Sundance Kid and on Broadway with Promises, Promises, and all of those are represented.  This disc has a rather high concentration of songs not produced by Bacharach himself, but most are strong selections.  Herb Alpert's "This Guy's in Love with You," Bacharach and David's first U.S. Pop No. 1, is ignored in favor of Petula Clark's (still-wonderful) cover.  Likewise, Barbra Streisand's "Alfie" has been selected rather than Dionne Warwick's or Cilla Black's.  There are fine inclusions from The Walker Brothers (the dark and brooding "Another Tear Falls"), Johnny Mathis (the rueful and ironically bouncy "Odds and Ends (Of a Beautiful Love Affair)," Elvis Presley ("Any Day Now" – his only studio recording of a Bacharach song), Engelbert Humperdinck (the dramatic "I'm a Better Man (For Having Loved You")," and a couple of songs Bacharach reportedly felt bettered his own productions.  These are Aretha Franklin's thrillingly funky "I Say a Little Prayer," and The Stylistics' "You'll Never Get to Heaven (If You Break My Heart)" as sparkling arranged by Thom Bell.  Lost Horizon, the big-screen musical that tore Bacharach and David's relationship apart at the seams, is covered by two songs, neither from the original soundtrack: Diana Ross and Marvin Gaye's "The Things I Will Not Miss" and The 5th Dimension's "Living Together, Growing Together."  Of the few Bacharach productions on this disc, a highlight, Dionne Warwick's mastery of the team's increasingly complicated songs is evident by "Are You There (With Another Girl)" and her Grammy-winning "Do You Know the Way to San Jose."
The fourth CD is the most essential as well as the most frustrating, tracing Bacharach's work with a variety of lyricists in the wake of his "break-up" with Hal David.  Covering 1973-2010, it compresses nearly four decades of music-making with Carole Bayer Sager, Elvis Costello, Tonio K, John Bettis, Steven Sater, Cathy Dennis and others into just 19 tracks.  Yes, that's generous compared to The Look of Love, which chronicled 1973-1998 in only five tracks and crunched Bacharach's decade-long collaboration with his third wife Carole Bayer Sager into three songs: Christopher Cross' "Arthur's Theme," Dionne and Friends' "That's What Friends are For" and Patti LaBelle and Michael McDonald's "On My Own."  All three were major chart-toppers (each a U.S. No. 1) yet only "Arthur's Theme" appears on Anyone Who Had a Heart.  Despite the fact that the disc is subtitled That's What Friends Are For, that massive hit is inexplicably absent.  Though the song has become ubiquitous, it's an important part of Burt Bacharach's career and deserves a spot in any serious retrospective.  If the familiar Dionne & Friends version couldn't be included, why not Rod Stewart's original?  Also M.I.A. is "Ever Changing Times," first performed by Siedah Garrett and later turned into a hit record by Aretha Franklin and Michael McDonald.
The hidden gems on this disc aren't to be missed, though.  Carole Bayer Sager's "Just Friends," sung with Michael Jackson, hails from her majestic Bacharach-produced LP Sometimes Late at Night.  Jackie DeShannon's "I Don't Need You Anymore," written with Paul Anka for the film Together?, has long been neglected; it made its CD debut earlier this year on a Japan-only release of the soundtrack.  Pop Idol winner Will Young's "What's in Goodbye" is a delicious throwback in which Bacharach references himself, specifically his "Don't Go Breaking My Heart."  James Ingram's "Sing for the Children" (1993) is a Thom Bell production from the period in which Bacharach was arranging his music in a contemporary style far-removed from his sixties heyday.  Bell brought back the classic Bacharach sound with flugelhorns and strings; Bacharach himself wouldn't fully embrace those touches again until the Elvis Costello collaboration Painted from Memory.  Rather than album centerpiece "God Give Me Strength," the compilers have smartly chosen the altogether-terrific and less exposed "Toledo."  Dionne Warwick's "Sunny Weather Lover," the track which reunited Bacharach and David for the first time in fourteen years, is a particularly winning choice.  Neil Diamond's E.T.-inspired "Heartlight" represents the brief but fruitful Bacharach/Sager/Diamond writing partnership.  Modern reinterpretations of "I'll Never Fall in Love Again" by Bacharach and Ronan Keating, and "Make It Easy on Yourself," by Bacharach and Jamie Cullum, seem out-of-place on this disc.  The latter song, a 2008 live recording from the BBC, is the set's sole previously unreleased track.
Disc Five, Burt Plays Bacharach, is a solid primer on his solo recordings, and most valuable within the box set for the songs that don't appear by other artists like the charmingly low-key "Hasbrook Heights," yearning and energetic "Something Big," and slinky "Walk the Way You Talk."  Bacharach's evocative, atmospheric compositions like "Nikki," "Pacific Coast Highway," "South American Getaway" and "Summer of '77" show his melodic invention in a purely instrumental context.  Disc Six, Bacharach Meets Jazz, is repetitive as many of its songs have been included elsewhere in the box set.  But it's hard to argue with The Bill Evans Trio's sensitive "A House is Not a Home," Astrud Gilberto's sensual "Don't Go Breaking My Heart," or Ella Fitzgerald's swinging "Wives and Lovers."  Still, why not Bacharach in Rock?  Or Bacharach in Country?  One might have liked to see the box dedicate a disc to songs not previously heard in the set, or perhaps an array of Hidden Gems.  Though it's ultimately a matter of taste with any anthology, there are plenty of wonderful songs unheard here: Dionne Warwick's "Who Gets the Guy" and "Paper Mache," Jackie DeShannon's "Come and Get Me" and "So Long Johnny," Tom Jones' "Promise Her Anything" (among the closest Bacharach ever came to composing a rock song), B.J. Thomas' cinematic "Everybody's Out of Town" and "Send My Picture to Scranton, PA," Warwick or Jill O'Hara's "Knowing When to Leave," Roberta Flack's "Making Love," Paul Anka's "Rainbow" and "After All," Trijntje Oosterhuis' "Who'll Speak for Love,"  Tony Orlando's "To Wait for Love," Marilyn Michaels' "Don't Count the Days," and so on.  Following the other volumes in the set, Bacharach Meets Jazz seems like an afterthought, or a misplaced side project, despite being worthy on its own merits.
Anyone Who Had a Heart: The Art of the Songwriter has no remastering credits, but the sound quality isn't as subtle as under Bill Inglot's supervision on The Look of Love.  It's attractively packaged in a sturdy 10" x 9" box with a flip top lid, making it a bit like a smaller version of the design utilized for Universal's excellent Dusty Springfield box set, Goin' Back: The Definitive Dusty Springfield.  The discs are found in illustrated, individually sealed sleeves which are housed in an interior tray.  A 44-page hardcover book is included which contains numerous photographs and terrific memorabilia images as well as a book-length "Bacharach 101"-style essay by Robert Greenfield, the co-author of his memoir.
Yet the book ultimately disappoints.  There is no discographical information whatsoever to indicate where or when a song originally appeared.  Equally damagingly, there are no credits for the many producers or arrangers who created each track.  The Look of Love, by contrast, included five essays, detailed credits and meticulous track-by-track liner notes going into the story of each song.  If you already own that set, you might find yourself reaching for it to read about a particular title as you listen to Anyone Who Had a Heart!  Interestingly, Greenfield's essay discusses a number of songs that aren't on the box set but were released on a preliminary track listing that leaked to various retailers.  These "missing" songs referred to in the liner notes include Michael McDonald's "I've Got My Mind Made Up," Lyle Lovett's "Walking Tall" from Stuart Little, "On My Own," Bacharach and Elvis Costello's "I'll Never Fall in Love Again" and Kristen Vigard's original recording of "God Give Me Strength."  Indeed, the "missing" songs fill in many of the gaps on the box set as released, and it appears that Greenfield's notes were written before these songs were dropped.
Distressingly, there are numerous errors throughout the book, both in Greenfield's text and in the song listing.  Hal David is credited with songs he did not co-write, like "Some Lovers" (lyrics by Steven Sater), "Just Friends" (Carole Bayer Sager) and "Go Ask Shakespeare" (Tonio K).  Max Colpet is credited as lyricist of "I See You for the First Time," which Hal David did write.   The early Bacharach/David tune was "Underneath the Overpass," not "Beneath the Overpass."  Will Young's song is not "What's in a Goodbye," but rather "What's in Goodbye."  Columbia Pictures' Stuart Little is erroneously referred to as a Disney production.  Surnames for Liza Minnelli and Marianne Faithfull are spelled incorrectly, as are Steven Spielberg's and Julie Rogers' first names. The movie for which Bacharach wrote "I Don't Need You Anymore" is titled Together?, not Together Again.  Charlie Smalls' Broadway musical is called The Wiz, not The Whiz.  (Yikes!)  The composer is referred to once as "Bacharach Bacharach," not "Burt Bacharach."  (Double yikes!)  Tommy Sands' "Love in a Goldfish Bowl" is printed twice as "Love in a Goldfish Bowel."  (No comment.)  A set like this will be considered a piece of history; a little more effort to get things right would have gone a long way.
Anyone Who Had a Heart: The Art of the Songwriter has also been released in 2-disc, 40-track versions in both the U.K. and the U.S., with almost completely different track listings for each country.  More puzzlingly, there are tracks on both editions that are not on the 6-CD box. Although the unique tracks on the U.S. and U.K. 2-CD versions aren't particularly rare, it's still disappointing that a potential buyer interested in all the music would have to buy three different releases to obtain "everything." One would think a 6-CD box set would cover all of the bases. (Shades of the Steve Winwood box set of a few years back which had unique tracks on the highlights version!)  Of these two distillations, the U.S. version is the more eccentric of the two with such surprising, and offbeat, tracks as Sybil's dancefloor remake of "Don't Make Me Over," Smith's rock cover of "Baby It's You," Gloria Gaynor's disco "Walk On By," The Marvelettes' Motown-ized "Message to Michael" and Kevin Eubanks' smooth jazz "That's What Friends Are For."   ("On My Own" makes its only appearance here.)  The U.K. edition is a more straightforward "Greatest Hits," with some Brit-centric choices like Adam Faith's "Message to Martha" replacing The Marvelettes' on the American 2-CD set and Marlene Dietrich's (in German, no less!) on the box set.  Cilla Black does "Alfie" on the U.K. set – as does Barbra Streisand – but only Streisand gets the slot on the U.S. version.  Both Streisand and Nancy Wilson's "Alfie" are on the box set!  Bacharach and David's muse Dionne Warwick has three songs on the British set, but only one on the American counterpart.  Some of the alterations are sensible; others seem made at random.  (Why are two versions of "Alfie" featured on one compilation with only 40 songs out of literally hundreds to choose from?)  The U.S. version has a remastering credit for Mark Omann at UMS-W in Los Angeles.
Completists and casual fans alike will doubtless wish to leave a place on the shelf for Anyone Who Had a Heart: The Art of the Songwriter, as it's such an attractively-designed display object.  It's earned a place on mine.  Moreover, it goes without saying that its six CDs of music compile some of the greatest pop and soul of the 20th century American songbook.  As such, it's recommended.  But it's not the well-annotated, comprehensive, soup-to-nuts retrospective that the prospect of a 6-CD box might promise.  Perhaps we'll have to keep wishin' and hopin' for an updated and expanded edition of the still-unparalleled and currently out-of-print The Look of Love for that.  (Paging Messrs. Milligan and Cumming!)  Anyone Who Had a Heart: The Art of the Songwriter is, however, there to remind us of an artist whose music – in Hal David's immortal words - is enough to last till the end of time.
You'll find track listings for all three editions right here!
You can order the box set at Amazon U.K. or Amazon U.S.!