Patty Duke, Don't Just Stand There/Patty / Sings Songs from Valley of the Dolls/Sings Folk Songs (Time to Move On) (Real Gone Music)
All four of Patty's United Artists albums released on a pair of two-fers, including 1968's unreleased Sings Folk Songs.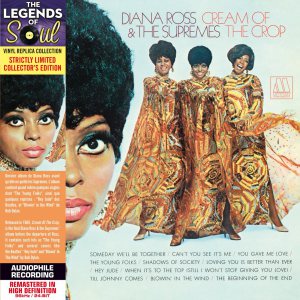 The Supremes, Cream of the Crop / Love Child / I Hear a Symphony / Join the Temptations / Sing Holland-Dozier-Holland / Supremes A Go-Go (Motown MS 649, 1966) (Culture Factory)
A bunch of Supremes classics - six albums from 1966's The Supremes A Go-Go to 1969's Cream of the Crop, their last with Diana Ross - all get the mini-LP treatment from Culture Factory.
Diana Ross, The Boss /An Evening with Diana Ross (Culture Factory)
Culture Factory also brings Miss Ross' long out-of-print concert disc back to CD, along with a new, mini-LP edition of the Ashford and Simpson-helmed favorite The Boss.
Julia Fordham, Porcelain / Swept: Deluxe Editions (Cherry Pop)
The second and third LPs by U.K. singer Julia Fordham are expanded and remastered for the first time.
Porcelain: Amazon U.K. / Amazon U.S.
Swept: Amazon U.K. / Amazon U.S.
Various Artists, 20 Feet from Stardom: Music from the Motion Picture (Columbia)
The soundtrack to the anticipated new documentary about the best backup singers you might not have known, from Darlene Love to Merry Clayton. (Legacy's releasing Clayton's first-ever best-of compilation next month.) (Amazon U.S. / Amazon U.K.)
Paul Young, Remixes and Rarities (Cherry Pop)
Two discs of rare or new-to-CD bonus material from the '80s crooner. (Amazon U.K. / Amazon U.S.)
Various Artists, Woody Guthrie at 100! Live at the Kennedy Center (Legacy)
Not sure if this concert kills fascists, but this CD/DVD tribute to a folk legend, featuring John Mellencamp, Lucinda Williams, Rosanne Cash and more is a fitting way to honor one of the century's best songwriters. (Amazon U.S. / Amazon U.K.)