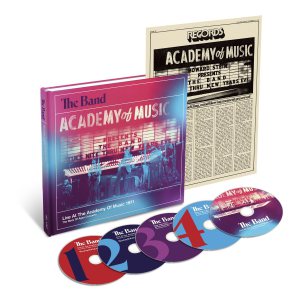 The Band's Rock of Ages has long been a mighty document of a mighty quintet at the height of its powers.  And it's about to get even mightier.
Robbie Robertson, Levon Helm, Garth Hudson, Rick Danko and Richard Manuel closed 1971 with four nights at New York City's Academy of Music, reveling in new horn arrangements by New Orleans' legendary Allen Toussaint and jamming with old mate Bob Dylan on New Year's Eve.  Highlights from the concert spawned the Top 10 album Rock of Ages, and a 2001 reissue added ten tracks to the original release's eighteen.  But on September 17, Capitol Records will unveil Live at the Academy of Music: The Rock of Ages Concerts, a 4-CD/1-DVD box set chronicling these shows in unprecedented detail.  Housed in a 48-page hardbound book, Live at the Academy presents new stereo and 5.1 surround mixes of the music of Rock of Ages, including 19 more previously unreleased performances and newly discovered footage of two songs filmed by Howard Alk and Murray Lerner.  Unlike many so-called "super deluxe" boxes, this set does not include the original album on which it's based; the 1972 LP version of Rock of Ages is absent with the new box serving more as a companion than a replacement to it.
After Americana/roots-rock trailblazers The Band completed their fourth album, Cahoots, they set out for Europe to play a brief tour in spring 1971.  More live performances followed that summer, culminating in the album's release in October.  The Band promoted Cahoots with a number of American dates, building up to a December 28-31 stand on Manhattan's East 14th Street between Irving Place and 3rd Avenue at The Academy of Music.  The 3,000-seat venue (sadly demolished by New York University following its closure in 1997) had filled the gap in New York nightlife recently vacated by Bill Graham's Fillmore East, and proved the perfect spot for The Band's brand of musical magic.
The Band had first worked with Allen Toussaint when he contributed horn arrangements to Cahoots' single "Life is a Carnival."  When it became clear that the performances at the Academy of Music were to be recorded for a live album, The Band invited the writer of "Mother-in-Law" and "Working in the Coalmine" to beef up the group's sound with his N'awlins brass.  Horns weren't new to The Band; multi-instrumentalist Garth Hudson had added tuba, euphonium and saxophones on the group's very first album.  But Toussaint brought a wealth of experience as an arranger and orchestrator, and a distinct funky sound all his own.  "I felt very much at home with The Band," Toussaint told writer Rob Bowman in 2000.  "There was nothing 'stock' about them.  Coming together as a group, that magic that formed from such individual love and interest, I just felt really good."
The road to the Academy was a bumpy one, though, especially when the unbelievable happened and Toussaint's bag containing eleven musical scores was lost at the airport!  The famously cool Toussaint took it in stride, telling Bowman, "I'm glad it did happen because what was written in Woodstock [where he traveled to meet the group to rehearse prior to the Manhattan stand] was better than anything I could have come up with at home.  More appropriate at least...I felt so fresh and so much better about it after getting there and seeing the guys and being in that environment."
The concerts consisted of two sets each night, first with The Band alone, then with the five-man horn section.  The set list was consistent, and nine songs had been added from the dates earlier that fall to beef up the concerts for the album.  Interestingly, the sets were light on songs from Cahoots.  "Shoot Out in Chinatown" had been dropped from the earlier gigs, and only two songs from the LP survived ("Life is a Carnival" and "Smoke Signal," the latter of which wasn't even included on the original Rock of Ages release).  In a surprise move, Bob Dylan showed up for the December 31 show to ring in New Year's 1972.
The late, great Phil Ramone was the recording engineer for Rock of Ages, working with Mark Harman.  Yet as early as the album's release in late summer 1972, there was confusion as to which tracks were utilized for the LP.  Ramone told the press that most of the album came from the December 30 performance, while Robbie Robertson opined that eighty percent was recorded on December 31.  The Dylan tracks were not included on the original release, but they were added to the 2001 reissue produced by Cheryl Pawelski and Andrew Sandoval.  That included bonus recordings from all four nights as its second disc, with the original album remaining in sequence on Disc One.
Exactly what will you find on Live at the Academy?  Hit the jump, won't you?
The collection's first two discs feature an alternate Rock of Ages experience: one performance of every song played over the course of the four concerts, for a total of 29 newly-remixed songs from all four nights including the four with Bob Dylan.  The third and fourth discs premiere the complete New Year's Eve concert in a different "Soundboard Mix."  Of this New Year's Eve recording, Robertson has commented, "This is like being there. It was the final night; there was a thrill in the air. We were excited about New Year's Eve, and then Dylan joined us for the encore. When he came out, we thought we could wing it, and wing it we did. We thought, 'We're not gonna fall off this wire.' That whole night had a bit of magic to it."  (Eleven of the songs from December 31 appear on the first two discs here.)
The fifth disc, a DVD, includes every song from Discs One and Two's composite concert - except for the Bob Dylan tracks- in newly-mixed 5.1 surround and re-sequenced.  As a bonus, the DVD also includes newly-unearthed filmed performances of "King Harvest (Has Surely Come)" and "The W.S. Walcott Medicine Show" shot by Howard Alk and Murray Lerner.
The package is presented in a 48-page book format with a reprint of Ralph S. Gleason's original Rolling Stone review of Rock of Ages, a new essay by Robbie Robertson, and new appreciations by Mumford and Sons and Jim James of My Morning Jacket.  The new set is produced by Robbie Robertson with Michael Murphy and Matt D'Amico.  The new stereo mixes on Discs 1 and 2 and the 5.1 mix on Disc 5 have been created by Bob Clearmountain, while the stereo mixes on Discs 3 and 4 were overseen by Sebastian Robertson and Jon Castelli assisted by Ryan Nasci.   The entire set has been remastered by Patricia Sullivan at Bernie Grundman Mastering.
Live at the Academy of Music: The Rock of Ages Concerts is due to arrive from Capitol/UMe on September 17.  A highlights version containing the complete composite concert from Discs 1 and 2 of the box set will also be released on that date.  You can order both versions below!
The Band, Live at the Academy of Music: The Rock of Ages Concerts (Capitol/UMe, 2013) (Amazon U.S. / Amazon U.K.)
CD 1
The W.S. Walcott Medicine Show
The Shape I'm In
Caledonia Mission
Don't Do It
Stage Fright
I Shall Be Released
Up on Cripple Creek
This Wheel's on Fire
Strawberry Wine (*)
King Harvest (Has Surely Come)
Time to Kill
The Night They Drove Old Dixie Down
Across the Great Divide
Tracks 1-2, 5 & 10 from December 31
Tracks 3, 6-7 & 13 from December 30
Tracks 4, 8 & 12 from December 29
Tracks 9 & 11 from December 28
CD 2
Life is a Carnival
Get Up Jake
Rag Mama Rag
Unfaithful Servant
The Weight
Rockin' Chair
Smoke Signal
The Rumor
The Genetic Method
Chest Fever
(I Don't Want To) Hang Up My Rock and Roll Shoes
Loving You is Sweeter Than Ever
Down in the Flood (with Bob Dylan)
When I Paint My Masterpiece (with Bob Dylan)
Don't Ya Tell Henry (with Bob Dylan)
Like a Rolling Stone (with Bob Dylan)
Tracks 1-2, 5 & 8 from December 30
Tracks 3-4, 9 & 13-16 from December 31
Tracks 6, 11-12 from December 29
Tracks 7 & 10 from December 28
CD 3: New Year's Eve – The Soundboard Mix
Up on Cripple Creek (*)
The Shape I'm In
The Rumor (*)
Time to Kill (*)
Rockin' Chair (*)
This Wheel's on Fire (*)
Get Up Jake (*)
Smoke Signal (*)
I Shall Be Released (*)
The Weight (*)
Stage Fright
CD 4: New Year's Eve – The Soundboard Mix
Life is a Carnival (*)
King Harvest (Has Surely Come)
Caledonia Mission (*)
The W.S. Walcott Medicine Show
The Night They Drove Old Dixie Down (*)
Across the Great Divide (*)
Unfaithful Servant
Don't Do It (*)
The Genetic Method
Chest Fever (*)
Rag Mama Rag
I Don't Want to Hang Up My Rock and Roll Shoes (*)
Down in the Flood (with Bob Dylan)
When I Paint My Masterpiece (with Bob Dylan)
Don't Ya Tell Henry (with Bob Dylan)
Like a Rolling Stone (with Bob Dylan)
DVD (5.1 Surround Mix):
The W.S. Walcott Medicine Show
The Shape I'm In
Caledonia Mission
Don't Do It
Stage Fright
I Shall Be Released
Up on Cripple Creek
This Wheel's on Fire
Strawberry Wine (*)
King Harvest (Has Surely Come)
Time to Kill
The Night They Drove Old Dixie Down
Across the Great Divide
Life is a Carnival
Get Up Jake
Rag Mama Rag
Unfaithful Servant
The Weight
Rockin' Chair
Smoke Signal
The Rumor
The Genetic Method
Chest Fever
(I Don't Want To) Hang Up My Rock and Roll Shoes
Loving You is Sweeter Than Ever
King Harvest (Has Surely Come) (December 30 – Film Clip) (*)
The W.S. Walcott Medicine Show (December 30 – Film Clip) (*)
(*) denotes previously unreleased track
CD 1, Tracks 6-7, 11 & CD 2, Tracks 8, 12-16 first appeared on Rock of Ages, Capitol CD 72435-30181-2-2, 2001
The Band, Live at the Academy of Music: The Rock of Ages Concerts - Highlights (Capitol/UMe, 2013) (Amazon U.S. / Amazon U.K. TBD)
CD 1
The W.S. Walcott Medicine Show
The Shape I'm In
Caledonia Mission
Don't Do It
Stage Fright
I Shall Be Released
Up on Cripple Creek
This Wheel's on Fire
Strawberry Wine (*)
King Harvest (Has Surely Come)
Time to Kill
The Night They Drove Old Dixie Down
Across the Great Divide
Tracks 1-2, 5 & 10 from December 31
Tracks 3, 6-7 & 13 from December 30
Tracks 4, 8 & 12 from December 29
Tracks 9 & 11 from December 28
CD 2
Life is a Carnival
Get Up Jake
Rag Mama Rag
Unfaithful Servant
The Weight
Rockin' Chair
Smoke Signal
The Rumor
The Genetic Method
Chest Fever
(I Don't Want To) Hang Up My Rock and Roll Shoes
Loving You is Sweeter Than Ever
Down in the Flood (with Bob Dylan)
When I Paint My Masterpiece (with Bob Dylan)
Don't Ya Tell Henry (with Bob Dylan)
Like a Rolling Stone (with Bob Dylan)
Tracks 1-2, 5 & 8 from December 30
Tracks 3-4, 9 & 13-16 from December 31
Tracks 6, 11-12 from December 29
Tracks 7 & 10 from December 28