"Where have I gone, where have I gone?" pondered Terry Kirkman on the haunting opening track to The Association's 1969 long-player.  Though the group's fifth album, it was simply titled The Association, signifying an artistic rebirth.  Gone were the session players and ornate Bones Howe production that marked their previous album, 1968's Birthday.  Taking the production reins themselves in tandem with John Boylan, The Association – Kirkman, Russ Giguere, Brian Cole, Jim Yester, Larry Ramos, Ted Bluechel., Jr. and the just-returned Jules Alexander – created one of their most beguilingly eclectic collections.  The Association, also known as "The Stonehenge album" for its spacey cover, didn't contain any hit singles.  But it showed off the group's trademark harmonies in gleaming form as each man's songwriting continued to grow in maturity.  Now Sounds has just delivered The Association in a deluxe stereo expanded edition with 10 bonus tracks, many in mono.
The Association addressed the heady, rapidly-changing times with the very first song as Kirkman pondered over an ethereal chorale, "Oh, it's a hard way down to the time I raised my hand and swore I'd gladly die for my God and Uncle Sam/There was so much I didn't know, and what I know, I didn't understand/Look at me, look at me/Where have I gone, where I have gone?"  But soon, Kirkman turned his questioning outward, too, with "Look at Me, Look at You."  The voices were familiar but the accompaniment, flecked with Doug Dillard's banjo, acknowledged country-rock.  Jim Yester leaned in that direction, too, with "What Were the Words."  This look back from relationship's end was originally written for The Dillards, and incorporates twangy instrumentation alongside those lush voices.  Jules Alexander wrote his own country-rock song with the reflective "Dubuque Blues."  This was, doubtless, an earthier Association, although folk influences had been a major component of the band since their earliest days.  On The Association, the multi-layered vocals hadn't lost the sheer and exhilarating beauty of "Everything That Touches You" or "Cherish," but frequently hinted at a darker place.
Even the love songs took on a more subtle air.  Alexander's "Love Affair," yearningly sung by Yester, paints a picture of "kids to the world of the old" with "dreams that we're living [which] they will never know...you in your Levis and I in my hair..."  The imagery is spare yet potent, and very much of a window into the time though its author opines in reissue producer Steve Stanley's comprehensive new liner notes that it "was about a woman I was going with at the time...nothing more than that, really."  Bluechel co-wrote the ambitious "The Nest," juxtaposing downbeat solo verses ("Without love, home's an empty house/And you might be the one who's left within it") with a more optimistic group-sung chorus in which the famed sunshine pop purveyors were at least hinting at a ray of sunshine.
The most commercial track on The Association was producer Boylan's "Yes I Will." Warner Bros. correctly selected the track for single release, but it couldn't rise above a disappointing No. 120 on the pop chart.  Still, it's one of the band's stronger rock-inflected songs, packing a simple yet powerful punch, even if it feels somewhat out of place on this more subtly reflective set.  "Goodbye Forever," written by Kirkman, Alexander and Rita Martinson, was originally submitted as a title song to the 1969 film Goodbye Columbus, but was rejected in favor of Jim Yester's stab at a title song for the movie.  It was retitled for The Association's recording, and boasts a catchy melody if rather silly lyrics playing on the film's then-risqué, hip and contemporary themes:    "Not just another pretty bottom/But a genuine blue boobie/Not just another pretty bottom/But a genuine cheap groovy..."
Larry Ramos and Tony Ortega's frenetic soul rocker, "Are You Ready," has a tough guitar riff and some horns arranged by Bones Howe's frequent collaborator Bob Alcivar.  Brian Cole and Jules Alexander's "I Am Up for Europe" ("...or any other place where I don't speak the language or recognize a face") emphasizes heavy guitars to a restless and searching lyric espousing a "gentle revolution."  Russ Giguere's only songwriting contribution is the jokey "Broccoli," about, well, broccoli.  Kirkman closed out the album on a suitably poetic note, though, with "Boy on the Mountain," co-written with arranger Richard Thompson (not of Fairport Convention fame).
After the jump: what bonus material will you find on The Association?  Plus: a look at Russ Giguere's solo album Hexagram 16!
The new edition of The Association offers mono mixes of seven of the album's songs plus three non-LP single sides.  The group narrowly missed the Top 40 (No. 47) with 1968's "Six Man Band," heard here in its mono 45 version.  Kirkman's song opened with a blazing electric guitar riff, hardly what was expected of the band at the time.  But his look at life on the road was credibly "heavy" and one more expression of The Association's versatility.  Another Kirkman song, "Enter the Young," was originally produced by Boettcher for And Then...Along Comes the Association, and re-recorded by the band in a leaner, meaner style for 1968's Greatest Hits, a Top 5 LP.  Its proposed mono single mix makes its first appearance on CD here.  The group briefly reunited with original producer Curt Boettcher for 1970's "Just About the Same," on which they sang over a backing track originally created for The Millennium.  It's a jaunty cut, with gleaming quintessentially Boettcher vocal arrangements, and The Association was rewarded with their final "Bubbling Under" single when it reached No. 106 on the Billboard chart.  It's presented here in stereo.
Alan Brownstein has gorgeously remastered The Association from the original tapes.  Steve Stanley's copious notes draw on new recollections from the Six-Man Band: Kirkman, Alexander, Ramos, Bluechel, Giguere and Yester.  Stanley has designed the typically lavish and indispensable booklet, which also contains full lyrics.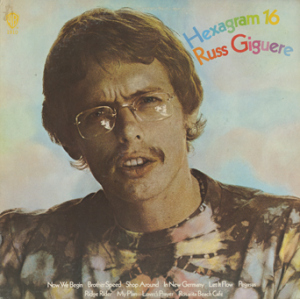 A couple of years later, in 1971, rhythm guitarist/vocalist/songwriter Russ Giguere departed the band's ranks to pursue a solo career.  He teamed that year with the producer of The Association, John Boylan, to craft his Warner Bros. solo debut Hexagram 16.  With support from musicians including Jim Keltner, Russ Kunkel, Spooner Oldham, The Dillards' Herb Pedersen, steel guitarist Buddy Emmons and The Flying Burrito Brothers' Chris Ethridge, Hexagram was released to little fanfare.  It's just made its CD debut from Real Gone Music. Real Gone's CD, produced by the label's Gordon Anderson, has no remastering credits, but shouldn't disappoint.
"Now we begin, we're reaching out to you/Now we begin, doing the thing that we do," Giguere's familiar voice intones over some gentle strums on "Now We Begin," the first track on Hexagram 16.  Though an accomplished songwriter, he only wrote two songs on the album, turning over the balance of the tracks to writers including producer Boylan, Randy Newman, Judee Sill, Bill Martin, Association bandmate Jules Alexander, and even Smokey Robinson for a cover of "Shop Around."  The solo voice introduced on "Now We Begin" momentarily jars, hearing Giguere's plaintive instrument sans the billowy blend of Association harmonies.  But the acoustic folk-pop sound is just one of the many solo styles explored by the artist on Hexagram 16.
Future Eagle Bernie Leadon played guitar, along with Giguere, on "Begin."  He also supplied the heavier licks on Boylan's folk-rocking "Brother Speed," first recorded by Boylan and his brother Terence the song in 1968 as Appletree Theater.  Judee Sill, one of the most original voices to emerge from the Laurel Canyon rock scene, accompanies Giguere on her own mini-western vignette "Ridge Rider."  (Sill's own rendition can be heard on her 1971 eponymous debut album.)  Jim Spheeris' "Let It Flow" is a truly lovely, almost Byrds-ian track, in an even more explicitly country vein.
Sill and Leadon weren't the only well-known guest musicians.  For Bill Martin's impressionistic "My Plan," Giguere enlisted Wrecking Crew vet Larry Knechtel (of Bread and "Bridge Over Troubled Water" fame) to play gothic organ, while The Association's onetime producer Jerry Yester, his wife Judy Henske, and keyboardist Craig Doerge of The Section on the track's ethereal, high harmonies.  Martin also supplied the considerably more relaxed "Rosarita Beach Café."  The starriest track on Hexagram is a tough and funky remake of "Shop Around," with Leadon, pianist Spooner Oldham and R&B legend Bobby Womack (also on guitar) joining Giguere, Merry Clayton, Clydie King and Venetta Fields on the soulful vocals.
Giguere affected an exaggerated voice for the rock-and-roll of his song "In New Germany," but more naturally rocked on Randy Newman's 12 Songs track "Lover's Prayer."  With Oldham doing his best boogie and Clayton leading Fields and King on the backups, it's one of the best tracks on the LP.  As with so many rock covers of Newman tunes – think Tom Jones or Joe Cocker - Giguere's version plays it straight on the lyrics that came off as dryly funny when sung by their composer in character: "Don't send me no young girl to love me, With their eyes shinin' bright/All the young girls are afraid of me, Send me a woman tonight..."
Hexagram 16 concludes with Jules Alexander's "Pegasus," orchestrated by Al Capps in Wagnerian style.  It ends the eclectic album on an offbeat and grandiose note, and indeed, perhaps Hexagram 16 was too diverse for its own good.  In the liner notes penned by Richie Unterberger, Giguere confesses, "It's pretty hard to bag it, pretty hard to put it in a category.  Because it's just music for music's sake."  True though that may be, it's a more-than-worthwhile reissue for any fans of The Association eager to hear one of the group's finest vocalists out front exploring his many facets and influences.
Thanks to the dedication of Now Sounds –whose ongoing, stellar reissue series will continue soon with Stop Your Motor – and Real Gone Music, there are more opportunities than ever to cherish the music of The Association.
The Association, The Association (Warner Bros. LP WS 1800, 1969 – reissued Now Sounds CRNOW 43, 2013) (Amazon U.S. / Amazon U.K.)
Look at Me, Look at You
Yes, I Will
Love Affair
The Nest
What Were the Words
Are You Ready
Dubuque Blues
Under Branches
I Am Up for Europe
Broccoli
Goodbye Forever
Boy on the Mountain
Just About the Same (Stereo 45) Warner Bros. single 7372, 1970)
Six Man Band (Mono 45) (Warner Bros. single 7229, 1968)
Enter the Young (Withdrawn 45, 1968) (previously unreleased)
Yes, I Will (Mono 45) (Warner Bros. single 7074, 1969)
Are You Ready (Mono 45) (Warner Bros. single 7349, 1969)
Dubuque Blues (Mono 45) (Warner Bros. single 7349, 1969)
Under Branches (Mono 45) (Warner Bros. single 7277, 1969)
I Am Up for Europe (Mono 45) (Warner Bros. single 7305, 1969)
Look at Me, Look at You (Mono Mix)
Boy on the Mountain (Mono Mix)
Russ Giguere, Hexagram 16 (Warner Bros. LP WS 1910, 1971 – reissued Real Gone Music RGM-0164, 2013) (Amazon U.S. / Amazon U.K.)
Now We Begin
Brother Speed
Ridge Rider
My Plan
In New Germany
Rosarita Beach Café
Lover's Prayer
Let It Flow
Shop Around
Pegasus