The very first release on Big Break Records, early in 2010, was an expanded reissue of the very first solo album by Gloria Gaynor.  Never Can Say Goodbye spun Clifton Davis' title track into disco gold and pioneered the sidelong disco mix with a nearly 19-minute suite from Tom Moulton consisting of "Honey Bee," "Never Can Say Goodbye," and another Motown revival, "Reach Out I'll Be There."   Big Break followed that landmark 1974 album with an expansion of Experience Gloria Gaynor, from 1975.  It followed the template of her debut with a sidelong, Moulton-mixed disco suite on Side One, and a more R&B-oriented Side Two.  (Continuing her tradition of updating classic soul music, Gaynor reworked Burt Bacharach and Hal David's "Walk On By" here.)  Over three years later, BBR is revisiting the era-defining vocalist's catalogue with remastered and generously expanded versions of her fifth and sixth albums: Park Avenue Sound and Love Tracks (both 1978), the latter of which introduced a little anthem called "I Will Survive."
The Newark, New Jersey-born vocalist had experienced the law of diminishing returns (commercially speaking) with the three albums that followed the success of her stunning and influential debut Never Can Say Goodbye.  Naturally, she looked to refine and reshape her sound; the Meco Menardo/Tony Bongiovi/Jay Ellis team that helmed her first three LPs made way for Gregg Diamond (The Andrea True Connection, George McCrae) on 1977's Glorious.  When that album failed to set the charts ablaze, Gaynor cast her sights not to New York, as the title of Park Avenue Sound might indicate, but to another neighbor of New Jersey: Philadelphia, Pennsylvania.  Perhaps Broad Street Sound lacked the same tony ring to it?  (J. Matthew Cobb's helpful and entertaining notes inform us that Gaynor's management had recently relocated to the swank Park Avenue environs.)
Guitarist/songwriter/arranger/producer Norman Harris, a key creator of the sound of Philadelphia soul and one of the founders of the MFSB house band at Sigma Sound Studios, had a few years earlier departed Kenneth Gamble and Leon Huff's Philadelphia International empire.  He brought his artistry to the Salsoul Records stable while also racking up hits for artists on numerous labels.  Harris' clients included The Dells, Eddie Kendricks, The Trammps and Blue Magic, each one benefitting from his versatile touch.  Harris could arrange down-and-dirty funk, euphoric disco or sweet soul.  Many of his productions were in tandem with bassist Ron Baker and drummer Earl Young under the Baker-Harris-Young umbrella.  Harris had actually provided the arrangement for the Paul Leka-produced track "Honey Bee" on Gaynor's debut, so he was already familiar with the singer's talents.  For Park Avenue Sound, he joined with songwriter Allan Felder and vocalist Ron Tyson of The Ethics and Love Committee; the three co-produced Park Avenue Sound under the moniker "TAN."  Tracks were laid down at Sigma Sound with the usual suspects: Bobby Eli joining Harris on guitar, Larry Washington on congas, Ron Kersey on keyboards, Bruce Gray on piano, Barbara Ingram, Carla Benson and Yvette Benton on backing vocals, and Jack Faith on arrangements and (likely) flute.
Those fans of Philadelphia soul who might be unfamiliar with this long-unavailable album will smile immediately upon hitting that "play" button.  The very first notes of the jubilant and lightly swinging "This Love Affair" - all rapturous Philly horns and strings, arranged by Harris, Tyson and Al Stewart - couldn't have been recorded anywhere but Sigma Sound.  The creamy coos of the Sweethearts of Sigma kick in before Gaynor's confident lead vocal begins: "This love affair has gotten to where I want it/I'm so proud to own it."  Co-written by Gaynor, it's an upbeat, happy and comfortable opening to an album that takes on themes of love in all its forms.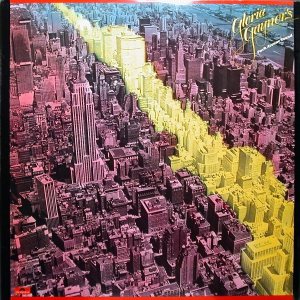 The peppy, burbling "Everytime You Make Love to Me" ("It's so heavenly...") and "For the First Time in My Life" ("I've found a man for me/A man who makes me feel just like a queen!") are both sunny, quintessential mid-tempo Philly jams from the Harrison/Tyson/Felder team, with the former arranged by Harris solo and the latter by Harris and Jack Faith.  "For the First Time" employs the Thom Bell-esque electric sitar sound that was a Philly soul staple along with the usual complement of horns and strings a-plenty.
Not that Park Avenue Sound is all sunshine and flowers.  Gaynor plays a sassy "other woman" who's more than a little fed up on "Part Time Love (Is a Full Time Job)," the track gilded by arranger Kersey's persuasive disco beat.  There's a funk-meets-disco edge to "Kidnapped," though the Sweethearts' backing vocals and Harris' brassy orchestral flourishes keep the catchy track from falling too far afield of the pop-soul blueprint.
A pair of tracks produced by Joel Diamond and Harold Wheeler rounded out the original LP.  Wheeler was Broadway's first African-American conductor when selected to ascend the podium for Burt Bacharach and Hal David's Promises, Promises in 1968, and today conducts the orchestra for U.S. television's Dancing with the Stars.  Wheeler and Gaynor attempted to rekindle the "Never Can Say Goodbye" magic with a dancefloor jaunt set to Ashford and Simpson's Motor City classic "You're All I Need to Get By," and went considerably mellower with a medley of "After the Lovin'" (a then-recent hit for Engelbert Humperdinck) and Gaynor's "Sweet Sounds for My Baby."  Though sonically cut from a different cloth than the Harris/Tyson/Felder tracks, both songs occupy unique places on the album: "You're All I Need" is the most overtly disco track on the LP, and the "After the Lovin'" medley shows Gaynor's prowess as a sensual and soulful ballad singer.  "You're All I Need" was selected to lead off a four-track, 12-inch disco single, along with "This Love Affair," "Everytime You Make Love to Me," and "Part Time Love."  Though Polydor gave it a shot, none of the songs were sufficiently remixed and extended to create too many rumbles at the disco.  All four sides are included on BBR's deluxe edition as bonus tracks, along with the standard single version of "This Love Affair."
It's a mystery why the infectious lead-off single "This Love Affair" and Park Avenue Sound weren't better received at the time, as they stood tall at the crossroads of Philadelphia soul, disco and crossover-friendly pop.  Undeterred, Gaynor went on to create the LP which yielded her most successful record ever, and one of the most iconic songs of all time.
After the jump: we will survive with Love Tracks!
Producers Freddie Perren and Dino Fekaris knew they had the perfect song for Gloria Gaynor.  Perren and Fekaris, whose collective C.V. includes The Jackson 5, Peaches and Herb, Tavares and Rare Earth, had written a song called "I Will Survive" that was in need of the right singer.  And so it remained in their trunk until Gloria Gaynor entered their lives.  Wheelchair-bound and in a back brace from a spill onstage and without a major hit in a few years, the singer nonetheless epitomized the indomitable spirit expressed in the song.  But it almost happened by accident.
The label brass at Polydor wished for their star to record Willie Harry Wilson's song "Substitute," first recorded by The Righteous Brothers and later a hit for the South African band Clout.  Gaynor and her team wanted Perren and Fekaris to produce the track, but they only agreed on the condition that they could supply the B-side.  That was "I Will Survive."  Even when it was still considered a mere flipside, Gaynor strongly identified with the song, recounting to Cobb in his excellent notes that she related it first to her health issues, then to the passing of a loved one.  Gaynor made it her mission to expose the song to a wider audience even when Polydor didn't see it as a hit.  Her fall trip to Studio 54 with the record of "Survive" in tow was one turning point in the song's history; by Christmas, disk jockeys were flipping "Substitute" and sending "I Will Survive" from its No. 87 Pop debut straight to the top.
So commanding was Perren and Fekaris' onetime B-side, it blurred lines of gender, race, generation, and sexual orientation.  Anyone who had ever been put down or felt vulnerable - in other words, everybody - could identify with its empowering message.  That its evocative lyrics were wrapped in an irresistible, melodic package sung so authoritatively by The Queen of the Discos put it over the top.  It was also an unusually lean production, with Gaynor flying solo sans any background vocalists; the album version offers more to savor, running longer than the familiar single - surely one of the most recognizable ever recorded.  (That 3:15 edit of "Survive" is not among the bonus tracks here.)
"Survive" is one of eight songs on Love Tracks.  The album's opening salvo, "Stop Light," demanded attention with its cries of "Stop light!  Stop light!  Hold it right there!" over Perren and Fekaris' bubbly but pulsating disco groove.  The assertive "I Said Yes" boasts an even more aggressive beat.  And then there's "Substitute" - it's perfectly pleasant, and an enjoyable light dance-pop soufflé, but has none of the gravitas, emotion or resonance of its one-time flipside.  Though Perren and Fekaris aimed more directly at the disco crowd than Harris, Tyson and Felder had - and hit the bullseye - they didn't lose sight of Gaynor's vocal versatility, either.
Fekaris teamed with renowned Motown arranger David Van De Pitte (What's Going On) for the pleading ballad "Please, Be There," emotively sung by Gaynor.  Even better is the sultry, shimmering and somewhat Diana Ross-esque "You Can Exit" from Perren and Fekaris' pen.  And once again, Gaynor looked back to an oldie-but-goodie for an extended disco workout of Teddy Randazzo and Bobby Weinstein's dramatic "Going Out of My Head."
"I Will Survive" understandably dominates the five bonus selections.  It's represented in its eight-minute, 12-inch disco version, in a comparably long Spanish-language version ("Yo Virire") and most excitingly, in a previously unreleased Tom Moulton mix.  Moulton turns the song on its side, first emphasizing the grandiose orchestration, then bringing Gaynor's voice even more to the fore than on the original version.  Isolating certain elements of the original recording, such as a jazzy saxophone, he creates a faithful yet alternative look at the song.  12-inch mixes of "Substitute" and "Anybody Wanna Dance?" - the latter bringing out the track's greasy funk guitar - complete the CD's expanded sequence.
Both albums are impressively designed in Big Break's usual style.  Liner notes have been provided by J. Matthew Cobb with contributions from Gaynor, and splendid new remastering has come courtesy of Kevin Reeves at Universal.  Though she might remain the Queen of the Discos, Gloria Gaynor's sound has certainly survived.
Park Avenue Sound and Love Tracks can be ordered now at the links below!
Gloria Gaynor, Gloria Gaynor's Park Avenue Sound (Polydor LP PD-1-6139, 1978 - reissued Big Break Records CDBBR 0131, 2013) (Amazon U.S. / Amazon U.K.)
This Love Affair
Part Time Love (Is a Full Time Job)
Everytime You Make Love to Me
For the First Time in My Life
You're All I Need to Get By
After the Lovin'/Sweet Sounds for My Baby
Kidnapped
This Love Affair (12-Inch Disco Version)
You're All I Need to Get By (12-Inch Disco Version) (Polydor PRO 043, 1978)
Everytime You Make Love to Me (12-Inch Disco Version) (Polydor PRO 043, 1978)
Part Time Love (Is a Full-Time Job) (12-Inch Disco Version) (Polydor PRO 043, 1978)
This Love Affair (Single Version) (Polydor single PD-14472, 1978) (Polydor PRO 043, 1978)
Gloria Gaynor, Love Tracks (Polydor LP PD-1-6184, 1978 - reissued Big Break Records CDBBR 0140, 2013) (Amazon U.S. / Amazon U.K.)
Stoplight
Anybody Wanna Party?
Please, Be There
Goin' Out of My Head
I Will Survive
You Can Exit
I Said Yes
Substitute
I Will Survive (12-Inch Disco Version) (Polydor PD-D 504, 1978)
Anybody Wanna Party? (12-Inch Disco Version) (Polydor PD-D 507, 1979)
Yo Vivire (I Will Survive - 12-Inch Spanish Version) (Polydor PD-D 512, 1979)
I Will Survive (A Tom Moulton Mix) (previously unreleased)