We've already filled you in on the upcoming Record Store Day releases from Legacy Recordings, Rhino, and Real Gone Music, but there's still much more on offer from many of our other favorite labels!  Here's a selection of "the best of the rest" to be released in brick-and-mortar independent record stores on Saturday, April 21!
ABBA, Summer Night City (Polydor) (2000 copies) (Record Store Day UK) (Quantity TBA)
Clear/yellow-splatter 7-inch release of ABBA's 1978 non-LP single
Baby Huey, The Baby Huey Story: The Living Legend (Run Out Groove) (3,350 copies)
Run Out Groove has a deluxe 2LP set with bonus disc of unreleased instrumentals from Curtom Records' psychedelic soul man (not the oversized Harvey Comics duckling)!  This smoking set has been mastered for vinyl by Chris Bellman, and is packaged with a special Curtom-inspired ROG slipmat!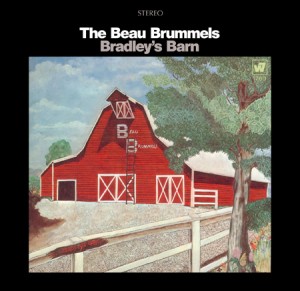 The Beau Brummels, Bradley's Barn: Expanded Edition (Run Out Groove) (3,000 copies)
ROG also is offering a 2LP, multi-colored vinyl set of the Brummels' 1968 country-rock classic with a bonus disc of demos and alternates!  It's all been remastered for vinyl by Pete Weiss!
Beaver and the Trappers, Happiness is Havin'/In Misery (Sundazed/Modern Harmonic) (950 copies)
Leave it to Sundazed to revive the 1966 garage-rock single from TV's The Beaver, a.k.a. Jerry Mathers!  The Beav has even provided new liner notes for this 7-inch single!
Chuck Berry, Chuck Berry's Greatest Hits (Sundazed) (1350 copies)
Sundazed has spruced up Chess Records' 1964 compilation with new artwork and a gold vinyl pressing!
David Bowie, David Bowie (Republic) (3000 copies)
2LP red/blue vinyl reissue of David's quirky debut LP in mono and stereo
Car Seat Headrest, Twin Fantasy (Mirror To Mirror) (Matador) (4000 copies)
2LP reissue of indie band's 2011 breakthrough album, recently re-recorded and reissued by the band
Eric Clapton, Rush: Music From The Motion Picture Soundtrack (Warner Bros.) (2600 copies)
U.S. vinyl debut of soundtrack to the 1991 film, featuring "Tears In Heaven"
Eric Clapton, Complete Clapton (Warner Bros.) (2000 copies)
4LP edition of 2007 hits package, featuring bonus 7" of "The Shape You're In" b/w "See What Love Can Do"
Elvis Costello, Someone Else's Heart (Yep Roc) (4000 copies)
2011 Squeeze cover; Costello's first collaboration with members of The Roots
Def Leppard, Live At Abbey Road (Bludgeon Riffola/Mercury) (4000 copies)
Previously unreleased 2008 live session
Bo Diddley, 16 All-Time Greatest Hits (Sundazed) (1350 copies)
White vinyl edition of classic collection with new cover art
Disturbed, The Lost Children (Warner Bros.) (3250 copies)
Vinyl debut of 2011 B-sides compilation
Dr. Dre, Dre Day 12" (eOne/Death Row) (2500 copies)
Clear vinyl reissue of breakthrough single release for legendary hip-hop producer. Includes original non-LP B-sides
Duran Duran, Budokan (Warner Bros.) (2700 copies)
Highlights from the closer of the band's most recent Paper Gods Tour in 2017
Evanescence, Lost Whispers (Craft Recordings) (2500 copies)
B-sides collection first featured in vinyl box set
Ella Fitzgerald, Ella At Zardi's (Verve) (1500 copies)
Opaque pink/blue vinyl debut of the previously unreleased live show released last year on CD
Marvin Gaye, Let's Get It On (Tamla/Motown) (1000 copies)
45th anniversary 180-gram red vinyl pressing of Marvin's steamy masterwork
Gloria Gaynor, I Will Survive 12" (Polydor) (1500 copies)
40th anniversary reissue of disco anthem
Bobbie Gentry, Live at the BBC (UMC) (Record Store Day UK) (Quantity TBA)
1 LP of previously unreleased recordings from the reclusive "Ode to Billie Joe" artist
Elton John vs. Pnau, Good Morning To The Night (Virgin) (1100 copies)
U.S. vinyl debut of amazing Elton remix/reconstruction album from 2012
Latin Playboys, Latin Playboys (Slash/Warner Bros.) (Quantity TBA)
Vinyl debut of 1994 album by David Hidalgo, Louie Perez (both of Los Lobos) and instrumentalists/producers Mitchell Froom and Tchad Blake
The Police, Roxanne (A&M) (2000 copies)
Put on the red light!  Here's a reissue of the band's breakthrough single in a die-cut sleeve.
Robert Rodriguez & Various Artists, Planet Terror: Original Motion Picture Soundtrack (Varese Sarabande) (2000 copies)
Varese brings director-composer Robert Rodriguez's score to his 1997 segment of Grindhouse, inspired by John Carpenter, to vinyl for the first time.
The Rolling Stones, Their Satanic Majesties Request (ABKCO) (3500 copies)
Colored/splatter vinyl version of the Stones' psychedelic album
Adam Sandler, They're All Gonna Laugh At You! (Warner Bros.) (3325 copies)
First time vinyl edition of the comedian's debut album
Soft Cell, Say Hello Wave Goodbye / Youth - Reimagined (UMC) (1500 copies)
To celebrate Soft Cell's impending box set and farewell gig, this 12" release features period-specific "re-imagined" extended versions of two classic tracks, using original studio elements
Soundgarden, A-Sides (A&M) (5000 copies)
First time vinyl release of 1997 compilation; 2LP set features bonus non-LP track "Bleed Together." An RSD First release.
Sublime, Sublime (Geffen) (3500 copies)
10" release featuring four-track 1990 cassette
Taylor Swift, Taylor Swift / Fearless: Platinum Edition / 1989 (Big Machine) (2500 copies each)
Individually numbered, color vinyl (turquoise, gold, hot pink) editions of albums from the country-pop superstar's back catalogue
Tangerine Dream, Zeit (Varese Sarabande) (2000 copies)
Varese returns to the Tangerine Dream catalogue with their breakthrough record and third album (a double-LP set) Zeit, pressed on tangerine colored vinyl.
Various Artists, Jazz Dispensary, Vol. 2: Soul Diesel (Craft Recordings) (2000 copies)
This release is just what the doctor ordered: a full platter of smoking soul-jazz from Billy Butler, Gene Ammons, Grove Washington Jr., Bernard "Pretty" Purdie, Cal Tjader, and more!
Various Artists, Krush Groove: Music From The Original Motion Picture Sound Track (Varese Sarabande) (1500 copies)
Varese reissues the soundtrack to the hip-hop film - featuring Sheila E, LL Cool J, Kurtis Blow, Beastie Boys, Run-DMC, Chaka Khan, and more - with a rare record club jacket, and pressed on graffiti-colored vinyl!
Various Artists, Motown Funk Volume 2 (Motown) (Record Store Day UK) (Quantity TBA)
Marvin Gaye, Stevie Wonder, The Commodores, and Eddie Kendricks are among the artists featured on this 19-track, 2-LP colored vinyl set of hot funk grooves from Berry Gordy's venerable label!
Tom Waits, Brawlers, Bawlers and Bastards (Anti-) (4500 copies each)
Released together as a 2006 rarities box set, these three 2LP collections (on transparent red, blue and grey vinyl) are now available as individual volumes
The Who, The Kids Are Alright (Geffen) (3000 copies)
2LP red/blue vinyl version of 1979 documentary soundtrack
John Williams, Star Wars: The Last Jedi (Walt Disney) (3500 copies)
From The Maestro's Oscar-nominated score to the eighth film in the Star Wars saga, this 10" vinyl, shaped like one of the lovable Porgs seen in the movie, features "The Rebellion is Reborn" and "Canto Bight" from the original soundtrack.
Neil Young, Tonight's The Night: Live At The Roxy (Reprise) (7500 copies)
Neil Young dips into his archives for the first performance of Tonight's the Night at Los Angeles' Roxy in 1973.  This RSD First 2-LP release adds a special photo print that will not be included in subsequent pressings.
Frank Zappa, Lumpy Gravy b/w Primordial (Zappa) (4000 copies)
Zappa's 1967 orchestra-only Capitol Studios edits make it to 45 RPM, 7-inch vinyl for the first time.