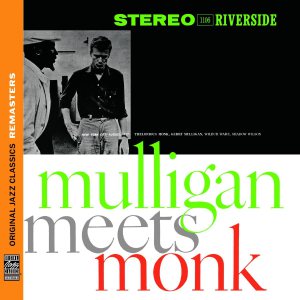 From its headquarters at 553 West 51st Street in New York, New York, the Riverside Records label presided over an impressive roster of jazz talent.  Founded in 1953 by Orrin Keepnews and Bill Grauer, Riverside was home at one time or another to Sonny Rollins, Art Blakey, Alberta Hunter, Johnny Griffin, plus a number of artists currently being recognized with deluxe reissues from the Riverside catalogue: Thelonious Monk and Gerry Mulligan, Cannonball Adderley and Milt Jackson, Chet Baker, Wes Montgomery and Bill Evans.  That "Who's Who" of jazz is represented via five new titles as part of Concord Records' Original Jazz Classics series celebrating Riverside's 60th anniversary:
Thelonious Monk and Gerry Mulligan, Mulligan Meets Monk (1957)
Cannonball Adderley with Milt Jackson, Things Are Getting Better (1958)
Chet Baker, Plays the Best of Lerner and Loewe (1959)
Wes Montgomery, So Much Guitar! (1961)
The Bill Evans Trio, How My Heart Sings! (1964)
All five titles are available now, newly remastered by Joe Tarantino and expanded with bonus tracks and new liner notes by writers including Neil Tesser (Mulligan and Monk), Willard Jenkins (Adderley and Jackson), James Rozzi (Baker), Marc Myers (Montgomery) and Doug Ramsey (Evans).  Producer Orrin Keepnews' original notes have been reprinted, as well.  After the jump, we'll take a closer look at each of them!
Long before The Four Seasons met The Beach Boys, East met West on Mulligan Meets Monk. The baritone saxophonist first met the pianist in 1954 at the Paris Jazz Festival, quickly befriending him.  Their styles were very different – bebop pioneer Monk was called the "Mad Monk" for his offbeat, angular and sometimes atonal compositions, while Mulligan epitomized the West Coast "cool" school of jazz that emerged, in part, as a response to bop.  Yet the pair proved complementary on this 1957 set, on which they were aided by Wilbur Ware (bass) and Shadow Wilson (drums).  In the six-song set, the group tackles four tunes by Monk (including the all-time perennial "'Round Midnight," a staple of Miles Davis' book), one by Mulligan, and one standard.  Famous for his early piano-less quartet, a supremely and justifiably confident Mulligan seems at ease with the boundless creativity of Monk on the keys.
Despite – or perhaps, because of – Mulligan and Monk's very different styles, the LP sizzles with an intensity, spirit and invention.  Mulligan's cool tones bring a new dimension to the album's most familiar songs, "'Round Midnight" and "Straight No Chaser," while Monk' s piano infuses Mulligan's original "Decidedly" with a sweetness and subtle flair.  Four bonus tracks allow a window into the album's creation, with two more takes of "I Mean You," one additional take of "Decidedly" and one of "Chaser."  When comparing the latter to the take selected for the album, one can feel Mulligan trying to find his way into the material.  The early attempts at "I Mean You" (Takes 1 and 2) are both more urgent and fast-paced than the easygoing finished version (Take 4).  Mulligan Meets Monk is a hidden gem in both musicians' vast catalogues, and a surprisingly effective meeting of giants.
Alto saxophonist Cannonball Adderley and vibraphonist Milt Jackson of the Modern Jazz Quartet continued their partnership – first established on record in 1957 on the Jackson's Atlantic album Plenty, Plenty Soul – with Riverside's Things Are Getting Better.  An all-star line-up supported the two leaders: Wynton Kelly on piano, Percy Heath on bass and Art Blakey on drums.  Heath and Blakey had both also appeared on Plenty, Plenty Soul.  Mere months following the album's recording, Kelly and Adderley would reteam behind Miles Davis for "Freddie Freeloader" on Davis' iconic Kind of Blue; Heath and Jackson were already well-versed with each other's skills from their tenures in the MJQ.  This tight, well-attuned unit flourished in a soulful, melodic jazz bag on Getting Better.
In his liner notes, Orrin Keepnews describes "Bags" and "Cannon" as "modern traditionalists," which was certainly apt. Adderley contributed a couple of songs, the title track and "Sounds for Sid," while Jackson offered "Blues Oriental."  The remaining tracks came from a variety of sources: the 1894 (!) "Sidewalks of New York," Dizzy Gillespie's "Groovin' High," Buddy Johnson's "Serves Me Right" and Cole Porter's timeless "Just One of Those Things."  From the moody, chilled out vibe (or vibes...) of "Blues Oriental," to the jaunty title song by Adderley, the entire quintet seems engaged throughout.  Jackson's vibes shimmer and Adderley's boisterous and invigorating sax swaggers on the rollicking "Getting Better."  The group takes it down for the smoky blues of "Serves Me Right," but the be-bopping "Groovin' High" is a master class of spirited improvisation.  Jackson holds his own against the showstopping, sinuous Adderley on "Sidewalks," his vibes washing over Blakey's beat, Kelly's tinkling piano and Heath's bass foundation.  "Just One of Those Things" sheds its ballad trappings in this beguiling and persuasive interpretation with both Adderley and Jackson cut loose following a straightforward reading of Porter's melody.  Alternate takes of "Serves Me Right" (Take 4) and "Sidewalks" (Take 4) have been added to the original album, along with a brief snatch of studio banter, "A Few Words."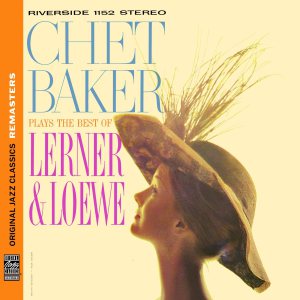 The partnership of Alan Jay Lerner and Frederick Loewe was one of Broadway's most fruitful.  Following some early, all-but-unknown works (The Life of the Party, What's Up, The Day Before Spring), the pair struck gold (metaphorically) with 1947's lush romantic fantasy Brigadoon and 1951's Paint Your Wagon (literally, as it was about the Gold Rush!).  1956's My Fair Lady, though, became a once-in-a-lifetime hit, a record-breaking musical that embodied the best the theatre had to offer.  1960's Camelot couldn't match the artistic or commercial success of My Fair Lady, but was still a major hit and embodied the optimistic spirit of the John F. Kennedy administration.  In between My Fair Lady and Camelot, the team wrote the score to MGM's lavish motion picture Gigi, and trumpeter (and sometime-vocalist) Chet Baker saluted their work with Chet Baker Plays the Best of Lerner and Loewe, presented here in a straight reissue with no additional material.
Baker, also of the West Coast school, rose to prominence playing alongside Gerry Mulligan.  A bit of an enfant terrible, Baker was a talented artist whose great musical gifts unfortunately took a backseat to his drug addiction far too often.  Yet on record, Baker was often a romantic, whether crooning with off-hand charm or distinctively singing with his trumpet.  Lerner and Loewe followed his ballad set Chet, which found him tackling standards by Cole Porter, Kurt Weill and Richard Rodgers with a line-up including Herbie Mann (alto flute), Pepper Adams (baritone sax), Bill Evans (piano), Connie Kay (drums), Paul Chambers (bass) and Kenny Burrell (drums).  The versatile Mann returned for Lerner and Loewe, on flute, alto flute, piccolo and tenor saxophone, as did Adams and Evans.  Zoot Sims (alto and tenor saxophones) joined in, as did Bob Corwin (piano on four songs), Earl May (bass) and Clifford Jarvis (drums).
Despite the personnel changes, Lerner and Loewe built on the late-night atmosphere of Chet, adding in up-tempo tracks for a bit of variety that showed off the distinguished Broadway pros' compositions in a new light.  Baker is appropriately wistful on a heartfelt, moody and beautiful "I've Grown Accustomed to Her Face" from My Fair Lady, joined on the melody by Adams' and Sims' saxes.  The ebullient "I Could Have Danced All Night" from the same show is taken as a light and airy waltz, with prominent piccolo and tenor sax, and an effortlessly musical solo from Bill Evans.  Mann takes one of the spotlight turns on the sparkling "Show Me," and a deftly extended, gently swinging rendition of "On the Street Where You Live" rounds out the selections from Lerner and Loewe's greatest musical.
Doubtless one of the loveliest tracks here is "The Heather on the Hill," from Brigadoon.  Following a bass introduction from May that owes more to a smoky nightspot than to the titular Scottish land, Baker and co. take a languid approach to the gorgeous Loewe melody.  Baker's solo organically stretches Loewe's notes to unexpected places, while pianist Corwin brings a touch of swing to his solo.  A more expected choice from Brigadoon is "Almost Like Being in Love," in which the exultant melody is embellished with aplomb and imagination.  Gigi's "Thank Heaven for Little Girls" is slyly underplayed by Baker, Sims and the rhythm section, with Evans making quite an impression, as per usual, with his perfect minimalist flourishes.  One of the least-recorded songs here, "I Talk to the Trees" from Paint Your Wagon, gets a dark, moody and atmospheric setting, with Evans and Mann both playing central roles.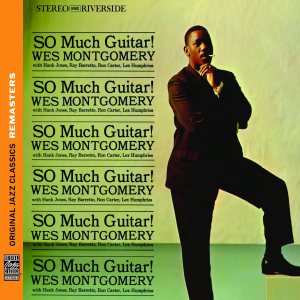 What more can be said about the great Wes Montgomery?  The influential guitar man didn't enter a recording studio until 25 years of age, didn't record as a leader until another ten years had elapsed, and was dead ten years after that, felled by a heart attack at age 45. The guitarist's work can be divided into three distinct periods at different labels: Riverside (1959-1964), Verve (1964-1966) and A&M (1967-1968). The latter two stints were spent under the aegis of producer Creed Taylor, who shaped Montgomery into a pioneer of the crossover jazz market, sweetening his recordings with strings and encouraging him to record the latest pop/rock hits.   For fans of his "pure" jazz sound, the new reissue of 1961's So Much Guitar! will prove a treat.
Montgomery's sixth album for Riverside, So Much Guitar! paired the virtuoso with a crack group consisting of Hank Jones (piano), Lex Humphries (drums), Ray Barretto (congas) and Ron Carter (bass).  Carter is today a living legend, with over 2,500 album credits to his name not just as a leader, but as a sideman.  Miles Davis, Antonio Carlos Jobim, Harry Connick, Jr., Bette Midler, Roberta Flack, Herbie Hancock and Gil Scott-Heron are just a few of those who have benefitted from Carter's bass technique.  So Much Guitar! was one of Carter's first major projects and helped put him on the map.
Its eight songs – primarily standards with a couple of Montgomery originals – show the guitarist's deft skill and readily identifiable sound.  He made radical use of octaves (playing the same note on two strings, one octave apart) and chord melodies, and was inclined to play with his thumb rather than a pick, but all that mattered to listeners was how captivating his sound was.  So Much Guitar! shows him attacking the up-tempo numbers and languidly reflecting on the ballads.  An ideal partner was also found in Ron Carter, whose bass almost seems at one with Montgomery's guitar throughout.  The entire section cooks on a swinging pair of Duke Ellington numbers (the rapid-fire "Cotton Tail" and breezier "I'm Just a Lucky So-and-So") while Montgomery's spellbinding solo "While We're Young" is a highlight, as well.  The album finale of "One For My Baby (And One More For the Road)" can stand its own alongside any of the mighty versions of that all-time torch standard.
Though no additional session material exists to be added as bonus tracks, producer Keepnews has appended an entire bonus album to the new reissue.  The Montgomery Brothers in Canada – with Wes joined by Buddy (vibes) and Monk Montgomery (bass) and Paul Humphrey (drums) – was recorded at Vancouver's The Cellar just a few months prior to So Much Guitar!.  With Wes not out front as leader, and no piano (pianist Buddy switched to vibes for the set) the album has a very different feel.  There's only one original (Buddy's upbeat "Beaux Arts") and it's very much in a cool bop-based vein.  A dark, spare version of the brooding "Angel Eyes" is as deliberate as Charlie Parker's "Barbados" is effervescent.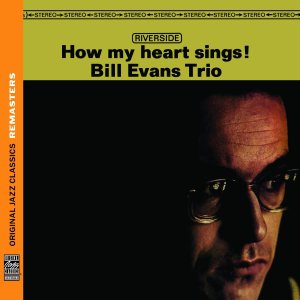 The Bill Evans Trio's 1962 album adds an exclamation point for How My Heart Sings! yet the famously introspective Evans is pictured not in an ebullient pose to reflect that title but rather in shadow, glaring intensely.  The pianist, famed for his strides in modal jazz (in which solos build from the key rather than from chord changes only), was coming off a deep period of sadness following the tragic death of bassist Scott LaFaro in 1961 in a car accident.  In the spring of 1962, Evans revived his Trio again with drummer Paul Motian, and Chuck Israels filling LaFaro's large shoes.  Following sessions with Herbie Mann for his Atlantic LP Nirvana, the new Bill Evans Trio regrouped for the May-June '62 sessions that yielded the albums Moonbeams and How My Heart Sings!
Whereas Moonbeams was filled with beautiful, low-key, late-night balladry, Sings was more spirited, and more swinging...more "moving" in Evans' own words.  In addition to Earl Zindars' title track, Evans brought his own "Walking Up," "34 Skidoo" and "Show-Type Tune."  Cole Porter, the Gershwins and even Dave Brubeck were also represented.  Evans had the gift of making any piece he chose to play his own; hence, Porgy and Bess' oft-recorded "Summertime" is far from a retread, but rather a reinvention.  Israels' slinky bass vamps, Motian's deft and shimmering drums and Evans' adroit deconstruction of the Gershwin melody all add up to something quite special and unsurprisingly lyrical.  He takes on "In Your Own Sweet Way" by his piano contemporary Brubeck, whose style was as different to Evans' as day is to night.  In Evans' hands, the gentle love song gets a sprightly and infectious reading, with Israels taking a fine solo, too.  The sense of movement described by Evans might be best conveyed on his original song "Walking Up."  Three bonus tracks have been added here: the previously issued alternate Take 2 of "In Your Own Sweet Way," plus never-before-released takes of "34 Skidoo" (Take 9) and Porter's "Ev'rything I Love" (Take 2).
All five titles are available for order now at the links below!
Gerry Mulligan and Thelonious Monk, Mulligan Meets Monk (Riverside LP RLP 12-247, 1957 – reissued Original Jazz Classics OJC-34590-02, 2013) (Amazon U.S.
'Round Midnight
Rhythm-a-Ning
Sweet and Lovely
Decidedly (Take 4) (from OJC CD 301-2, 1987)
Straight, No Chaser (Take 3) (from OJC CD 301-2, 1987)
I Mean You (Take 4) (from OJC CD 301-2, 1987)
Decidedly (Take 5) (from OJC CD 301-2, 1987)
Cannonball Adderley with Milt Jackson, Things Are Getting Better (Riverside LP RLP-1128, 1958 – reissued Original Jazz Classics OJC-34602-02, 2013) (Amazon U.S.
Blues Oriental
A Few Words (bonus track)
Things Are Getting Better
Serves Me Right (Take 5)
Groovin' High
The Sidewalks of New York (Take 5)
Sounds for Sid
Just One of Those Things
Serves Me Right (Take 4) (from OJC CD 032-2, 1988)
The Sidewalks of New York (Take 4) (from OJC CD 032-2, 1988)
Chet Baker, Plays the Best of Lerner and Loewe (Riverside LP RLP-1152, 1959 – reissued Original Jazz Classics OJC-34599-02, 2013) (Amazon U.S.
I've Grown Accustomed to Her Face
I Could Have Danced All Night
The Heather on the Hill
On the Street Where You Live
Almost Like Being in Love
Thank Heaven for Little Girls
I Talk to the Trees
Show Me
Wes Montgomery, So Much Guitar! (Riverside LP RLP-9382, 1961 – reissued Original Jazz Classics OJC-34596-02, 2013) (Amazon U.S.
Twisted Blues
Cotton Tail
I Wish I Knew
I'm Just a Lucky So and So
Repetition
Something Like Bags
While We're Young
One For My Baby (And One More For the Road)
Jeannine
Snowfall
Angel Eyes
Barbados
This Love of Mine
On Green Dolphin Street
You Don't Know What Love Is
Beaux Arts
Tracks 9-16 from The Montgomery Brothers in Canada (Fantasy 3323, 1961)
The Bill Evans Trio, How My Heart Sings! (Riverside LP RS-9473, 1962 – reissued Original Jazz Classics OJC-34593-02, 2013) (Amazon U.S.
How My Heart Sings
I Should Care
In Your Own Sweet Way
Walking Up
Summertime
34 Skidoo
Ev'rything I Love
Show-Type Tune
In Your Own Sweet Way (Take 2) (previously released on Riverside RCD-018-2, 1987)
34 Skidoo (Take 9) (previously unreleased)
Ev'rything I Love (Take 2) (previously unreleased)