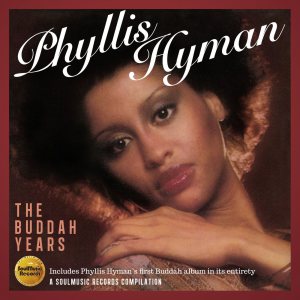 SoulMusic Records, an imprint of the Cherry Red Group, continues its non-chronological tour through the catalogue of the late Phyllis Hyman with the release of The Buddah Years.  Despite the compilation title, this 13-track CD is actually a straight reissue of Hyman's very first solo album, recorded for Buddah Records, plus four bonus tracks.
Though she had previously recorded a single for Private Stock Records, the statuesque soul singer's first major splash came as guest vocalist for producer Norman Connors.  Hyman's deliberate, sensual reinvention of Thom Bell and Linda Creed's "Betcha by Golly Wow" appeared on Connors' album You Are My Starship beside a duet she recorded with Michael Henderson, "We Both Need Each Other."  Both songs featuring Hyman became Top 30 R&B singles, and another one-off single (this time for the Desert Moon label) also charted, at No. 76 R&B.  Soon, Buddah Records – also home to Connors – saw potential in the striking Ms. Hyman as a solo artist.
Phyllis Hyman, as her solo album was simply titled, featured productions by veteran Jerry Peters (The Sylvers, The Friends of Distinction), Hyman's husband Larry Alexander with Sandy Torano, and Philly soul maestro John Davis of the Monster Orchestra.  In Rashod Ellison's strong new liner notes for SoulMusic's reissue, Davis notes, "I'm surprised [the album] holds up so well, because none of us knew what the other was doing."  Indeed, Peters recorded his three tracks in Los Angeles, Alexander and Torano cut theirs in New York City, and Davis helmed his trio at Philadelphia's famed Sigma Sound.  The New York tracks featured such prominent session men as bassist Will Lee and drummer Andy Newmark.  At Sigma, Davis utilized much of the regular Philly gang including Larry Washington on percussion, Charles Collins on drums, "Sugar Bear" Foreman on bass, Richie Rome on keyboards, and the Sweethearts of Sigma (Barbara Ingram, Evette Benton, Carla Benson) on backing vocals.  Peters' team wasn't filled with slouches, either, counting drummer Raymond Pounds and guitarist Gregg Poree among the musicians.
The album included renditions of two more songs penned by Hyman's friend Thom Bell, who would play a major role in her later career at Arista and Philadelphia International.  The album-opening "Loving You, Losing You" was the work of producer Jerry Peters, while John Davis brought a new arrangement of "I Don't Want to Lose You" to life. (The former was introduced by Johnny Mathis and the latter by The Spinners.)  Despite the varied production teams, Phyllis Hyman established a blueprint that many of her subsequent albums would follow, combining Quiet Storm ballads with upbeat R&B pop-soul and jazz-inflected numbers.  For the tracks most overtly calling on Hyman's jazz chops, arranger Onaje Allan Gumbs was enlisted by Alexander and Torano as he had arranged "Betcha By Golly Wow" for Connors.  Funk and disco also made brief flashes on Phyllis Hyman, but the singer's creamy, dramatic and commanding vocals always took center stage.
What's on The Buddah Years?  After the jump, we have more details, a track listing with discography and order links!
SoulMusic's reissue adds one outtake produced by John Davis, the dancefloor-ready "You're the One."  It was left off Phyllis Hyman, but resurfaced in 2002 as a bonus track on a CD reissue of Hyman's sophomore effort for Arista Records, You Know How to Love Me.  It finds its rightful home here.  The new The Buddah Years also adds three bonus tracks from Hyman's second Buddah album, Sing a Song.  The story becomes a bit convoluted here.  Arista's Clive Davis, always with a keen eye for emerging talent, purchased Hyman's contract from Buddah following the 1978 release of Sing a Song.  As the album was never released in the U.S., Davis felt he could retain most of the album while adding potential hits to its line-up.
Davis – the so-called "Man with the Golden Ears" - retooled Sing a Song's original production by Skip Scarborough (writer of "No One Can Love You More," one of Peters' productions on Phyllis Hyman) and Larry Alexander.  He dropped "Sweet Music," "Sing a Song" and "Love is Free" from the album and added four new songs. Three of the four new tracks were produced by T. Life, fresh off his successes with Evelyn "Champagne" King, and the fourth was the work of a hitmaking team with close ties to Davis and Arista: Barry Manilow and Ron Dante. Taking its cue from the Jesus Alvarez ballad produced by Manilow and Dante, the album was retitled Somewhere in My Lifetime for its American bow.
For The Buddah Years, SoulMusic has added three Alexander/Scarborough cuts from Sing a Song as bonuses – "Soon Come Again," "Be Careful (How You Treat My Love)" and "The Answer is You."  All three tracks can also be heard on the label's recent reissue of Somewhere in My Lifetime, which reinstated the three cut songs to create a complete Somewhere in My Lifetime/Sing a Song.  Though these tracks are redundant for purchasers of that excellent set, The Buddah Years is essential for restoring to print the debut album which has been fetching large sums secondhand in its out-of-print CD edition.  (A 1990 Sequel CD with the very close title of The Best of Phyllis Hyman: The Buddah Years has a similar, but not identical, track line-up.)
Phyllis Hyman never scaled the commercial heights for which she seemed destined.  She did, however, score with roles on Broadway and in Hollywood, and also continued to record well-regarded albums with producers such as James Mtume and Reggie Lucas, Thom Bell, Kenny Gamble and Leon Huff, Dexter Wansel, Chuck Jackson, and Narada Michael Walden.  When she took her own life on June 30, 1995, a truly original voice was silenced, though her legacy lives on via projects such as this new reissue.  (In addition to Somewhere, SoulMusic has also recently rolled out a reissue of Hyman's Goddess of Love.)
The Buddah Years, produced by David Nathan and remastered by Alan Wilson, is available now from SoulMusic Records, and can be ordered at the links below!
Phyllis Hyman, The Buddah Years (SoulMusic Records SMCR 5101, 2013) (Amazon U.S. / Amazon U.K.)
Loving You, Losing You
No One Can Love You More
One Thing on My Mind
I Don't Want to Lose You
Deliver the Love
Was Yesterday Such a Long Time Ago
The Night Bird Gets the Love
Beautiful Man of Mine
Children of the World
You're the One
Soon Come Again
Be Careful (How You Treat My Love)
The Answer is You
Tracks 1-9 from Phyllis Hyman, Buddah LP BDS-5681, 1977
Track 10 originally released on You Know How to Love Me (Expanded Edition), Arista/BMG Heritage CD 07822 10606-2, 2002
Tracks 11-13 from Sing a Song, Buddah LP BDLP-4058, 1978/Somewhere in My Lifetime, Arista LP Al-4202, 1979