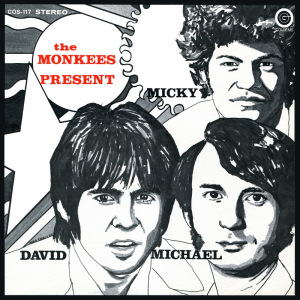 And then there were three.
Peter Tork had departed The Monkees in December 1968, just a couple of months prior to the February 1969 release of the band's seventh studio album, Instant Replay.  The remaining trio of Davy Jones, Micky Dolenz and Mike Nesmith soldiered on, though, cutting numerous new tracks and updating old ones for an eighth effort.  Issued by Colgems in October 1969 on the heels of an unsuccessful greatest-hits album, it was The Monkees Present and emphasized the slimmer group line-up on its cover artwork.  Like its predecessor, The Monkees Present reached as far back as 1966 for some of its material – but the majority of the songs were freshly composed by the recently-liberated pop stars and derived from a series of sessions.  Also like Instant Replay, it was a blend of disparate tunes that, however terrific (and they were), didn't necessarily belong together on the same album.  Yet, miraculously, The Monkees Present has arrived, newly expanded by Rhino Handmade from 12 tracks to an altogether impressive 85 – 60 of which have never been released before in any format.  This 3-CD box set (RHM2-535908) is a limited edition of 5,000 units, and it's a worthy – indeed, essential – companion to the previous boxed editions of The Birds, The Bees and the Monkees, Head, and Instant Replay.
The original 12-track album sequence kicks off this expanded reissue in stereo.  It can roughly be divided into three styles and four songs per Monkee.  Michael Nesmith led the pack with his groundbreaking country-rock songs including the group's last great single, "Listen to the Band."  Micky Dolenz continued to find his own voice as a songwriter with his contemporary, jazz-tinged rockers.  And Davy Jones, always at home in pure pop and theatrical settings, offered the material most resembling The Monkees' earliest records.  The diversity of styles is unsurprising as Present was originally conceived as a double-disc set in which a side would be dedicated to the songs of each Monkee.  The album was pared down to just one LP but the concept of highly individual songs from each member remained.  Each Monkee produced his own material, with the exception of two Tommy Boyce and Bobby Hart-helmed tracks recycled for Jones.
Dolenz' three original compositions all showed an original voice.  Arranger Shorty Rogers cast his album-opening song "Little Girl" with a jazz trio backing, and what a group it was.  Guitarist Louie Shelton (who had played the opening riff on "Last Train to Clarksville" and the solo on "Valleri") joined Wrecking Crew bassist ray Pohlman and drummer Earl Palmer.  Shelton's nimble fretwork is a highlight of the song, with Dolenz supplying a delicate lead vocal over his own woozy, ethereal backgrounds, on which he was joined by sister Coco Dolenz.  Shelton and fellow guitarist James Burton joined Dolenz on "Bye Bye Baby Bye Bye."  Lending a western-movie feel that fit snugly among Nesmith's country-flavored songs, Hal Blaine laid down the beat with Joe Osborn on bass and Tommy Morgan on evocative harmonica.  "Mommy and Daddy" was Dolenz's most controversial song, taking aim at hypocrisy, casual pill-popping, war, the plight of the American Indian and a multitude of pressing social issues in a little over two minutes, complete with memorable chanting.  And the finished version was actually a neutered one, with Dolenz's original lyrics in an even more confrontational vein.  (More on those later.)  Dolenz also fronted the jazz trio to bookend the album with its closing track, the sweet lullaby "Pillow Time" – about as far removed a song from "Mommy and Daddy" as possible.
Four leads were likewise sung by Davy Jones, the voice that propelled "Daydream Believer" to chart success.  Two of Jones' showcases were the work of Tommy Boyce and Bobby Hart and were initially recorded in 1966.  The uptempo, driving "Looking for the Good Times" has "Valleri"-esque guitar and a couple of years earlier might have found greater success.  Further underscoring the fact that Monkees Present was in reality a collection of solo tracks, it's also the only song on the original album to feature more than one Monkee on the track, as Micky joined Davy on backing vocals.  "Ladies Aid Society," on the other hand, was Boyce and Hart at their most twee, with an oom-pah brass band and affected vocals: "We're the Ladies Aid Society, and we're really a great bunch of girls/We're the Ladies Aid Society and soon we'll take over the world...!"  Jones' pal Bill Chadwick contributed the remaining two songs, co-writing the lilting "If I Knew" with Jones.  Chadwick's "French Song" has Tim Weisberg's flute and Emil Richards' vibes, both of which add a haunting, exotic texture to the unusual ballad.  The two low-key Jones/Chadwick productions are among the most underrated tracks on The Monkees Present.
Nesmith's four leads were split between sessions held in Nashville in 1968 and Hollywood in 1969.  His jaunty, barnstorming rave-up "Good Clean Fun" is enlivened by Robert Thompson's banjo, but its chances as a single were shot by Nesmith's deliberate and delicious refusal to pander.  The song was a response to an executive who asked for a hook-filled song with "good, clean fun."  Nesmith duly named the song after the request – but the phrase appears nowhere in its lyric.  Papa Nez did, however, score The Monkees a hit with another Nashville-recorded track, his majestic, anthemic "Listen to the Band."  A fusion of Nashville and Hollywood – the latter thanks to Shorty Rogers' horn arrangement – "Listen" remains an indisputable original.  May and June 1969 sessions back in Hollywood yielded Nesmith's own "Never Tell a Woman Yes" and Michael Martin Murphey's "Oklahoma Backroom Dancer," respectively.  Wrecking Crew members Blaine, Osborn and Al Casey joined drawling vocalist Nesmith and barroom-style pianist Michael Rubini for the rollicking "Never Tell."  Mike Deasy, also one of the L.A. session vets, joined Shelton on guitar, Max Bennett on bass and Eddie Hoh on drums for Murphey's twangy "Oklahoma Backroom Dancer."
What extras will you find on The Monkees Present?  As it turns out – plenty!  Hit the jump!
The first disc of this exquisite box produced by Andrew Sandoval is rounded out with seventeen stereo outtakes, largely of material not on the album plus an alternate of "French Song" with an extended ending.  While most songs here are previously unreleased, some outtakes have been collated from various sources including Music Box, the Missing Links series and the expanded More of the Monkees.   Others appear for the first time in tweaked form; a 1969 stereo mix of Dolenz' "Rose Marie" was first issued on the single-disc remaster of Instant Replay in a slower (and less helium-like!) pitch.
There are too many highlights here to mention.  From the prolific Nesmith's sessions of May and June 1969 which yielded fifteen tracks, comes a countrified rendition of Carole King and Toni Stern's "Down the Highway," first issued on Missing Links Volume Three.  Nesmith's psychedelic rocker "Circle Sky," which already appeared multiple times on the expanded edition of Head, reappears in a rare mix from the Monkee Flips LP.  Songs from Nesmith's storied Nashville sessions are also revisited – don't these deserve a standalone release, Rhinos? – including "The Crippled Lion" and "Hollywood."  The 1969 Stereo Mix of the former makes its first appearance here.  Nesmith's early country songs are all beguiling, marrying frequently oblique lyrics to traditionalist arrangements.
A couple more previously unreleased Jones/Chadwick collaborations appear, too: "Time and Time Again" and "If You Have the Time."  The latter is particularly wonderful, with its "Someday Man" bounce and psychedelic Moog carnival arrangement slightly recalling "Daddy's Song" from Head.  Chadwick also paired with Nesmith for "Of You," a particularly special treat with Glen Campbell and Peter Tork among the guitarists and Dolenz on harmony vocals.  Jones also takes the lead on two more rescued Boyce/Hart productions, the 1969 Stereo Mix of "I Never Thought It Peculiar" (a song which was salvaged for the band's swansong Changes) and "My Storybook of You."  "Storybook" – with Larry Knechtel on tack piano and a mariachi-esque horn section - is presented in two distinct 1969 mixes.  Lynn Castle and Wayne Erwin's "Kicking Stones" was also produced by Boyce and Hart, with Dolenz on lead vocals.  The boisterous, brassy "Steam Engine," produced and written by the returning Chip Douglas with a lead from Micky, features guitar from The Byrds' Clarence White, and is thoroughly unlike the Dolenz tracks on the original Instant Replay.  It is a welcome reprise from Music Box, as it's one of those great "coulda-been-a-hit" tracks.  And listen for the hidden track!
Disc Two concentrates on mono mixes from a variety of sources including singles, TV versions and non-overdubbed takes.  Nearly every track on this disc is making its debut; notable exceptions include the original single and Then and Now...The Best of the Monkees mixes of "Listen to the Band."  There's intimacy on the mono "If I Knew" and an aggressive, in-your-face quality to "Bye Bye Baby Bye Bye" and "Mommy and Daddy."  (Hiding among the mono tracks are two unique stereo mixes of "Mommy and Daddy," too, dated July 1 and 2, 1969.  There's a third mono mix of "Mommy" from May 13 tucked away on Disc Three, with Dolenz's vocals far too obscured.  This one has earlier, even harsher lyrics with references to the JFK assassination and blood spilling on the kitchen floor.  Getting the track right in sound and content certainly seemed to be a priority.)  "Looking for the Good Times" channels a punchy AM radio blast.  Though the Boyce and Hart song felt like a step backward in 1969, it would have made one heckuva 45 in 1966, when it first put to tape.   "If You Have the Time" is heard in an alternate mix sans its signature Moog part, which lends the track an entirely different feel.  Likewise, "I Never Thought It Peculiar" can be enjoyed with or without its overdubs including horns and strings.
There are more songs here, too, from related sessions.  Michael Leonard and Bobby Weinstein (Bobby Hart's songwriting partner on Little Anthony and the Imperials' "Hurts So Bad") wrote "Penny Music," another showcase for Davy.  There's a charm to this tale of a "local virtuoso" with "tunes to suit your fancy...for a penny, and not a penny less."  A remix of the song was included on Missing Links, Volume Three, but its original mix premieres here.  Boyce and Hart's "Apples, Peaches, Bananas and Pears" (apparently not to be confused with Jay and the Techniques' "Apples, Peaches, Pumpkin Pie") features Micky on lead and some "Last Train to Clarksville"-esque strumming.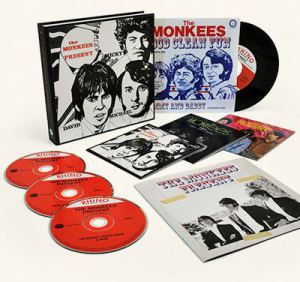 The third disc brings together the best remaining tracks from the album sessions, with various early, often unfinished takes and an array of alternate mixes and backing tracks.  This disc also includes a great number of songs not heard on the first two CDs.  Nesmith took a break from pioneering country-rock to produce Dolenz on Robert Stone's "You're So Good" which rocks despite some cringe-worthy lyrics: "If you were an apple, I'd take a bite/If you were a lemon, I'd squeeze you tight..." et cetera.  The funky, soulful production reflected the Monkees' stage show of the time, and is a fascinating diversion on record.  From this same string of May/June '69 Hollywood sessions, Nesmith worked on material that would eventually find a home on his solo albums, including the samba "Calico Girlfriend" and rip-roaring "Little Red Rider," both of which are heard here in embryonic states.  (There's also a previously released "Listen to the Band" mix without the brass overdubs.)  Intriguing and varied backing tracks produced by Nesmith during this fertile May/June sessions have also been rescued from obscurity.  His pre-Monkees song "Thirteen is Not Our Lucky Number" was tackled as well as other titles like the spirited "Omega," a smokin' southern soul spin called "Lynn Harper" and the lovely "Good Afternoon."   From these same sessions – the last ones Nesmith would tape as a Monkee until 1986 – you'll also hear an eerie and effective setting for David Gates' "London Bridge," a stab at Tommy Griffin's "Little Tommy Blues," a relaxed update of the WWII hit "'Till Then" overdubbed with laughter, and Jack Keller and Bobby Russell's B-side for Shirley Bassey, "A Bus That Never Comes."  All are tantalizing might-have-beens and a reminder of the breadth of Nesmith's talents and musical tastes.
Dolenz takes a jazzier approach to "Pillow Time" on Tracks 8 and 9 (combined as one track), and Jones and Chadwick conjure up a late-night supper club with the previously unissued "How Can I Tell You."  (A demo of the languid tune was previously self-released by Jones, but this is the first appearance of the superior studio version.)  Another Jones gem making its first official appearance is "Opening Night," written by Charlie Smalls, future composer-lyricist of Broadway's The Wiz.  Rather than easing on down the road, Jones earnestly delivers this MOR pop ode to those backstage jitters familiar to any performer.   The oddest Jones rarity here is an alternate take of his recitation of the poem "The Good Earth."
With so many songs appearing in numerous versions across three CDs and one bonus 45 (otherwise-unreleased versions of "Good Clean Fun" and "Mommy and Daddy"), a set like this runs the risk of becoming repetitive.  But once you invest the time in listening – preferably in one long session, or perhaps two – you'll feel it's immersive rather than repetitive.  And you'll likely find yourself asking: what will come next?  The variations might be large or might be small, but that's part of the (good, clean) fun.
Reissue producer and Monkee guru Andrew Sandoval's lengthy essay is typically illuminating, with choice nuggets a-plenty such as the fact that RCA (Colgems' distributor) opted to cut corners by printing the color album cover in black-and-white: "the one that had the black and white cover done with Marks-a-Lot," commented Nesmith.  Whereas Rhino's 1994 reissue featured a color cover, the original is utilized for this set.  (The cover isn't the only reason to hold onto that disc, however; it contains unique material not repeated on the new box.)  Rachel Gutek, designer of that '94 package, has picked up the torch from Now Sounds' Steve Stanley, the designer of the three previous Handmade box sets.  Gutek has done a commendable job with both the attractive box – meant to be displayed next to its predecessors - and its booklet.  As with those sets, the three CDs are housed in sturdy, oversize (Japanese-style) mini-LP sleeves, each with eye-catching artwork.  Each disc bears a red, Colgems-style Rhino label.  In addition to Sandoval's essay, the booklet also includes full discographical annotation and recording information.  Dan Hersch has remastered the entire project to a high standard.
Ultimately the parts are greater than the whole of The Monkees Present.  The disparate songs never really cohered as an album, but it hardly matters when that album is a small fraction of an 85-track box set.  This deluxe edition opens a window onto The Monkees' creative process during a specific period of time - from demos to attempt after attempt at the perfect mix – and in doing so, casts those original twelve tracks in a new light.  As such, the rather maligned Monkees Present has been reinvented in a treasure chest as a lost classic.  Who would have thought?
You can order The Monkees Present directly at the official Monkees webstore by clicking on any of the images above!