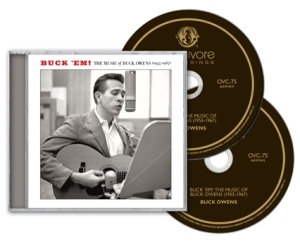 Omnivore Recordings is saying, "Buck, yeah!" to the legacy of the late Mr. Owens.  Though the Bakersfield, California country-and-western legend died in 2006, his autobiography will arrive on November 5 from Backbeat Books and Hal Leonard Books.  Colorfully entitled Buck 'Em!, it's co-written with Randy Poe, author of Skydog: The Duane Allman Story.  And Omnivore is at the ready with the perfect soundtrack.  Buck 'Em! The Music of Buck Owens (1955-1967) hits stores the very same day as the book, for the full Buck reading and listening experience!
The new 2-CD, 50-track deluxe anthology follows numerous other Omnivore projects from the Buck Owens/Buckaroos stable including Honky Tonk Man: Buck Sings Country Classics and Don Rich Sings George Jones, Live at the White House...and In Space, The Buckaroos Play Buck and Merle and Don Rich's That Fiddlin' Man plus various Record Store Day exclusives (including the personal favorite of this author, the Buck Owens coloring book).
What will you find on Buck 'Em!?  You know what to do.  Just yell Hee-Haw! and hit the jump!
Buck 'Em! begins with a clutch of Owens' pre-Capitol sides for Pep Records ("Down on the Corner of Love," "Hot Dog" and "There Goes My Love") and continues to chronicle Buck's story – and indeed, that of the influential Bakersfield Sound – through the demise of the classic Buckaroos lineup of Don Rich, Tom Brumley, Doyle Holly and Willie Cantu.  Buck and an altered group of Buckaroos continued to record, of course, but that's a tale for another day, and another release.  Curtsinger and Shaw.  (Amazingly, latter-day Buckaroos Doyle Curtsinger and Jim Shaw still perform every Friday and Saturday evening at Owens' Crystal Palace in Bakersfield!)  The selections here have been drawn from original studio recordings, live versions and rare alternates and unissued material.  All, however, are distinguished by Owens' singular voice and the tight, twangy accompaniment of his Buckaroos – adding up to equal parts heartbreak and rip-roarin' joy.
Eleven chart-topping hits by Owens are featured, a number of which are presented in their original mono single versions ("I've Got a Tiger by the Tail," "Love's Gonna Live Here," "I Don't Care (Just As Long As You Love Me)," "Sam's Place," and "Before You Go").  All told, fifteen mono 45 versions of Owens staples are included, such as the holiday perennial "Santa Looked a Lot Like Daddy."  Live tracks – from New York's Carnegie Hall, Bakersfield, and even Japan - have earned a spot on the collection, too, including renditions of favorites like "Act Naturally," "Buckaroo" and "Together Again."  Alternate versions of "My Heart Skips A Beat," "Where Do The Good Times Go," and "How Long Will My Baby Be Gone" make their U.S. CD debut, alongside a previously unissued version of "Under The Influence Of Love" and the first CD appearance of Omnivore's sold-out Record Store Day single "Close Up The Honky Tonks."
In true Omnivore fashion, Buck 'Em! includes liner notes, derived from the autobiography, plus session information and rare photographs.  Don't close up the honky tonks 'til you get a chance to spin Buck 'Em! on the jukebox.  It will be waiting for you on November 5 from Omnivore Recordings, and you can pre-order at the links below!  A cold beer in which to cry is optional.
Buck Owens, Buck 'Em! The Music of Buck Owens (1955-1967) (Omnivore Recordings, 2013) (Amazon U.S. / Amazon U.K.)
CD 1
Down on the Corner of Love
Hot Dog
There Goes My Love
Sweet Thing (*)
Second Fiddle (*)
Under Your Spell Again (*)
Above and Beyond (Alternate Version)
'Til These Dreams Come True
Foolin' Around (*)
Nobody's Fool But Yours (Early Version)
Under the Influence of Love (Early Version) (previously unreleased)
Keeper of the Key
Goin' Down to the River
Fool Me Again
My Heart Skips a Beat (Early Version)
Sweethearts in Heaven (*) – Buck Owens and Rose Maddox
Love's Gonna Live Here (*)
Down, Down, Down
Act Naturally (Live in Bakersfield)
Ain't It Amazing Gracie? (Original Version)
Close Up the Honky Tonks (Original Version)
Truck Drivin' Man
I Don't Hear You
Hello Trouble
CD 2
I Don't Care (Just as Long as You Love Me) (*)
Don't Let Her Know (*)
Buck's Polka
Playboy
Cryin' Time (*)
I've Got a Tiger by the Tail (*)
The Band Keeps Playin' On
Gonna Have Love (*)
Before You Go (*)
Getting Used to Losing You
Gonna Roll Out the Red Carpet
Santa Looked a Lot Like Daddy (*)
We Split the Blanket
Sam's Place (*)
(I'll Love You) Forever and Ever
In the Palm of Your Hand (*)
Pray Every Day
Together Again (Live at Carnegie Hall)
Buckaroo (Live at Carnegie Hall)
Where Does the Good Times Go (Alternate Version with Strings)
The Way That I Love You
Adios, Farewell, Goodbye, Good Luck, So Long (Live in Japan)
We Were Made for Each Other (Live in Japan)
Heartbreak Mountain
How Long Will My Baby Be Gone (Alternate Version)
The Girl on Sugar Pie Lane
(*) Original mono single version