H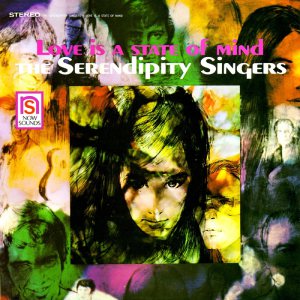 ere's a prescription for convalescent hippies you oughta know...
Webster's defines serendipity as "the faculty or phenomenon of finding valuable or agreeable things not sought for," making it an apropos name for The Serendipity Singers.  The group was formed in 1963 at the University of Colorado in the days when The New Christy Minstrels could sell one million copies of "Green, Green" and folk music was being happily served to the masses by clean-scrubbed young men and women with a spoonful of sugar.  This was before Beatlemania, and before Dylan went electric, after all.  So when the Newport Singers ventured east to New York's Greenwich Village, they quickly and happily found a patron in Fred Weintraub, impresario of the New York nightspot The Bitter End – it was serendipity!  Weintraub added three new vocalists, bringing the roster to nine, and oversaw their rechristening as The Serendipity Singers.  (Seven of the nine members were also musicians.)  Their very first single, "Don't Let the Rain Come Down (Crooked Little Man)," went Top 10 in May 1964, joining those young Fabs in the upper reaches of the chart.  Hootenanny after hootenanny followed, but by 1967, folk music had begun to cross-breed with the new "rock"...sans the roll.  Now signed to United Artists Records following a successful stint on the Philips label, the Serendipitys realized that they had the embrace, well, the now sound.   And that's why it's appropriate – serendipitous, even – that the Now Sounds label has delivered a deluxe, expanded mono/stereo reissue of The Serendipity Singers' very groovy 1968 platter Love is a State of Mind.
One imagines that the prominent sitars, lysergic vocals and droning raga of the album's title track – written by founding member Mike Brovsky and the 1967 recruit Nick Holmes – would have come as a shock to those expecting the light calypso of "Don't Let the Rain Come Down" or even the banned-in-Boston "Beans in My Ears," an upbeat and childlike but potent protest song reflecting on the generation gap.  But the cover of Love is a State of Mind clued listeners in that this was a different Serendipity Singers, even beyond the personnel changes.  It featured another new member, former Angel Peggy Santiglia, among a psychedelic sea of faces.  Even the rear photograph showed the Singers looking a bit more severe than in the past.  With production duties taken by the entire group as well as the team of Brovsky and former member Bryan Sennett, Love blended group originals with some choice covers including two by another Weintraub client: Neil Diamond.
After the jump, we take a trip with The Serendipity Singers!  Plus: a full track listing and order links!
Remarkably, the transition from straight-laced folkies to purveyors of psych-pop doesn't sound the slightest bit forced.  The atmosphere of New York's A&R Studios clearly proved conducive, with the board manned by engineers Phil Ramone and Tony Bongiovi (a cousin of Jon's).   Despite being recorded in New York, there's a California glow and a stylistic similarity – on a handful of songs, at least - to the music of Spanky and Our Gang.  Terry Cashman, Gene Pistilli and Tommy West's "I'd Stumble and Fall" opens the original LP.  It was first recorded by its songwriters on their Bound to Happen platter; that same album also included a pretty if rather sad ballad entitled "Sunday Will Never Be the Same" written by Cashman and Pistilli.  In Jimmy "Wiz" Wisner's stunning and upbeat arrangement, "Sunday" of course became Spanky's biggest-ever hit.  "Stumble and Fall," in The Serendipity Singers' hands, should have been a contender itself.  Beginning with the provocative declaration that "I never realized how much I loved you 'til I saw you cry/And now I've got you telling me goodbye," the song is brightly arranged.  This stands in perfect contrast with its apologetic message directed at a loved one headed for the door.
The phrase "you stumbled and you fell" recurs in the lyrics of Michael Peter Smith's deliciously infectious "It Ain't Necessarily Byrd Avenue," which follows "Stumble and Fall" on Love is a State of Mind.  Its breezy, bossa nova-inspired melody is rendered in an uptempo, lightly orchestral style emphasizing Smith's evocative, absurdist wordplay ("Here's a prescription for convalescent hippies you oughta know/Get some Japanese beer, and I call 'sipsies!'/Ah, so!  Ret yourself go!"), sung with tight, sunshine pop harmonies.  Underscoring the connection, Spanky and Our Gang also recorded "Byrd Avenue" on their eponymous debut LP, released nearly a year before Love.  Tony Rivers' Harmony Grass also took a trip down "Byrd Avenue."  All three versions are worth seeking out but the Serendipitys' may be the most transporting.  Minutiae Alert: The lyrics of this "mad little whirl" as written are "Ret yourself go," with a rather politically-incorrect Japanese accent applied.  Spanky's Gang take the lyric complete with accent, the Grass apply an upper-crust British inflection instead, and the Serendipitys simply sing a straightforward "Let yourself go!"  It's good advice in any dialect.
The prolific Nick Holmes also wrote the eerie "Rain Doll" (an odd choice for a single, on which it was backed by "Love is a State of Mind") and "Signs of Love," the B-side to the group's recording of Neil Diamond's "The Boat That I Row."  "Signs" is more conventional than Holmes' other two songs, though distinguished by its distorted sitar and lyrically right on the mark for the times.  It's hard to resist Holmes' invitation to "take a little ride on the nearest rainbow," especially when it's this beguilingly sung.  The Serendipity version of "The Boat That I Row" doesn't veer too far from Neil's original template, with rocking guitar and ebullient backing vocals, but Lulu beat the group to the punch with her U.K. hit single version of a month earlier.  (Diamond's own, more confidently sung version was passed up as an A-side for its similarity to "Cherry, Cherry," and ended up as the flipside of "I Got the Feelin' (Oh No No).")  Love is a State of Mind also included Diamond's "Love to Love," in Bob Bowers' stellar arrangement that ups the tempo from Diamond's version.  "Boat" benefits greatly from the robust vocals of Holmes and Peggy Santiglia plus smoking horns and a subtle electric sitar.  (The Monkees' fantastic version, with a Davy Jones lead, didn't surface commercially until 1979.)
The remainder of the album's tracks hail from a variety of songwriters.  Lydia Wood's "Dance 'Til Your Shoes Fall Off" ("...drink 'til the well runs dry/Kiss all the lips for miles around/Laugh 'til I have to cry...") is notable for its strong Mamas and the Papas-esque vocal interplay.  Jimmy "Gamble" Rogers, a friend of Nick Holmes from the Florida scene, wrote the sweetly melodic "Beverly Believer," which picks up on the same imagery of a distressed doll as Holmes' "Rain Doll."  On the acid folk-rock of Jake Holmes' "It's Always Somewhere Else," The Serendipity Singers indulge their most outré and haunting musical concepts.  Jake (not to be confused with Nick) might be best known for providing the inspiration for a Led Zeppelin classic with his composition "Dazed and Confused."  He also wrote lyrics to Bob Gaudio's music for Frank Sinatra's Watertown and The Four Seasons' Genuine Imitation Life Gazette.
One more single for United Artists followed Love is a State of Mind, and Now Sounds has included both sides credited to The Serendipity Singers Featuring Nick Holmes.  Jake penned the A-side, "Illusions," with Nick writing "What Will We Do with the Child."  The sweepingly dramatic melody of "Illusions" actually has a bit of a Diamond flavor to it; the B-side is a string-laden ballad persuasively sung by Nick to another potent Bowers arrangement.
Love is a State of Mind is presented in both mono and stereo.  The stereo mix might be preferable for its more enveloping, appropriately mind-blowing sound, but both mixes are richly remastered by Alan Brownstein.  The 16-page booklet is indispensable, with reissue producer Steve Stanley's essay charting the group's history from its inception to the present day, and tracking the many personnel changes along the way.  Stanley has also beautifully designed the package, which is loaded with photographs and crisp reproductions of album and single sleeve artwork.
Much as "Don't Let the Rain Come Down" evokes a simpler, more innocent time, The Serendipity Singers' Love is a State of Mind recalls an entirely different period separated by a mere handful of years.  Take this prescription for a captivating trip to Byrd Avenue and beyond, circa 1967/1968.  It's open to all, not just hippies...convalescent or otherwise.
Love is a State of Mind can be ordered at the links below!
The Serendipity Singers. Love is a State of Mind (United Artists LP UAL 3619/UAS 6619, 1968 – reissued Now Sounds CRNOW 44, 2013) (Amazon U.S. / Amazon U.K.)
I'd Stumble and Fall
It Ain't Necessarily Byrd Avenue
Rain Doll
Love to Love
Signs of Love
Dance 'Til Your Shoes Fall Off
Love is a State of Mind
Beverly Believer
It's Always Somewhere Else
The Boat That I Row
I'd Stumble and Fall
It Ain't Necessarily Byrd Avenue
Rain Doll
Love to Love
Signs of Love
Dance 'Til Your Shoes Fall Off
Love is a State of Mind
Beverly Believer
It's Always Somewhere Else
The Boat That I Row
Illusions
What Will We Do with the Girl?
Tracks 1-10 from United Artists LP UAS 6619, 1968 (Stereo)
Tracks 11-20 from Untied Artists LP UAL 3619, 1968 (Mono)
Tracks 21-22 from United Artists single UA 50,457, 1968