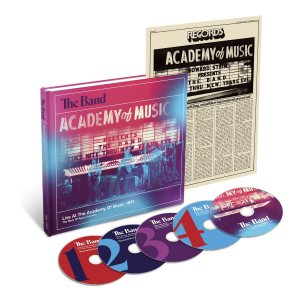 The Band, LIve at the Academy of Music: The Rock of Ages Concerts (Capitol/UMe)
This five-disc box set (four CDs and a DVD) features selections from The Band's famed four-night run in New York in 1971. Though these shows would create the live Rock of Ages album, this box instead features highlights from the shows on two discs (including guest appearances by Bob Dylan), another two discs of the complete soundboard mix of the final concert on New Year's Eve 1971, and a DVD with 5.1 surround mixes and newly-discovered film of two of those performances.
4CD/1DVD: Amazon U.S. / Amazon U.K.
2CD highlights: Amazon U.S.
Grateful Dead, Sunshine Daydream (Rhino)
One of the most sought-after Dead shows, from the summer of 1972, is released in full on CD and in 5.1 surround sound.
3CD/1DVD: Amazon U.S. / Amazon U.K.
Dead.net deluxe version with 40-page booklet and Grateful Days documentary: DVD / BD
4LP: Amazon U.S. / Amazon U.K.
Matt Monro, Alternate Monro (Parlophone U.K.)
Twenty-seven alternate takes of classic songs from the underrated British crooner. (Amazon U.S. / Amazon U.K.)
The Alan Parsons Project, I Robot: Legacy Edition (Arista/Legacy)
The Alan Parsons Project's sophomore album (and first for Arista) featured the band's second Top 40 hit, "I Wouldn't Want to Be Like You," amid a narrative structure on artificial intelligence. This Legacy Edition features a bonus disc with all the tracks from the 2007 reissue plus even more bonus material.
2CD: Amazon U.S. / Amazon U.K.
2LP: Amazon U.K.
Roy Orbison, In Dreams: Greatest Hits (Legacy)
A rare example of acclaimed re-recorded versions of an artist's earlier hits! In Dreams, first released in 1987 after Orbison's unexpected popularity boost by way of Blue Velvet, was the catalyst to a remarkable comeback for the Big O - one that lasted well beyond his sudden passing in 1988. (Amazon U.S. / Amazon U.K.)
Dizzy Gillespie, Dizzy Gillespie's Big 4 / Zoot Sims, Zoot Sims and The Gershwin Brothers / Art Tatum, The Art Tatum Solo Masterpieces Volume 1 / Duke Ellington and His Orchestra, The Ellington Suites / Oscar Peterson and Stephane Grappelli, Skol (Original Jazz Classics)
Five titles originally released on the Pablo Records label and featuring some of the century's biggest names in jazz are reissued on CD; all but the Tatum title have been expanded with unreleased material!
Dizzy: Amazon U.S. / Amazon U.K.
Zoot: Amazon U.S. / Amazon U.K.
Tatum: Amazon U.S. / Amazon U.K.
Duke: Amazon U.S. / Amazon U.K.
Oscar: Amazon U.S. / Amazon U.K.
Glen Campbell, ICON Christmas (Capitol/UMe)
Typically, news of an ICON title gets flung into the sun; however, this disc features, for the first time on CD, Campbell's 1968 album That Christmas Feeling. The product line comes through! (Amazon U.S. / Amazon U.K.)