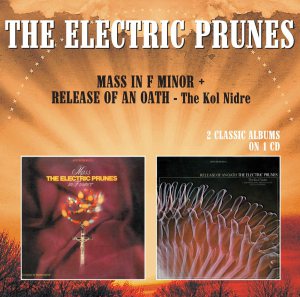 Cherry Red's Morello label has taken a break from its usual diet of classic country – think: the legendary likes of George Jones, Marty Robbins and Charley Pride – to bring two titles from the psych-rockers The Electric Prunes back into print.  The label has paired The Prunes' 1968 David Axelrod-produced albums Mass in F Minor and Release of an Oath on one CD which is now available.
Composed and arranged by the maverick Axelrod – on loan from Capitol Records – Mass in F Minor is perhaps best-remembered today for its opening track, "Kyrie Eleison."  Axelrod's composition – translated as "Lord, have mercy" and a psychedelic resetting of an important Christian prayer – earned a measure of cinematic immortality when it was used in the film Easy Rider.  But "Kyrie" and Mass weren't the work of the same Electric Prunes who scored a No. 11 Pop hit with the 1967 nugget "I Had Too Much to Dream (Last Night)."  The band's original line-up of Ken Williams (guitar), Jim Lowe (vocals/autoharp), Mark Tulin (bass) and Michael Weakley (drums) was in a near-constant state of flux since its signing to Reprise Records.  Even that hit single lacked the participation of Weakley and added James Spagnola on guitar and Preston Ritter on drums.   During the recording of Mass, the band splintered again, and Jim Lowe once commented that "Axelrod was so far above what we as a garage band were able to deliver."  Mass – with other segments of Axelrod's religious service including "Gloria," "Credo," "Sanctus," "Benedictus" and "Agnus Dei" – was completed by members of The Collectors and various session musicians.  An iteration of the "real" Prunes attempted to play the complex album onstage, but a planned tour was cancelled after just one performance.
Seemingly undeterred, producer Dave Hassinger and arranger-composer Axelrod persevered with another spiritually-inclined album to follow up Mass under The Electric Prunes' name.  Read about it after the jump.  Plus: order links and full track listings!
In November 1968, months after the January release of Mass, The Electric Prunes delivered Release of an Oath.  The subject of the album this time out was The Kol Nidre, the Jewish "prayer of antiquity which cleanses the spirit and enables man to start anew, with his eyes again on the stars," per the original liner notes (helpfully reprinted in Morello's reissue).  Recorded at Hollywood's Sound Factory, Release of an Oath featured members of the famed L.A. "Wrecking Crew" including Carol Kaye on bass, Earl Palmer on drums, Howard Roberts on guitar and Don Randi on keyboards.  Members of the Prunes reportedly only contributed vocals to bring Axelrod's vision of blending "the melodies of the centuries with today's contemporary sounds" to life.
Following Release of an Oath, "The New and Improved Electric Prunes" issued Just Good Old Rock and Roll again produced by Hassinger for Reprise.  This line-up featured John Herron (organ), Brett Wade (bass/flute/vocals), Ron Morgan (guitar), Mark Kincaid (guitar/vocals) and Dick Whetstone (drums/vocals).  Their album signaled the end of The Electric Prunes' first period, however, as in early 1971, the band – such as it was – finally broke up.  As the 20th century ceded to the 21st, however, The Prunes were back, when James Lowe, Mark Tulin and Ken Williams reformed the group; this line-up plus additional new members even released a new album in 2007.  Mark Tulin has since passed away, but The Electric Prunes played dates in 2013, and have plans to continue performing in 2014.
Morello's two-on-one-CD reissue of Mass in F Minor and Release of an Oath has been remastered by Alan Wilson and includes brief new liner notes by Michael Heatley.  No bonus tracks have been added to either original LP.  With Collectors' Choice's original CD reissues of both titles out-of-print and fetching high prices in used condition, this is a good opportunity to pick up these fascinating LPs at a low price.  You can order below!
The Electric Prunes, Mass in F Minor / Release of an Oath (Morello CD MRLL 18, 2013) (Amazon U.S. / Amazon U.K.)
Kyrie Eleison
Gloria
Credo
Sanctus
Benedictus
Agnus Dei
Kol Nidre
Holy Are You
General Confessional
Individual Confessional
Our Father, Our King
The Adoration
Closing Hymn
Tracks 1-6 from Mass in F Minor, Reprise LP RS 6275, 1968
Tracks 7-13 from Release of an Oath, Reprise LP RS 6316, 1968