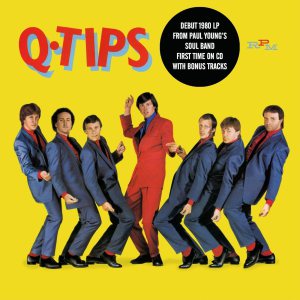 Before blazing the charts on both sides of the Atlantic with songs like "Every Time You Go Away," "Wherever I Lay My Hat (That's My Home," "Oh, Girl" and "Love of the Common People," Paul Young paid his dues.  The English-born singer served his time in bands including pub-rockers Kat Kool and the Kool Kats and Streetband, but the latter group's success with the U.K. Top 20 novelty-esque hit "Toast" (a humorous B-side which was flipped to the band's dismay) threatened to pigeonhole them.  In late 1979, the members of Streetband decided to go their separate ways after struggling with their odd and unexpected breakthrough.  Three of its members weren't ready to throw in the towel quite yet.  The story of Paul Young, Mick Pearl and John Gifford can finally be told in the CD era thanks to Cherry Red's RPM label and the first reissue of the eponymous album by Q-Tips.
Paul Young's love of classic R&B might have been evident in his solo work, but it wasn't as clear with Streetband.  Q-Tips gave voice to that passion.  Guitarist Dave Lathwell and drummer Barry Watts joined lead vocalist Young, bassist Pearl and guitarist Gifford as Q-Tips, with a four-piece horn section adding another dimension to the group's blue-eyed soul sound.  Though this line-up played a successful run of live gigs, picking up where Streetband left off, Lathwell and tenor saxophonist Richard Blanchard opted to depart in the group's first few months of existence.  Ian Kewley joined to replace Lathwell, and the horn section remained with just three players: Tony Hughes on trumpet, Steve Farr on baritone sax, and Stewart Blandamer on alto sax.  A self-released single – Joe Tex's "S.Y.S.L.J.F.M. (The Letter Song)" b/w Gifford and Young's "The Dance" – gained the attention of Chrysalis Records, who signed the band to record its debut LP.  Garth Watt-Roy would replace Gifford during the recording of the album produced by Bob Sergeant (The Beat), but otherwise, Q-Tips was off and running.
What will you find on the deluxe, expanded reissue of Q-Tips?  Hit the jump!
Though the album would open with John Ellison's "Some Kinda [sic] Wonderful" - not the Carole King/Gerry Goffin song - and Smokey Robinson's immortal Motown serenade "The Tracks of My Tears," most of the record consisted of soulful and brassy originals penned by band members.  (The other exceptions were takes on Billy Page's hit for Dobie Gray and Ramsey Lewis, "The In Crowd," and a reprise of Tex's "Letter Song.")  Despite a modern sheen that proved compatible with the group's affection for the sound of sixties soul, Q-Tips didn't reach any higher than No. 50 on the album chart.  Young and co. made quite a living, however, playing over 700 concerts during the band's three-year existence.
Following the single releases of "Tracks of My Tears" and "A Man Can't Lose (What He Don't Have)," both from the album, the band turned to two new producers for a non-LP single.  Trevor Spencer and Nick Glennie-Smith helmed "Stay the Way You Are," with a much more pronounced eighties sound.  It didn't help Q-Tips' commercial fortunes, though.  Q-Tips returned to a label of their own (Rewind) for a handful of singles and an Al Kooper-produced live album; the band also supported The Who, The J. Geils Band, The Knack, Thin Lizzy, Bob Marley and others in concert.  Muff Winwood, of CBS Records' A&R department, took a shine to Young, and signed him to the solo deal in 1981 that launched him to stardom.  In the new liner notes here, Young credits Spencer and Glennie-Smith with teaching him some of the techniques he applied to his first smash solo record, but he never abandoned his love of classic R&B, either, as evidence by his hit covers of songs like "Wherever I Lay My Hat (That's My Home)" and "Oh, Girl."  A Q-Tips farewell tour was staged in early 1982, but only Young and Kewley remained in the line-up by that point.
RPM's reissue of Q-Tips includes five bonus tracks: both sides of the original "Letter Song/The Dance" single, plus the three-track 7-inch single with "Stay the Way You Are" and two of the Kooper-produced live cuts, "Sweet Talk" and "Lookin' for Some Action."  John Reed provides copious liner notes with fresh quotes from Paul Young, and Simon Murphy has remastered the disc.  In a nice touch, the booklet also includes a Q-Tips discography and numerous images of the band and various memorabilia.  The blue-eyed soul explosion of Paul Young and Q-Tips is available now from Cherry Red's RPM imprint, and you'll find order links below!
Q-Tips, Q-Tips (Chrysalis CHR 1255, 1980 – reissued RPM Retro 930, 2013) (Amazon U.S. / Amazon U.K.)
Some Kinda Wonderful
Tracks of My Tears
Please Don't Stay at Home
You Are the Life Inside of Me
The In Crowd
(Now I'm Left with a) Beautiful Memory
S.Y.S.L.J.F.M. (The Letter Song)
A Man Can't Lose (What He Don't Have)
Uncle Willy
Different World
Keep Your Shoes On
S.Y.S.L.J.F.M. (The Letter Song) (Single Edit)
The Dance
Stay the Way You Are
Sweet Talk
Lookin' for Some Action
Tracks 12-13 from Shotgun single SHOT ONE, 1980
Tracks 14-16 from Chrysalis single CHS 2518, 1981