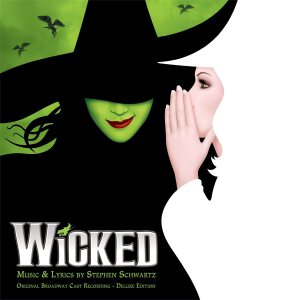 "No one mourns the wicked," goes the opening song of Winnie Holzman and Stephen Schwartz's musical Wicked.  But the musical, which last night celebrated its tenth anniversary on Broadway, won't have any need for mourners any time soon.  "The Untold Tale of the Witches of Oz" is still going strong as it enters its tenth year and shows no signs of slowing down!  Its fresh new perspective on The Wizard of Oz and intricate backstory of both The Land of Oz and the titular Witch has led Wicked to play to sold-out houses eight times a week at New York's Gershwin Theatre, not to mention in London, Auckland, Mexico City, Tokyo and Seoul, on two United States tours, and one in the United Kingdom.  To celebrate the tenth anniversary of the musical sensation created by librettist Holzman (My So-Called Life, thirtysomething) and composer-lyricist Schwartz (Godspell, Pippin) from the 2005 novel Wicked: The Life and Times of the Wicked Witch of the West by Gregory Maguire, UMe's Verve label is reissuing its Original Broadway Cast Recording in a new 2-CD deluxe edition.  It was originally slated to arrive in stores on November 19 but retailers are now showing a November 25 date.
The stats surrounding Wicked are nothing short of unbelievable.  The musical directed by Joe Mantello (Assassins, Other Desert Cities) opened on October 30, 2003 in New York, and has since played 13 countries, grossed plenty of green (over $3.1 billion!), and been seen by over 38 million theatergoers.  Marc Platt, David Stone, Jon B. Platt and the Araca Group co-produced the musical with Universal Pictures, and Platt recently confirmed to Entertainment Weekly that "it's the most profitable project in terms of profit margin in Universal Pictures' history."  So the witches originally portrayed by Idina Menzel (Elphaba) and Kristin Chenoweth (Glinda) have even overtaken the likes of E.T. and Jaws!  Menzel netted one of the musical's three Tony Awards (out of ten nominations) for her incendiary performance; Wicked also picked up seven Drama Desk Awards including for Holzman's book, Schwartz's lyrics, and Outstanding Musical.
The Grammy Award-winning original cast recording, produced by Schwartz, was released just weeks after the musical's opening, arriving in stores from UMe's Decca Broadway label on December 16, 2003.  It, too, has been a success story.  The album peaked at No. 71 on the Billboard 200 in 2012 and 2013 per AllMusic.com, and has also reached the Top 5 of the Top Pop Catalog Chart in 2009, 2012 and 2013.  Wicked was certified Double Platinum in 2010, no small feat for a cast album today.  Wicked and its music have also appeared on Glee, Jeopardy, The Simpsons, Ugly Betty and Saturday Night Live, just to name a few.  "Popular," one of the musical's songs to take on a life of its own, was sampled by Kanye West and Drake for their own "Popular" in 2010, while more recently, Mika has incorporated the catchy song introduced by Chenoweth into his "Popular Song," with vocals on the album version by Priscilla Renea and the single by Ariana Grande.  Grande's single version has cracked the Billboard Top 100 at No. 87.
After the jump: a look back at the 2008 reissue of the cast recording, plus details on the upcoming edition!
Universal first revisited Wicked's cast recording on October 28, 2008 with a 5th Anniversary Special Edition.  That release included an 8-track bonus CD with two songs each from the German and Japanese cast recordings, a new recording of the cut song "Making Good" performed by Broadway's Stephanie J. Block accompanied by Stephen Schwartz on piano, two pop covers (LeAnn Rimes and Deltra Goodrem's version of Elphaba and Glinda's pivotal duet "For Good" as produced by the legendary Phil Ramone; and Kerry Ellis' "I'm Not That Girl" from her Wicked In Rock EP produced by Brian May of Queen and featuring May and Foo Fighters' Taylor Hawkins on the track) rounded out by a dance mix of Wicked's Act One finale, instant standard and all-around showstopper, "Defying Gravity."  Menzel sings on the track produced by Glen Ballard (Jagged Little Pill).
The 10th anniversary update of Wicked was promised for digital release on October 29, but doesn't seem to yet be available on either iTunes or Amazon MP3.  Verve has been cagey about the details of the set, promising a 9-track bonus disc including the Mika/Ariana Grande "Popular Song."  Accordingly, it's possible – but not confirmed – that the remaining eight tracks will duplicate those issued in 2008 for the fifth anniversary CD.  The upcoming 2-CD set, will, however, feature the tweaked tenth anniversary logo artwork and an updated booklet with new liner notes from both Stephen Schwartz and original Wicked novelist Gregory Maguire.
You can order the 10th Anniversary Deluxe Edition of Wicked at the links below.  The 2-CD set is due in stores on November 25 from Verve, successor to the original Decca Broadway imprint.  And watch this space – as Wicked continues defying gravity, we have no doubt the oz-tastic musical will be celebrating 15th and 20th anniversary cast albums!
Wicked: The Original Broadway Cast Recording – 10th Anniversary Edition (Decca Broadway CD B0001682-02, 2003 – reissued Verve/UMe, 2013) (Amazon U.S. / Amazon U.K. TBD)
CD 1
No One Mourns the Wicked
Dear Old Shiz
The Wizard and I
What is This Feeling?
Something Bad
Dancing Through Life
Popular
I'm Not That Girl
One Short Day
A Sentimental Man
Defying Gravity
Thank Goodness
Wonderful
I'm Not That Girl (Reprise)
As Long As You're Mine
No Good Deed
March of the Witch Hunters
For Good
Finale
CD 2 – Final Track Listing TBA, includes "Popular Song" by Mika and Ariana Grande (Single, 2013)
The 5th Anniversary Special Edition included:
For Good – Delta Goodrem and LeAnn Rimes (produced by Phil Ramone)
I'm Not That Girl – Kerry Ellis feat. Brian May and Taylor Hawkins (produced by Brian May)
Making Good – Stephanie J. Block with Stephen Schwartz
Solang ich dich hab (As Long As You're Mine) – Willemijn Verkaik and Mark Seibert (from Wicked: Die Hexen Von Oz)
Gutes tun (No Good Deed)– Willemijn Verkaik (from Wicked: Die Hexen Von Oz)
Jinnsei Wo Odori-Akase (Dancing Through Life) – Li Tao and Company (from Uikeddo)
Popyuraa (Popular) – Miyuki Numao (from Uikeddo)
Defying Gravity (Dance Mix) – Idina Menzel (produced by Glen Ballard)