With two of its latest releases, Cherry Red's SoulMusic Records imprint has revisited three classic Motown duets albums on two CDs.
Longtime collectors of SoulMusic Records' releases know that the label frequently jumps back and forth with an artist's catalogue rather than releasing titles in chronological order.  Such is the case with its latest reissue from Syreeta, born Syreeta Wright.  In recent months, SoulMusic has revisited Motown queen Syreeta's third and fourth solo albums, 1977's One to One and 1980's Syreeta.  In between those LPs, however, Syreeta busied herself with duet projects.  Following Rich Love, Poor Love with The Spinners' G.C. Cameron, Motown paired Syreeta with keyboard great Billy Preston for the soundtrack of the otherwise-undistinguished film Fast Break.  The decision to team Syreeta and Preston paid off when their duet version of David Shire and Carol Connors' "With You I'm Born Again" went all the way to No. 4 on the Billboard Hot 100 in 1979.  Though Preston appeared on a couple of tracks on Syreeta and a duet single was released of Preston's "It Will Come in Time," a full duets album was inevitable.  That LP, 1981's functionally-titled Billy Preston and Syreeta, has just arrived from SoulMusic, expanded with seven additional cuts.
Billy Preston and Syreeta, like Syreeta, was the work of multiple producers.  Ollie E. Brown, Michael Masser, and the "Born Again" team of Shire and Connors all contributed to the album's production.  Masser co-wrote all four of his tracks, two with Randy Goodrum and two with Gerry Goffin.  (The album's closing song "What We Did for Love" is not a duet cover of the Marvin Hamlisch/Ed Kleban composition from A Chorus Line but rather a Masser/Goodrum original.)  Brown penned the album's opening cuts "Someone Special" and "Searchin'," and Connors and Shire reunited for the jazzy and playful "It's So Easy."  Despite the strong pedigree, Billy Preston and Syreeta was lost in the shuffle of Motown's distribution shake-up, and the album might have been released too late to capitalize on the success of "Born Again."  SoulMusic makes a case for the album's artistic merits, however, and adds seven bonus tracks including four singles from Fast Break (the vocal and instrumental versions of "Born Again," and 7- and 12-inch singles of Shire and Connors' disco theme "Go for It"), the interim single release "It Will Come in Time," and the single versions of Preston's two duets on Syreeta, "One More Time for Love" and "Please Stay."  The former was written by Jerry Peters, who produced some of Syreeta, and the latter was another Connors/Shire creation.  SoulMusic's reissue has been remastered by Alan Wilson, and includes liner notes from Sharon Davis drawing on a new interview with Carol Connors.
After the jump: we'll take a peek at a two-for-one set from Thelma Houston and Jerry Butler, plus we have full track listings and order links for both releases!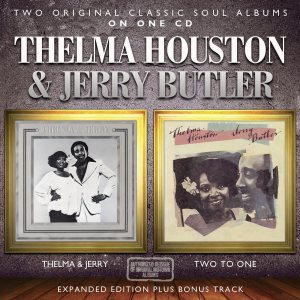 SoulMusic has previously issued solo albums from Thelma Houston and Jerry Butler – so why not a two-for-one reissue of their 1977 and 1978 duet albums on the Motown label, Thelma and Jerry and Two to One?  Sessions for Thelma and Jerry began after Butler had completed his first album for Berry Gordy's label, Love's on the Menu, but were put on hold until he also finished his sophomore LP Suite for the Single Girl.  (Both albums have just been combined on one CD from SoulMusic.)  Recording for the duet project resumed in early 1977 – by which time Houston had graduated to bona fide superstardom thanks to her hit disco reworking of Kenny Gamble, Leon Huff and Cary Gilbert's "Don't Leave Me This Way."  (Butler, of course, had scored hits like "Only the Strong Survive" and "Hey Western Union Man" with Gamble and Huff almost a decade earlier.  He would return to their Philadelphia International fold following his time at Motown.)
Most of Thelma and Jerry was produced by Butler himself with Homer Talbert, a graduate of Butler's Songwriters' Workshop and the co-producer of The Ice Man's previous Motown solo albums.  He had some experience with the duet formula, too, having co-written the hit "Ain't Understanding Mellow" for Butler and Brenda Lee Eager.  The remaining three tracks were helmed by Motown stalwart Hal Davis and Michael B. Sutton, part of the Motown disco group Finishing Touch.  In addition to its original songs, Thelma and Jerry featured a soulful medley reinvention of The Bee Gees' "Love So Right" and Chicago's "If You Leave Me Now," a cover of Stevie Wonder's "Joy Inside My Tears," and a Skip Scarborough-penned tune, "Let's Get Together."  Thelma and Jerry didn't produce a hit single, but the LP did make the R&B Top 20 and reached No. 53 on the Billboard 200.  Keithen Carter and Michael Ward's "It's a Lifetime Thing" was the single choice; it was accompanied by non-LP B-side "Kiss Me Now," previously recorded by Diana Ross.
Although Houston was still riding the wave of her solo success with "Don't Leave Me This Way," Motown gave the green light to another project with Butler...sort of.  Two to One was bookended by duets – Pam Sawyer and Michael and Brenda Sutton's "If It Never Would End" opened the album, and "You Gave Me Love" from "Got to Be There" tunesmith Elliot Willensky closed it.  In between, though, were three Houston solo tracks and three Butler solo tracks.  Hal Davis returned from Thelma and Jerry for the two actual duets, while the other songs were handled by producers and arrangers including Willie Hutch, Van McCoy, Sam Brown III, and the team of Terry Woodford and Clayton Ivey.
In the copious new liner notes from Charles Waring for SoulMusic's reissue, Thelma Houston confirms that "the fact that two albums were released is because the songs that didn't make the first album were put out on a second album.  The material compiled for the second outing was left over from the first one and some of it was not complete.  Of course, I was not happy with it."  The two duets weren't even plugged as singles; instead two of Thelma's solo tracks were chosen as A-sides, with the flips coming from her 1978 solo set The Devil in Me (still awaiting reissue on SoulMusic).
Alan Wilson has remastered both albums from the original tapes. Thelma and Jerry returns to CD after a long absence – one listing for the original 1992 Motown CD on Amazon.com was asking an unbelievable $833.31 (!) just weeks ago prior to this new reissue – and Two to One is making its CD debut.  The two-fer can be ordered below, along with Billy Preston and Syreeta!
Billy Preston and Syreeta, Billy Preston and Syreeta (SoulMusic SMCR 5106, 2013) (Amazon U.S. / Amazon U.K.)
Someone Special
Searchin'
Just for You
It's So Easy
A Long and Lasting Love
Love
One More Try
Hey You
A New Way to Say I Love You
What We Did for Love
With You I'm Born Again (U.S. Motown single M 1477F, 1979)
With You I'm Born Again (Instrumental) (U.S. Motown single TMG 1139, 1979)
Go for It (U.S. Motown 12-inch single M 0001601, 1979)
Go for It (U.S. Motown single M 1460F, 1979)
It Will Come in Time (U.S. Motown single M 1470F, 1979)
One More Time for Love (U.S. Tamla single T 54312F, 1980)
Please Stay (U.S. Tamla single T 54319F, 1980)
Tracks 1-10 from Billy Preston and Syreeta, Motown LP M 958, 1981
Thelma Houston and Jerry Butler, Thelma and Jerry/Two to One (SoulMusic SMCR 25107, 2013) (Amazon U.S. / Amazon U.K.)
Only the Beginning
And You've Got Me
It's a Lifetime Thing
Love So Right/If You Leave Me Now
I Love You Through Windows
Joy Inside My Tears
Sweet Love I've Found
(Play the Game of) Let's Pretend
Let's Get Together
If It Would Never End
Find a Way
We Owe It to Ourselves
I'm Not Strong Enough (To Love You Again)
Never Gonna Get Enough
Don't Pity Me
Chicago Send Her Home
You Gave Me Love
Kiss Me Now (U.S. Motown single M-1422, 1977)
Tracks 1-8 from Thelma and Jerry, Motown LP M 887S1, 1977
Tracks 9-17 from Two to One, Motown LP M 903S1, 1978