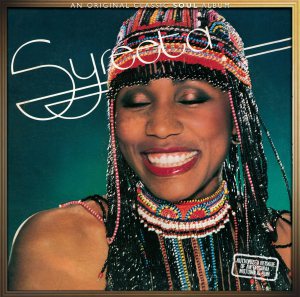 Though Syreeta Wright never received the same level of acclaim as many of her Motown contemporaries, her stamp on the company is indelible.  The late artist (1946-2004) wasn't just a distinctive vocalist, but also a songwriter with credits like The Spinners' "It's a Shame" and Stevie Wonder's "Signed, Sealed, Delivered (I'm Yours)" and "If You Really Love Me."  SoulMusic Records has just followed up its recent reissue of Syreeta's 1977 One on One with her very next Motown solo album, 1980's Syreeta.  In between, however, Syreeta recorded two duet projects, one of which proved to be crucial.  First came Rich Love, Poor Love, an album with G.C. Cameron of The Spinners.  Then was the big one: "With You I'm Born Again," a single with the great Billy Preston.  The mainstream success that had long eluded Syreeta had finally arrived.  The David Shire/Carol Connors movie tune (from the soundtrack of Fast Break) went all the way to the Top 5 on the U.S. and U.K. Pop charts.  Building on the success of that late 1979 single, Motown gave its star the go-ahead for another solo LP; perhaps indicative of her new beginning, it was another self-titled album.
Production duties were primarily split between Jerry Peters (writer of The Friends of Distinction's "Going in Circles") and Richard Perry (Ringo Starr, Barbra Streisand, The Pointer Sisters).  Peters took the reins of three songs and Perry handled four; of the remaining tracks, Motown mainstay Hal Davis produced two, and composer David Shire co-produced one with Billy Preston.  The result, however musically diverse, was aimed squarely at the pop marketplace.
There's more after the jump, including the track listing and order link!
Befitting his experience producing an incredibly wide array of artists, Richard Perry's songs each had a distinct flavor.  A gleaming rendition of Bill Withers and Skip Scarborough's "Let Me Be the One (You Need)" was cool R&B, cooed sensually by Syreeta.  "You Bring Out the Love in Me" was a funk workout, with Billy Preston on clavinet and Fender Rhodes.  "He's Gone," on the other hand, was a subtle update of a 1958 Chantels song.  Perry took Syreeta to the disco with the pulsating, string-adorned "Love Fire," co-written, arranged and conducted by Bob Esty, who had worked with Cher, Barbra Streisand and Donna Summer.  Billy Preston worked his magic on this track, too, on clavinet.
Though Syreeta had been divorced from Stevie Wonder for roughly eight years when sessions began for 1980's Syreeta, his stamp remained on the LP.  Jerry Peters helmed an album-opening version of "Blame It on the Sun," which Wright and Wonder co-wrote for his solid 1972 Talking Book, and "Here's My Love," a soft, sweet and mellow piece of pop for Syreeta to wrap her pipes around.  Peters' third production, his own "One More Time for Love," was one of two vocal duets on the album with Preston.  The sparkling ballad was selected by Motown as Syreeta's first single, but it couldn't approach the success of "Born Again."  Neither could "Please Stay," from the "Born Again" team of David Shire and Carol Connors.  Shire, a notable composer both of film scores and stage musicals, emulated the trappings of his prior hit, but couldn't replicate the heart despite fine vocals from Wright and Preston.
Hal Davis (Jackson 5, Eddie Kendricks) invoked Stevie Wonder once again for a brassy and spirited cover of "Signed, Sealed, Delivered (I'm Yours)," another Wonder/Wright co-write, from 1970.  Davis' other production here, the rousing "Dance for Me, Children," was also from Syreeta's pen.  Perhaps Syreeta really was an example of too many cooks, however great, spoiling the stew, as the LP only reached No. 73 despite Motown's best efforts in promoting it.
SoulMusic's reissue doesn't include any additional material, but the booklet features a new essay by Rashod Ollison.  Syreeta has been remastered by Alan Wilson, and is available now at the link below!
Syreeta, Syreeta (Tamla LP T7-372R1, 1980 – reissued SoulMusic Records SMCR 5094, 2013) (Amazon U.K.)
Blame It on the Sun
Let Me Be the One (You Need)
You Bring Out the Love in Me
Please Stay (with Billy Preston)
He's Gone
Love Fire
Here's My Love
Signed, Sealed, Delivered (I'm Yours)
Dance for Me Children
One More Time for Love (with Billy Preston)
One More Time for Love (Reprise)