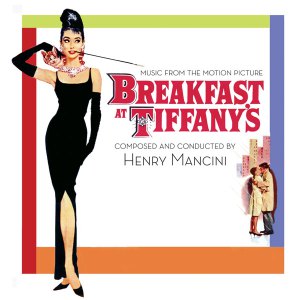 In 1962, Henry Mancini scored a No. 1 album on the Billboard 200 with Breakfast at Tiffany's: Music from the Motion Picture on the RCA Victor label.  But that 12-track LP only told part of the story of Mancini's Academy Award-winning score for the film starring Audrey Hepburn, George Peppard, Buddy Ebsen, Patricia Neal and Mickey Rooney.  Like most of the scores from his classic period, Mancini re-recorded his Tiffany's music in pop arrangements for its RCA "soundtrack" LP.  Consequently, the original music as heard in the film had never been officially released in any audio format – until now.  Following similar releases of the actual film music of Mancini's Charade, Hatari!, and Days of Wine and Roses, the Intrada label has just released one of film music's holy grails from the immortal composer-arranger-conductor with the first-time Original Soundtrack Recording of Breakfast at Tiffany's.
Henry Mancini picked up one Oscar for his instrumental score to Blake Edwards' 1961 film and a second with Johnny Mercer for their Best Song, the now-standard "Moon River."  But beyond that gentle serenade, Mancini's score to Tiffany's was one of his most tuneful, equal parts cocktail jazz, big-band swing, Latin-tinged pop and pure drama.  In other words, its colorful sounds were perfectly suited to Edwards' dreamy adaptation of Truman Capote's fanciful if surprisingly edgy 1958 novella.  Though Mancini's collaboration with Edwards lasted 35 years and roughly 30 projects, Tiffany's stands as one of the pair's crowning achievements.  The 30-minute re-recording was a popular LP and stands on its own merits as a remarkable (and remarkably successful) recording.  But, by design, it didn't reflect the full breadth and scope of the versatile composer's music as heard in the motion picture.
The RCA LP included just "Moon River" in the opening titles track and a cha-cha arrangement.  Not only does Intrada's new 38-track release include Audrey Hepburn's own fragile vocal performance of "Moon River," but it premieres the complete original music of the movie's heist sequence, the dramatic bus station farewell, the full opening and end titles, and much more.  Nine bonus tracks round out a truly immersive package, including "Moon River" as performed by just Hepburn and guitar, the "Meet the Doc" cue minus the film's organ grinder, three "Practice Piano" cues and four more "Moon River" alternates.  All told, the new disc clocks in at just a bit less than eighty minutes' length.
Hit the jump for more, including an order link and the complete track listing!
Film music historian Jeff Bond provides new liner notes, and Intrada's release features original film artwork and photographs, as well.  Breakfast at Tiffany's, produced with the cooperation of Paramount Pictures, is shipping now from the label, and can be ordered at the link below!
Henry Mancini, Breakfast at Tiffany's: Music from the Motion Picture (Intrada CD MAF-7129, 2013)
Main Title (Moon River)
Paul Meets Cat
Sally's Tomato
The Big Blowout
Poor Fred
Moon River (Cha Cha)
Latin Golightly
Something for Cat
Loose Caboose (Part 1 – a la Cha Cha)
Loose Caboose (Part 2)
Moon River – Audrey Hepburn
Meet the Doc (Organ Grinder)
An Exceptional Person
You're So Skinny
Turkey Eggs
Hub Caps and Tail Lights
Rats and Super Rats
The Hard Way
Rusty Trawler
Holly
A Lovely Place
Bermuda Nights
The Big Heist
After the Ball
Just Like Holly
Wait a Minute
Feathers
Let's Eat
Where's the Cat and End Titles (Moon River)
Moon River (Audrey Hepburn and Guitar)
Moon River (Piano and Guitar)
Moon River (Harmonica and Guitar)
Meet the Doc (without Organ Grinder)
Piano Practice No. 1
Piano Practice No. 2
Piano Practice No. 3
Moon River (New York Version)
Moon River (Whistling)