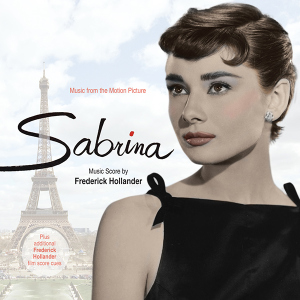 Kritzerland has just jumped headfirst into the holiday season with three exciting releases on the soundtrack front.  Continuing the label's commitment to the Golden Age of Hollywood and beyond, the label has just made these three titles available for pre-order:
John Wayne at Fox: The Westerns - Two CDs and three scores for the price of one CD!  This double-disc anthology brings together three classic scores from films featuring The Duke: Elmer Bernstein's The Comancheros (1961), Lionel Newman's North to Alaska (1960) and Hugo Montenegro's The Undefeated (1969)!   Though all three titles have been previously released, they have been fully remastered for Kritzerland's release.  North to Alaska features vocal performances from Johnny Horton and Fabian.   A 1,000-unit limited edition, John Wayne at Fox is available for $19.98 from Kritzerland.
Sabrina / We're No Angels - Following Intrada's recent release of Henry Mancini's original soundtrack to Blake Edwards' Breakfast at Tiffany's, Kritzerland premieres another memorable score from an Audrey Hepburn film from an iconic director.  This time, the film is 1954's Sabrina and the director is Billy Wilder.  Frederick (The Blue Angel) Hollander's score to Sabrina is paired with another Hollander treat: his score to the 1956 Humphrey Bogart Christmas comedy We're No Angels!  As a special bonus, the disc is rounded out with vintage Hollander cues from a number of his other films.  This 1,000-unit limited edition is available from Kritzerland at $19.98.
Finally, Kritzerland re-presses its sold-out release of Bernard (Psycho, Taxi Driver) Herrmann's scores to two vintage television specials: a 1954 adaptation of A Christmas Carol starring Fredric March and Basil Rathbone; and the next year's A Child is Born starring Nadine Conner and Theodor Uppman of the Metropolitan Opera.  These two scores show another side of the renowned suspense composer's immense talent.  This 1,000-unit limited edition is available at the low holiday price of $14.98 from the label.
Kritzerland indicates that "our hope is that CDs will ship by the last week of December or hopefully even sooner, but this is the busiest time of year for pressing plants, so there is the off chance that it could be early January.  But the hope is to have them out the door before Christmas."  In addition, the label's annual Christmas sale is on!  You can sample the many bargains right here!
After the jump, we have the full contents of Kritzerland's press release, plus track listings and pre-order links!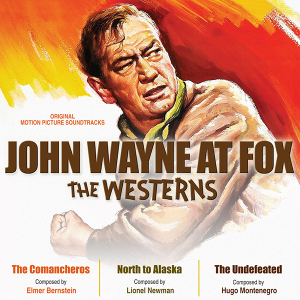 JOHN WAYNE AT FOX - THE WESTERNS
John Wayne at Fox - not a lot of films, but some extraordinarily entertaining ones.
The Comancheros (1961), based on the 1952 novel by Paul I. Wellman, was directed by Michael Curtiz, the great director who'd done any number of classics, including some of the most beloved films of all time - Casablanca, The Adventures of Robin Hood, Captain Blood, Angels With Dirty Faces, The Sea Hawk, Yankee Doodle Dandy, Mildred Pierce, White Christmas, to name just a handful.  Starring were Wayne, Stuart Whitman, Ina Balin, Lee Marvin, Nehemiah Persoff and Bruce Cabot.  It's a wonderful film with colorful performances, gorgeous photography, and a rousing musical score by Elmer Bernstein.  At the time, Bernstein had just written what would become one of the most iconic western scores ever, The Magnificent Seven.  The Comancheros was his follow up western score, and it, like the film it graces, is colorful, bigger than life, and filled with action and adventure.  You know what you're in for as soon as the first chords of the main title music begin, one of Bernstein's all-time classic themes.   But the score is rife with melody and invention and Bernstein's music is as iconic and big as the Duke himself.
A year earlier, the John Wayne Fox western was North to Alaska, a big, sprawling comedy western starring the Duke, Stewart Granger, enticing Capucine, Ernie Kovacs and teen heartthrob Fabian.  The score, credited solely to Lionel Newman, but containing music by several others, fits the film like a glove.   It's got a tuneful title song by Mike Phillips, a nice song for Fabian called "If You Knew" and some fun original orchestral cues by Newman.
Next we jump to the third of the Fox Wayne westerns, the 1969 film The Undefeated, starring Wayne and Rock Hudson, along with Roman Gabriel, Lee Meriwether, Bruce Cabot, Ben Johnson, Jan-Michael Vincent, Harry Carey, Jr., Paul Fix, Richard Mulligan, John Agar and Dub Taylor.  Hugo Montenegro's music for The Undefeated is big as all outdoors, with strong themes and a real sense of storytelling.  As with many Western scores, there's a lot of Copland "Americana" as well as a stirring main theme, some great dramatic scoring, some Mexican-flavored cues and even a hoedown
Both The Comancheros and The Undefeated were previously released on CD by FSM, and North to Alaska was released on CD by Intrada - all are out of print - in the case of The Comancheros, for many years. But we're pleased to bring them all together in one great 2-CD set - they've all been newly remastered for this release.
Frederick Hollander may not be a familiar name to many film music fans, but he was a superb composer who wrote some terrific scores over the years. He was also a wonderful songwriter, dating back to his work in German cabaret and films - his most iconic and well-known song being the gorgeous "Falling in Love Again" from Josef von Sternberg's The Blue Angel.
The 1954 Billy Wilder film Sabrina was an absolute delight with a brilliant cast.   Humphrey Bogart and William Holden played the brothers Larrabee, Linus and David, and the wonderful British character actor John Williams played their chauffeur, Thomas Fairchild, whose daughter is the title character, Sabrina.  But it was the magical, winsome and altogether lovable Audrey Hepburn who made the film into pure cinematic magic.  She'd become an overnight star the year before with Roman Holiday, and Sabrina was the perfect follow-up, cementing her place as one of the fastest-rising stars in Hollywood.
Wilder wanted to use popular tunes throughout Sabrina, and Hollander was the perfect choice to do those adaptations, as well as provide a few original themes.  The resulting score was a memorable and charming pastiche - in fact, it's impossible to think of Sabrina without hearing Hollander's incredible arrangements of such standards as "My Ideal," "I Don't Want to Walk Without You," "Lover," "Dream Girl," "Isn't It Romantic?" and more.   No one did this kind of score better than Hollander, and Sabrina is pure unadulterated movie scoring magic.
Two years later, Paramount released a wonderful Christmas comedy called We're No Angels, starring Humphrey Bogart, Peter Ustinov and Aldo Ray as the titular angels. Once again, Hollander provides an incredibly appealing score, which has both original and memorable themes along with interpolations such as "Silent Night."
Frederick Hollander had a really long and fruitful tenure at Paramount, and to fill out this CD, we present surviving cues from several of his film scores for the studio, including The Bride Wore Boots, The Affairs of Susan, The Great McGinty, Remember the Night and Disputed Passage.  It is a pleasure to bring an entire album of Hollander music to CD. Though he is perhaps unsung these days, we hope that this potpourri of delightful music will show what an amazing talent he was.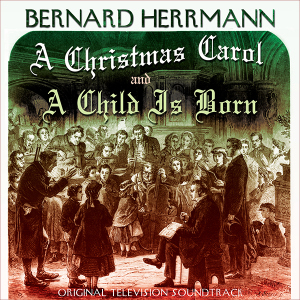 A CHRISTMAS CAROL and A CHILD IS BORN
On a very special evening in 1954, Shower of Stars, an anthology show on CBS, had their very special Christmas special that aired on December 23rd - an adaptation of Charles Dickens' beloved tale, A Christmas Carol, starring Fredric March and Basil Rathbone (as Scrooge and Marley).  It was truly a spectacular - shot on film and broadcast in color - although the majority of viewers saw it in black-and-white, as few people had the ability to watch color back in those days. The adaptation was by Maxwell Anderson, who also wrote the lyrics for the songs, and the score was by film composer Bernard Herrmann.  Weekly Variety called it "superlative TV."  They called Anderson's lyrics "poetic" and his adaptation "stunning."  Best of all, the reviewer called Herrmann's score "majestic."  Herrmann's music is indeed wonderful.  His underscoring is in the classic Herrmann mode, and his songs are quite delightful and infectiously melodic.
One year after A Christmas Carol, Herrmann was back writing another Christmas special, this time for CBS' anthology series, The General Electric Theater, which was hosted future President-to-be, Ronald Reagan.  A Child Is Born was an adaptation of Stephen Vincent Benet's blank-verse play, and featured two stars of the Metropolitan Opera, Nadine Conner and Theodor Uppman, along with the wonderful actor, Victor Jory.  The show was broadcast "live" on December 25, 1955.  This time, Herrmann received over the title billing ("A musical adaptation by Bernard Herrmann of A Child Is Born").  The Herrmann score has beautiful sung passages, and his underscoring, as always, is masterful and typically Herrmannesque.
A Christmas Carol/A Child is Born was previously released by Kritzerland in 2008 and sold out instantly.  We've received a lot of requests to rerelease it over the years.  The two scores were mastered from the best sources available.  No known master tapes survive on either title.  A Child Is Born had a promotional 10-inch record issued, and an excellent copy of it was used for mastering.  A Christmas Carol was mastered from a 15 IPS tape made from what was probably the only surviving set of acetates for the show.  While the sound is archival in nature, mastering engineer James Nelson has done a great job of making it sound as good as it ever will.
You can pre-order all three titles just below!
John Wayne at Fox: The Westerns (Kritzerland KR-20027-0, 2013)
The Comancheros (Composed and conducted by Elmer Bernstein)
Campfire Dance
Tobe's Death
Leaving
Texas Rangers
Finale and End Title
The Comancheros (unused title song performed by Claude King)
You Walked Away (unused song performed by Claude King)
Main Title (mono mix)
North to Alaska (Composed by Lionel Newman)
North to Alaska (Mike Phillips) - performed by Johnny Horton
Go North
Angel's Theme
Scenic View
Nuit d'Amour (Night of Love)
Baked Alaska
Love in the Air
Northern Lights
If You Knew" (Russell Faith/ Robert P. Marcucci/Peter D'Angelis)-  performed by Fabian
End Title (including "A Hot Time in the Old Town Tonight" by Theo. A. Matz and Joe Hayden)
The Undefeated (Composed and conducted by Hugo Montenegro)
The Undefeated
Southern Charm
Burning the Plantation
Meet Blue Boy
Foggy River
River Crossing
Let's Go!
Happy Hour (Hoedown)
Do You Mind?
All But Jamison
Bandits
The Horses
Suppertime
New Campsite
Incident in Mexico
Mission Accomplished
End Title
The Comancheros previously released as Film Score Monthly FSMCD Vol. 2, No. 6, 1999
North to Alaska previously released as Intrada Special Collection Volume 168, 2011
The Undefeated previously released as Film Score Monthly FSMCD Vol. 3, No. 6, 2005
Frederick Hollander, Sabrina/We're No Angels (Kritzerland CD KR-20027-2, 2013)
Prelude
Isn't It Romantic? (Rodgers-Hart)
I Don't Want to Walk Without You (Styne-Loesser)
Medley (I Wished on the Moon/Isn't It Romantic?/Sabrina) (Rainger-Parker/Rodgers-Hart/Stone)
I'm Yours (Green-Harburg)
Larrabee Building
Dream Girl (Livingston & Evans)/I Don't Want to Walk Without You (Styne-Loesser)
Lover Waltz (Rodgers-Hart)
Isn't It Romantic? (Rodgers-Hart)
My Ideal (Chase-Robin-Whiting)/Whispers in the Dark (Hollander-Robin)
Bridge to Meeting
Sabrina (vocal) (Stone)
Main Title*
French Guiana
Christmas Eve (inc. "Silent Night")
Three Angels (Hopkins-Sanders, arr. Van Cleave)/Concertina
The Snake Hunt Pt. 1
Finale* (inc. "Plaisir d'Amour")
Prelude**
Cupid the Reindeer ("Jingle Bells")
Mary Lou/Great Work, Albert**/End Title
Prelude (Hollander)†/Main Title (Simeone)†
The Show Closes
Love in Bloom (Rainger-Robin)
Narrow Escape/Pursuit (Webb)†/Finale†
On a Tropic Night (Lara-Washington)
 Louise (Whiting-Robin)/Just One More Chance (Coslow-Johnston)
Indiana Patch Work†† (Bradshaw)
Arrival in Indiana Home††
End of a Perfect Day in Indiana (inc. "End of a Perfect Day")
 Indiana Waltz††
End Title
Music by Frederick Hollander (except as noted)
* Contains "Sentimental Moments" by Frederick Hollander and Ralph Freed
** Contains "Horses, Horses, Horses" by Richard Whiting and Bryon Gay
† Contains "If You Knew Susie" by Buddy DeSylva and Joseph Meyer
†† Contains "Back Home Again in Indiana" by J.F. Hanley and Ballard MacDonald
Tracks 1-12 from Sabrina
Tracks 13-18 from We're No Angels
Tracks 19-21 from The Bride Wore Boots
Tracks 22-25 from The Affairs of Susan
Tracks 26-27 from The Great McGinty
Tracks 28-31 from Remember the Night
Track 32 from Disputed Passage
Bernard Herrmann, A Christmas Carol/A Child is Born (Kritzerland CD KR 20011-9, 2008 - reissued 2013)
Prelude/On This Darkest Day Of Winter
Santa Claus, Santa Claus/The Office
Marley (The Spirits' Lament)
The Past/The Christmas Dance
What Shall I Give My Lad/Girl For Christmas?
A Very Merry Christmas (Oh, Days May Come)
And Bless Us Everyone/The Future
The Grave/The Bells
Greetings/The Doorway/Dear God Of Christmas/Finale
Part One: "This is a town..."
Part Two: "The day passed, and night fell on the town..."
Part Three:  "The night deepens..."
Tracks 1-9 from A Christmas Carol (1954)
Tracks 10-12 from A Child is Born (1955)