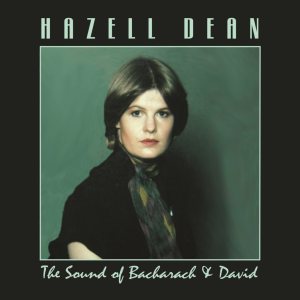 The sound of Hazell Dean has long been associated with the sound of Hi-NRG, the dance-pop genre in which she scored hits like "Searchin' (I Gotta Find a Man)," "Whatever I Do (Wherever I Go)" and "Who's Leaving Who."  But thanks to Cherry Pop, fans can discover another side of Hazell Dean on The Sound of Bacharach and David.  This ultra-rare promotional LP, originally issued in 1981, was commercially released for the first time on CD this week in the U.K.; it hits U.S. stores next Tuesday.
The future Hi-NRG queen came to the catalogue of Burt Bacharach and Hal David via writer-producer Paul Curtis, with whom she had worked in the band Union Express and also recorded "I Couldn't Live Without You for a Day," his 1976 entry in the Song for Europe competition.  (Curtis holds the record as the songwriter with the most songs to make the finals of this contest in which the annual Eurovision song entry for the U.K. is selected.)  Curtis' publishing was administered by Carlin Music, who also controlled the Bacharach/David copyrights.  Carlin's Freddy Bienstock approached Curtis and Dean about recording an album of the duo's famous songs to be used for placement in radio, television, films and commercials.  As Dean recalls in her new liner notes for Cherry Pop's reissue, "I had to sing the songs very straight, no bending notes, and no ad libs.  In other words, I could not make the songs my own or put my unique vocal stamp on them.  That was very hard for me."
Despite the challenges of recording such a project, The Sound of Bacharach and David has become a prized item among Hazell Dean's fans over the years.  Her straightforward delivery well-served the familiar Bacharach and David compositions such as "What the World Needs Now is Love," "Walk on By," "(There's) Always Something There to Remind Me" and "Close to You."  (The closest thing to a "deep cut" from the B&D catalogue is "To Wait for Love," which had previously been recorded by Tony Orlando, Tom Jones, Jackie DeShannon and Herb Alpert, among others.)  Producer/background vocalist Curtis surrounded her pristine and versatile voice with a variety of mostly stripped-down settings that sometimes echoed the original arrangements and other times updated them.  Dean today recalls The Carpenters' vocal style as an influence on the backing vocals which she and Curtis performed themselves, and indeed, the arrangement here of "Close to You" adopts the hallmarks of Richard Carpenter's famous chart.  Though the LP was first released in 1981, Dean notes that the album "brings back so many memories of the '70s," an accurate assessment of its style.
The Sound of Bacharach and David is a most welcome addition to Cherry Pop's series of Hazell Dean reissues, following expanded editions of such albums as Always and Heart First.  Dean's sleevenote accompanies numerous rare photographs in the CD's booklet as well as images of the original album.  Andy Pearce has remastered from the original vinyl, as the master tapes for this project are long lost.
After the jump: Cherry Pop returns to the catalogue of The Weather Girls!
One of the most unexpected and enjoyable reissues of 2013 was Cherry Pop's expanded edition of Success, the 1983 debut album by The Weather Girls - a.k.a. Martha Wash and Izora Rhodes Armstead.  Now, the label has turned its attention to that album's follow-up, Big Girls Don't Cry.  Success reveled in the theatrical disco of producer Paul Jabara (with more than a little help from his friends including co-producer Bob Esty, Paul Shaffer and Harold Wheeler) whose singular vision as producer and composer shaped the album.  For 1985's Big Girls, Wash and Armstead turned to a pop legend with a background rather removed from Jabara's: Hank Medress, a founding member of New York vocal group The Tokens.  As a producer, Medress had kept up with the times over the years, scoring hits for artists including Frankie Valli and Tony Orlando and Dawn.  His and co-producer Jeff Kent's approach to the Weather Girls was distinct from Jabara's, as evidenced by the very first track, "Lock Me Up." Written by Doug James and the young Michael Bolton, it was sleek, eighties-style R&B-pop designed to showcase Wash and Armstead's brassy voices.  Medress gave similar contemporary makeovers to the album's other classic material including the Bob Gaudio/Bob Crewe title track (the Four Seasons' 1962 No. 1 hit) and a rambunctious reading of John Fogerty's swamp-rock stomper "Down on the Corner."   Appropriately enough, the Weather Girls also wrapped their powerfully plus-size pipes around a shimmering take on Neil Sedaka and Phil Cody's 1975 chart-topper "Laughter in the Rain."
The lead single from Big Girls was from a less likely source, singer-songwriter Jesse Winchester.  His breezily tropical, doo-wop-flecked "Well-a-Wiggy" barely missed the Hot 100 with a No. 107 chart placement, faring slightly better at No. 76 R&B.  Winchester later recorded the song himself for 1989's Humour Me.  The second single, Terry Britten and Bill Livsey's "No One Can Love You More Than Me," was an urgent slice of synth-pop boasting a David Sanborn saxophone solo.  Melissa Manchester had recorded the song a couple of years earlier with producer Arif Mardin on her Emergency LP.  Whereas "No One Can Love Me" was a showcase for Wash, Armstead took center stage on "You Can Do It," co-written by the great Evie Sands and previously recorded by both Sands and June Pointer.
Big Girls is bolstered by the addition of two bonus tracks, the 12-inch extended remixes of "Well-a-Wiggy" and "No One Can Love You More Than Me."  The album arrives on Cherry Pop thanks to the TLC of the team at sister label Big Break Records: producer Malcolm McKenzie, executive producer Wayne A. Dickson and liner notes scribe Christian John Wikane.
Both Hazell Dean's Sound of Bacharach and David and The Weather Girls' Big Girls Don't Cry are available now at the links below!
Hazell Dean, The Sound of Bacharach and David (Carlin Music LP CMC 1004, 1981 - reissued Cherry Pop CRPOP 145, 2014) (Amazon U.S. / Amazon U.K.)
You'll Never Get to Heaven
To Wait for Love
(There's) Always Something There to Remind Me
I Just Don't Know What to Do with Myself
What the World Needs Now is Love
Trains and Boats and Planes
Anyone Who Had a Heart
Walk on By
Wishin' and Hopin'
Close to You
Message to Michael
The Weather Girls, Big Girls Don't Cry (Columbia/The Entertainment Company LP BFC-39980, 1985 - reissued Cherry Pop CRPOP 139, 2013) (Amazon U.S. / Amazon U.K.)
Lock Me Up
Big Girls Don't Cry
Well-a-Wiggy
No One Can Love You More Than Me
Down on the Corner
March
Laughter in the Rain
You Can Do It
Well-a-Wiggy (12-Inch Extended Remix) (Columbia 12-inch single 44 05245, 1985)
No One Can Love You More Than Me (12-Inch Extended Remix) (Columbia 12-inch single 44 05288, 1985)