This February, the Audio Fidelity label continues to grow its collection of stereo hybrid SACDs with four new releases that touch upon classic rock, progressive rock, and vintage folk.
Jon Anderson's debut solo album Olias Of Sunhillow was released in the summer of 1976 and climbed the charts to the U.S. Top 50 as well as to an even more impressive No. 8 in Anderson's U.K. home.  The Yes frontman and multi-instrumentalist utilized a variety of synthesizers, tape loops, unexpected instruments and sound effects to create the album inspired by Roger Dean's cover artwork for Yes' 1972 album Fragile as well as the rich literary world of J.R.R. Tolkien.  Anderson's Olias is named for the titular character, an architect who designs a spacecraft on which the aliens of Sunhillow can travel to a new land.  Audio Fidelity describes the cosmic concept album as showcasing "Anderson's uncommon gifts for melody and harmony as well as for songwriting. Together with arrangements that veer from the rustic to sci-fi, the music appears to travel through Earth and Space, incarnating the elements of the material and ethereal worlds. The scope of the music is cinematic, freely pursuing concepts to every corner of its vision and fashioning an experience that is as breathtaking for its range as it is for its depth."  The SACD package replicates the original artwork by artist David Fairbrother Roe.  Kevin Gray has remastered the album at Cohearant Audio.
Shock rockers supreme Alice Cooper delivered one of the band's all-time classics with 1973's U.S. and U.K. chart-topping Billion Dollar Babies.  Alice's sixth studio album, the platinum-selling LP produced by Bob Ezrin yielded four Billboard Hot 100 hits including "Elected", "Hello Hooray," "Billion Dollar Babies" and "No More Mr. Nice Guy."  After the album was released, the band embarked on a tour which reportedly broke U.S. box office records previously held by the Rolling Stones despite not meeting revenue projections.  Magician James Randi designed special effects for the spectacularly horrific production.  Building on the success of the previous year's School's Out, Billion Dollar Babies (with its songs about everything from dentistry to necrophilia) was the perfect vehicle for Cooper's hard rock theatre to come alive – or dead.  Audio Fidelity's SACD edition has been remastered by Steve Hoffman at Stephen Marsh Mastering.
Hit the jump for a look at what's coming from Heart and Peter, Paul and Mary!  Plus: pre-order links and track listings!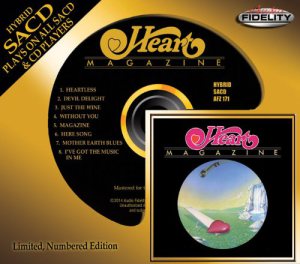 Heart's 1978 album Magazine had a difficult route to its official release.  An early version of the LP was released without Ann and Nancy Wilson's consent against the backdrop of a prolonged contract dispute with Mushroom Records.  When it finally was released in authorized form, the album that had been intended to follow the band's debut Dreamboat Annie actually arrived after another LP (and new label debut), Little Queen. But whether you consider Magazine to be Heart's second or third studio album, it remains a strong effort from the hard-rocking band, with original songs alongside covers of "Without You," "Mother Earth Blues" and "I've Got the Music in Me."  And despite taking a backseat to the Top 10 smash Little Queen, Magazine still earned a respectable Top 20 placing on the U.S. Albums chart.  Audio Fidelity's new SACD of this often-underrated Heart gem has been remastered by Steve Hoffman.
Peter Yarrow, (Noel) Paul Stookey and Mary Travers played a major role in the sixties folk revolution when their debut album, 1962's Peter, Paul and Mary shot to the top of the U.S. Albums chart and remained there for over a month.  Boasting the hits "Lemon Tree" and "If I Had a Hammer," the Warner Bros. album netted two Grammy Awards and established the trio as a force with which to be reckoned.  The trio deftly brought an accessible pop sensibility to traditional folk, incorporating elements of jazz and even gospel into their immaculate settings.  The double-platinum performance of the spirited, optimistic and infectious Peter, Paul and Mary was never topped by the group even as they continued to chart hits throughout the 1960s including "Puff, the Magic Dragon," "Blowin' in the Wind" and "Leaving on a Jet Plane."   Audio Fidelity's SACD release has been remastered by Steve Hoffman.
Olias of Sunhillow and Billion Dollar Babies are set for release on February 4, while Peter, Paul and Mary and Magazine are due on February 18 from Audio Fidelity.  All titles are hybrid stereo CDs, meaning that they can be played on standard CD players while delivering high-resolution sound to those equipped with SACD players.  All four titles can be pre-ordered below!
Jon Anderson, Olias of Sunhillow (Atlantic LP SD 18180, 1976 – reissued Audio Fidelity SACD AFZ 156, 2014) (Amazon U.S. / Amazon U.K.)
Ocean Song
Meeting (Garden of Geda) / Sound Out The Galleon
Dance of Ranyart / Olias (To Build The Moorglade)
Qoquaq Ën Transic / Naon / Transic Tö
Flight of the Moorglade
Solid Space
Moon Ra / Chords / Song of Search
To The Runner
Alice Cooper, Billion Dollar Babies (Warner Bros. LP BS 2685, 1973 – reissued Audio Fidelity SACD AFZ 170, 2014) (Amazon U.S. / Amazon U.K.)
Hello Hooray
Raped and Freezin'
Elected
Billion Dollar Babies
Unfinished Sweet
No More Mr. Nice Guy
Generation Landslide
Sick Things
Mary Ann
I Love the Dead
Heart, Magazine (Mushroom LP MRS-5008, 1978 – reissued Audio Fidelity SACD AFZ 171, 2014) (Amazon U.S. / Amazon U.K.)
Heartless
Devil Delight
Just the Wine
Without You
Magazine
Here Song
Mother Earth Blues
I've Got the Music in Me
Peter, Paul and Mary, Peter, Paul and Mary (Warner Bros. LP WS 1449, 1962 – reissued Audio Fidelity SACD AFZ 161, 2014) (Amazon U.S. / Amazon U.K.)
Early in the Morning
500 Miles
Sorrow
This Train
Bamboo
It's Raining
If I Had My Way
Cruel War
Lemon Tree
If I Had a Hammer
Autumn to May
Where Have All the Flowers Gone