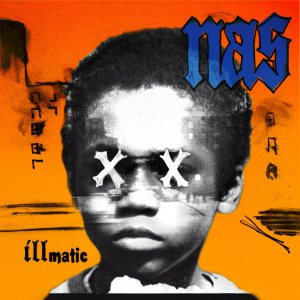 In recent years, Long Island City at the westernmost edge of the New York City borough of Queens has become a hotbed of arts-related activities.  But before gentrification hit Long Island City, the neighborhood was already hosting an artistic renaissance in the form of rap.  One of the most acclaimed rappers to come out of the scene is Nas, or Nasir bin Olu Dara Jones.  Born in 1973, the son of jazz trumpeter Olu Dara made his album debut with 1994's Columbia Records release Illmatic.  Now, Columbia and Legacy Recordings are celebrating the twentieth anniversary of this landmark album with a new 2-CD deluxe edition set for release on April 15.
Peaking at an impressive No. 12 on the Billboard 200, Illmatic established Nas as a vital, creative force in rap and hip-hop.  Critics took notice of both the album's production and its intelligent, authentic and edgy treatment of themes including poverty, gang life, drugs and the other ravages of urban life.  The album incorporated numerous textures including samples by jazz trumpeter Donald Byrd, and drummer Joe Chambers on the track "N.Y. State of Mind" (not inspired by the Billy Joel standard).  Vibraphonist Gary Burton, Michael Jackson, Kool and the Gang, Stanley Clarke and Mountain are among the other artists sampled.  By late 2001, Illmatic had been certified a platinum seller, a testament to its ongoing relevance.  Since the arrival of Illmatic, Nas has released nine albums, including 2012's chart-topping, Grammy-nominated Life is Good.
What extras will be found on the new Illmatic XX?  Hit the jump!  Plus: we have the full track listing and pre-order links!
Disc One of Legacy's remastered and expanded CD edition includes the original album, while the second disc adds tracks of demos, remixes and live radio freestyles including previously unreleased material.  A remastered vinyl edition will replicate the original track listing on one record.  A new documentary film is being released in conjunction with the reissue, as well.  Time is Illmatic is a feature-length work of director/producer One9 and writer/producer Erik Parker.  It explores the making of the album and delves into Nas' roots as the son of Olu Dara.  More information on this upcoming release can be found at www.TimeIsIllmatic.com.  And that's not all.  Nas has announced that he will be touring the U.S. and performing the entirety of the Illmatic album on a number of upcoming dates.   The tour will kick off this spring at Washington, DC's John F. Kennedy Center for the Performing Arts, and Nas will also take the stage at this year's Coachella Valley Music & Arts Festival.  More details about the Illmatic tour will arrive in the near future.
The New York Times described Nas' debut as "a densely textured, deeply lyrical portrait of life in Long Island City's Queensbridge projects," adding that "the record signaled the resurgence of the moribund New York hip-hop scene and helped pave the way for Biggie Smalls, Jay-Z and a new generation of New York rappers."  You can experience it for yourself on April 15 with Legacy Recordings' Illmatic XX.  Pre-order links are just below!
Illmatic XX (Columbia/Legacy, 2014)
2CD: Amazon U.S. / Amazon U.K.
1LP: Amazon U.S. / Amazon U.K. TBD
Disc 1: Original LP (released as Columbia C 57684, 1994)
The Genesis
N.Y. State of Mind
Life's a Bitch
The World is Yours
Halftime
Memory Lane (Sittin' in Da Park)
One Love
One Time 4 Your Mind
Represent
It Ain't Hard to Tell
Disc 2: Bonus material
I'm a Villain *
Freestyle (Live on The Stretch Armstrong and Bobbito Show, WKCR-FM - 10/28/1993) *
Halftime (Butcher Remix) (12" B-side - Ruffhouse/Columbia 44-74777, 1992)
It Ain't Hard to Tell (Remix) (12" promo A-side - Columbia CAS 6037, 1994)
One Love (LG Main Mix) (12" B-side - Columbia 44-77673, 1994)
Life's a Bitch (Arsenal Mix) (12" promo A-side - Columbia CAS 6476, 1994)
One Love (One L Main Mix) (12" B-side - Columbia 44-77673, 1994)
The World is Yours (Tip Mix) (12" B-side - Columbia 44-77513, 1994)
It Ain't Hard to Tell (The Stink Mix) (U.K. 12" A-side - Columbia 660470 8, 1994)
It Ain't Hard To Tell (The Laidback Remix) (U.K. 12" B-side - Columbia 660470 8, 1994)