Second Disc HQ may be surrounded by layers of detestable snow, but a new release schedule from Real Gone Music is as good as any sunshine! (Plus, these titles are due in April, by which everything will have melted...WE HOPE.)
You've already read about two of the label's new April releases courtesy of Joe's post about Doris Day earlier today, but that's not all they're offering. A complete singles collection by Patti LaBelle and The Bluebells - featuring the three future members of LaBelle with future Supremes member Cindy Birdsong - is forthcoming, as are chronicles of The Ohio Express on Cameo Records, Vicki Lawrence ("The Night the Lights Went Out in Georgia") on Bell, and a tempting reissue of Eddie Kendricks' 1981 final solo LP, his only for Atlantic Records.
But we have to confess we're a little excited about In Action: The Complete Columbia Sides and More, a new collection devoted to Keith Allison, an underrated rock legend who sat in with The Monkees on some of their best albums, and whose Columbia works were produced by Gary Usher, featuring songs written by Boyce & Hart (the iconic theme to TV series Where the Action Is), Neil Diamond and Mark Lindsay, who'd later recruit him into Paul Revere & The Raiders. In addition to being an airtight, rarity-packed set, we once again can reveal a Real Gone Music release has liner notes penned by our own Joe Marchese, featuring excerpts from a new interview with Keith himself!
So what are you waiting for? Full specs on all titles, including Jacksonville band Cowboy (a favorite of Duane Allman's) and another Grateful Dead Dick's Picks title, are after the jump, and all of them are released on April 1 (no foolin'!).
NO FOOLS, ALL JEWELS -- A PAIR OF RELEASES HONORING
DORIS DAY'S 90TH BIRTHDAY MAKE APRIL 1
A VERY SPECIAL DAY AT REAL GONE
Los Angeles, California -- It's not an April Fool's joke -- Real Gone Music's April 1release schedule features releases from movie and TV superstars, a legendary girl group, a Southern rock mainstay, a behind-the-scenes stalwart of '60s and '70s pop-rock, an all-time great bubblegum/garage rock band, one of the most hallowed soul singers of all time and the world's greatest jam band. Headlining the docket are two releases timed to celebrate the 90th birthday of silver screen icon Doris Day, one chock-full of rarities, the other featuring classic movie songs pulled from the Columbia vaults. Then, Real Gone turns its spotlight from the big screen to the small screen for a collection of the complete Bell recordings from one of the stars of The Carol Burnett Show, Vicki Lawrence, featuring the #1 hit "The Night the Lights Went Out in Georgia."
Real Gone dives deep into the vaults for a 2-CD, 39-song set compiling the complete Atlantic sides of Patti LaBelle & the Bluebelles, with four unreleased tracks. The Duane Allman discovery Cowboy receives a long-overdue release of their debut album, and future Raider Keith Allison sees his lone solo album finally get reissued with a dozen bonus single sides. The complete Cameo recordings of the Ohio Express, one of the earliest and most essential acts helmed by the legendary bubblegum production team of Jerry Kasenetz and Jeffrey Katz, see their first ever reissue in any format, while former Temptation Eddie Kendricks' lone solo album for the Atlantic label also makes its CD debut. Finally, Real Gone once again hitches a ride on the Grateful Dead's long strange trip with another Dick's Pick volume featuring a complete live show from 1973.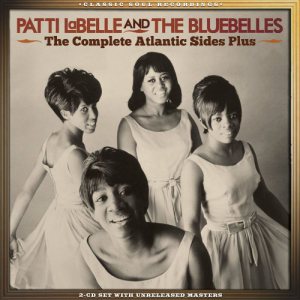 Before Patti LaBelle, Nona Hendryx and Sarah Dash morphed into the futuristic soul trio known as Labelle and became one of the greatest girl groups of the '70s, all three women - along with Cindy Birdsong - were members of one of the greatest girl groups of the '60s, Patti LaBelle and the Bluebelles. Originally based in Philadelphia, the quartet enjoyed a modicum of chart recognition and sales during a two-year period (1962-64) with Newtown Records and then Parkway Records. After an appearance on a 1964 Atlantic LP, Saturday Night at the Uptown, the quartet signed with the label and recorded over thirty tracks for the label over a four-year period. Among the sides were two albums: Over the Rainbow (1965), a Top 20 R&B LP produced by Bert Berns, whose title track was also a Top 20 R&B hit single along with "All or Nothing," which also charted; and Dreamer (1967), which contained the R&B-charting singles "I'm Still Waiting" (produced by Curtis Mayfield) and "Take Me for a Little While." In 1967, with the departure of Cindy Birdsong (who joined the Supremes), the remaining trio recorded a number of singles between 1967 and 1969, with production by Jerry Williams Jr., Memphis songwriters Chips Moman & Dan Penn, Bob Gallo, Don Davis and others; however, none achieved any chart success and in 1969, the group left Atlantic. Patti LaBelle and the Bluebelles: "The Complete Atlantic Sides Plus", produced and annotated by soul music historian David Nathan of SoulMusic Records and remastered by Alan Wilson at Western Star Studio (and featuring some great photos), contains all 35 sides released by Patti LaBelle and the Bluebelles on Atlantic along with four previously unissued tracks recorded in 1969. A real treasure trove for '60s soul and girl group fans.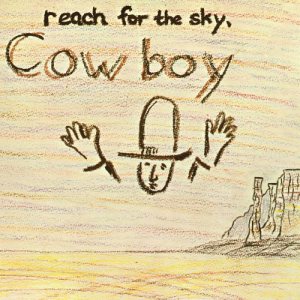 Led by Scott Boyer and Tommy Talton, the Jacksonville band Cowboy was discovered by none other than Duane Allman, who, as legend has it, banged on their door at 7 am one day and asked to hear some songs. He then recommended them to Capricorn label owner Phil Walden, who sent Allman Brothers producer Johnny Sandlin to check them out; Sandlin ended up producing several Cowboy albums for Capricorn, of which this 1970 release was the first. Cowboy: "Reach for the Sky" features some great songs from Boyer and Talton, and has a loose, informal feel with acoustic guitars and harmonies a-plenty; over the years it's become quite the cult item, with copies of its long, long out-of-print CD release trading hands for well over $100. Our Real Gone reissue features notes by Scott Schinder, the original gatefold artwork (with lyrics) and photos. Fine, soulful Southern rock, long overdue for rediscovery.
Keith Allison took listeners "where the action is" on his 1967 Columbia Records debut LPIn Action, packing its grooves with tunes from Tommy Boyce and Bobby Hart (including "Action, Action, Action," the theme to ABC-TV's Where the Action Is, which featured Allison), Donovan, Neil Diamond, Ray Charles, and his future bandmates Paul Revere and the Raiders. On the album -- produced by California music icon Gary Usher -- Allison even introduced a future country-and-western staple in his own song "Freeborn Man," co-written with the Raiders' Mark Lindsay. Real Gone Music's first-ever compact disc reissue offers more action than before, adding twelve original mono single bonus tracks to the original eleven stereo pop nuggets. These diverse 45s -- ten rarities from the Columbia vaults and two ultra-rare tracks from Bell Records' Amy imprint -- boast productions by the likes of Mark Lindsay, Terry Melcher and Larry Marks, and songs by Bo Diddley, Joe South, Tommy Roe, Chuck Berry, Jerry Lee Lewis and the legendary Brill Building team of Barry Mann and Cynthia Weil as well as Allison himself. Taken together, the 23 tracks on Keith Allison: "In Action -- The Complete Columbia Sides and More!" show the many sides of this singer, songwriter and multi-instrumentalist who, besides being the late-period Raiders bassist, worked with the Monkees, Ringo Starr and Alice Cooper. Joe Marchese's in-depth liner notes explore the Keith Allison legacy; Vic Anesini's remastering lets the music shine.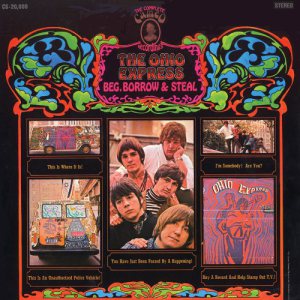 The tangled history of the Ohio Express is difficult to unwind, but the one constant in the band's chronology are the guiding hands of legendary bubblegum/garage producers Jerry Kasenetz and Jeffrey Katz, whose Super K Productions were behind hits by everybody from the Shadows of Knight to the 1910 Fruitgum Company to the Music Explosion. With regard to the Ohio Express, their first hit ("Beg, Borrow and Steal") was actually a song recorded by another band: the Rare Breed, who recorded it for Attack Records in 1966. The Cameo label then re-mixed and released the song, which went to #29 on the 1967 charts -- but they had no band to promote it, as the Rare Breed had left Super K Productions, never to record again! So, a Springfield, Ohio band named Sir Timothy & the Royals was hired to tour and to lay down more tracks under the Ohio Express name, some with them and some with a house band fronted by Royals/Express vocalist Dale Powers, with two songs ("I Find I Think of You" and the unreleased "Life Is a Mystery") written/co-written by none other than a young Joe Walsh! Now, for the first time, ABKCO and Real Gone Music have assembled ALL the tracks recorded by this legendary bubblegum band for the Cameo label on The Ohio Express: "Beg, Borrow and Steal -- The Complete Cameo Recordings", including the entire Beg, Borrow and Stealalbum, four single sides and two unreleased tracks. ABKCO engineer Teri Landi has lovingly compiled all 17 songs from the original analog tapes; Jim Allen provides the liner notes. A must for '60s bubblegum and garage fans.
Having recently released a quartet of albums by David Ruffin, Real Gone Music now turns its attention to Ruffin's former running mate in the Temptations, Eddie Kendricks, whose mellifluous tenor and falsetto were such an integral part of the group's sound. Kendricks began his solo journey in 1971, leaving Motown in 1977 for a two-album, two-year stint at Arista Records. In 1981, Eddie signed with Atlantic Records for the one-off LP, "Love Keys", which would be his last major label album (aside from a 1987 collaboration with fellow ex-Temptation, David Ruffin). Produced in his hometown of Birmingham, Alabama by the team of Johnny Sandlin (best known for his work with Southern rock artists like the Allman Brothers, Bonnie Bramlett, Elvin Bishop, and Wet Willie) and Randy Roberts, Eddie Kendricks: "Love Keys" featured backing from the Muscle Shoals Horns and the Southern soul group the Controllers on songs written by Lou Courtney ("I'm In Need Of Love"), David Pomeranz ("Old Home Town") and Eddie's former Motown colleagues, Brian & Eddie Holland (for the track, "(Oh I) Need Your Lovin,'" a Billboard Top 50 R&B single). The album represented Eddie Kendricks' first venture into Southern soul, and was the last charting solo set for the great soul singer, who passed away in 1992. It makes its worldwide CD debut here, with notes and added photos. Brought to you by Real Gone and SoulMusic Records.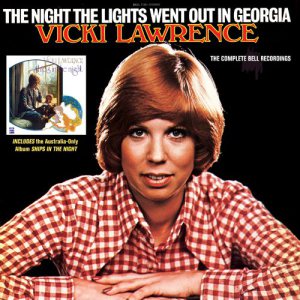 Carol Burnett wasn't the only multi-talented regular on The Carol Burnett Show. Her protégé Vicki Lawrence (a.k.a. "Eunice" and "Mama"), actually did her one better by scoring a # 1 hit with "The Night the Lights Went Out in Georgia" on the Bell label in 1973. But Vicki's big hit wasn't the result of her talent alone. In 1972, she married the great songwriter Bobby Russell, who penned "Georgia" and hooked her up with the legendary producer "Snuff" Garrett and arranger Artie Butler. The combo clicked not just on the song but also on the album, which went to #51 on the charts. A year later, Vicki recorded another album for Bell, Ships in the Night, again with the title song penned by Russell and production by Garrett. However, financial problems at the Bell label resulted in the album being released only in Australia, and it appears here on CD for the first time.Vicki Lawrence: "The Night the Lights Went Out in Georgia -- The Complete Bell Recordings" also adds the non-Bell single sides "Old Home Movies" and "The Other Woman" and an unreleased track for a total of 25 songs from this enduring performer. Notes and photos accompany...remastered by Steve Massie.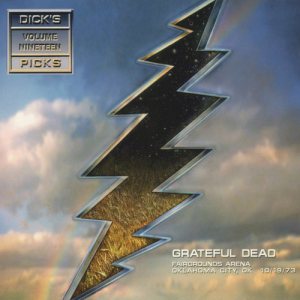 The first full 1973 concert to be released, and the first concert of their uniformly excellent Fall '73 Midwest tour, Grateful Dead: "Dick's Picks Vol. 19 -- 10/19/73 Oklahoma City Fairgrounds Arena, Oklahoma City, OK" captures the Dead a matter of days after the release of Wake of the Flood, the first release on their own Grateful Dead Records label, and over half the tracks from the album appear here, highlighted by stellar (no pun intended) renditions of "Stella Blue" and "Eyes of the World." Both of those songs appear as the first encore on Disc Three, which may well be one of the finest single discs in the entire Dick's Picks canon; the disc leads off with a 15-minute "Dark Star" which segues effortlessly to "Mind Left Body Jam" leading into a truly transcendent reading of "Morning Dew." Add "Sugar Magnolia" and a show-ending "Johnny B. Goode" to the set and you know everybody went home happy. A superb sound mix on this one, too, and as always it's presented in HDCD sound. Out of print for years.
April 1, 2014 Releases from Real Gone Music
Doris Day, Music, Movies & Memories (Amazon U.S. / Amazon U.K.)
Doris Day, Sings Her Great Movie Hits (Amazon U.S. / Amazon U.K.)
Patti LaBelle and the Bluebelles, The Complete Atlantic Sides Plus (2-CD Set) (Amazon U.S. / Amazon U.K.)
Cowboy, Reach for the Sky (Amazon U.S. / Amazon U.K.)
Keith Allison, In Action -- The Complete Columbia Sides and More! (Amazon U.S. / Amazon U.K.)
The Ohio Express, Beg, Borrow and Steal -- The Complete Cameo Recordings (Amazon U.S. / Amazon U.K.)
Eddie Kendricks, Love Keys (Amazon U.S. / Amazon U.K.)
Vicki Lawrence, The Night the Lights Went Out in Georgia -- The Complete Bell Recordings (Amazon U.S. / Amazon U.K.)
Grateful Dead, Dick's Picks Vol. 19 -- 10/19/73 Oklahoma City Fairgrounds Arena, Oklahoma City, OK (3-CD Set) (Amazon U.S. / Amazon U.K.)