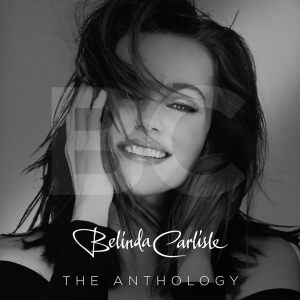 After a series of great expanded CD/DVD reissues, Edsel will release not one but two career-spanning anthologies dedicated to former Go-Go's frontwoman/pop icon Belinda Carlisle.
The Anthology collects three CDs and two DVDs worth of hits and rare content from the singer, whose late '80s run of singles included such impressive pop gems as "Mad About You," "Heaven is a Place on Earth," "I Get Weak," "Circle in the Sand" and "Leave a Light On." While Carlisle has been relatively quiet since 2007's all-French standards album Voila, recent years have seen her gradual return to pop music: her entry in the normally ineffective ICON series by UMe featured "Sun," her first pop single in quite some time. Another new song, "Goodbye Just Go," makes its debut on The Anthology.
The first two discs on the set are devoted to nearly all of Belinda's singles from her I.R.S., Virgin and Chrysalis years (the first time Edsel has expanded its look at Belinda beyond the core albums on Virgin). A third CD features five non-LP rarities from soundtracks and compilations and a live set from Tokyo in 2013. (Edsel has already apologized in advance for the absence of long-unreleased fan favorite "In My Wildest Dreams" from the 1987 film Mannequin; "our researches in tape libraries around the globe (and with staff who worked at IRS at the time) have not so far managed to turn up a master for the track," the label unfortunately noted.) In addition to the audio offerings, two DVDs will feature Belinda's promo videography and live performances on various U.K. television programs, respectively.
For those looking for a more general overview, Edsel will also release The Collection, a hits-centric CD/DVD compilation. Both sets will be available March 17 in the U.K.; Amazon U.K. links and track lists are after the jump!
The Anthology (Edsel (U.K.), 2014)
Discs 1-2: The Singles
(We Want) The Same Thing (Single Remix)
Heaven is a Place on Earth
Live Your Life Be Free
Leave a Light On
I Get Weak
I Plead Insanity
Big Scary Animal
Mad About You
Always Breaking My Heart
Sun
I Still Love Him
Little Black Book
Band of Gold
World Without You
Vision of You ('91 Mix)
Half the World
Circle in the Sand
In Too Deep
Summer Rain
Runaway Horses
Do You Feel Like I Feel
All God's Children
I Feel the Magic
I Feel Free
Valentine
A Prayer for Everyone
California
Lay Down Your Arms
La Luna
Love in the Key of C
Love Never Dies
Goodbye Just Go
Disc 1, Tracks 1, 4 and 15 and Disc 2, Tracks 3-4, 9 and 13 from Runaway Horses (Virgin/MCA, 1989)
Disc 1, Tracks 2, 5 and 14 and Disc 2, Tracks 1, 8 and 15 from Heaven on Earth (Virgin/MCA, 1987)
Disc 1, Tracks 3, 6, 12 and 16 and Disc 2, Track 5 from Live Your Life Be Free (Virgin/MCA, 1991)
Disc 1, Track 7 and Disc 2, Track 12 from Real (Virgin/MCA, 1993)
Disc 1, Track 9 and Disc 2, Tracks 2, 11 and 14 from A Woman and a Man (Chrysalis, 1996)
Disc 1, Tracks 8 and 13 and Disc 2, Track 7 from Belinda (I.R.S., 1986)
Disc 1, Track 10 from ICON (Geffen/UMe, 2013)
Disc 1, Track 11 from bonus disc of Voila (Rykodisc, 2007)
Disc 2, Tracks 6 and 10 from A Place on Earth: The Greatest Hits (Virgin, 1999)
Disc 2, Track 16 is a new track exclusive to this compilation
Disc 3: Rarities (previously unreleased except where noted)
Dancing in the City (from Burglar: Original Motion Picture Soundtrack - MCA, 1987)
Bless the Beasts and Children (from Tame Yourself - R.N.A. Rhino New Artists, 1991)
Christmas Lullaby (from Mother & Child: A Celebration of Christmas Motherhood - Gai Saber, 1995)
I Won't Say (I'm in Love) (recorded for Walt Disney's Hercules, 1997 - released as promotional single)
Submission - Belinda Carlisle & Radiator (from Come Again - EMI, 1997)
Runaway Horses (Live in Tokyo)
I Get Weak (Live in Tokyo)
In Too Deep (Live in Tokyo)
California (Live in Tokyo)
Circle in the Sand (Live in Tokyo)
Vision of You (Live in Tokyo)
La Luna (Live in Tokyo)
Summer Rain (Live in Tokyo)
Vacation (Live in Tokyo)
Our Lips Are Sealed (Live in Tokyo)
Leave a Light On (Live in Tokyo)
Heaven is a Place on Earth (Live in Tokyo)
Emotional Highway (Live in Tokyo)
We Got the Beat (Live in Tokyo)
Discs 4: Promo videos DVD
Mad About You
I Feel the Magic
Heaven is a Place on Earth
I Get Weak
Circle in the Sand
World Without You
I Feel Free
Love Never Dies
Leave a Light On
La Luna
Runaway Horses
Vision of You
(We Want) The Same Thing
Summer Rain
Live Your Life Be Free
Do You Feel Like I Feel
Half the World
I Plead Insanity
Little Black Book
Big Scary Animal (U.K. Version)
Big Scary Animal (U.S. Version)
Lay Down Your Arms
In Too Deep
Always Breaking My Heart
California
Love in the Key of C
All God's Children
Sun
Disc 5: DVD - BC on BBC and bonus material
Heaven is a Place on Earth (Top of the Pops)
I Get Weak (Wogan)
Leave a Light On (Top of the Pops)
Runaway Horses (Wogan)
Interview with Philip Schofield (Going Live)
(We Want) The Same Thing (Top of the Pops)
Live Your Life Be Free (Top of the Pops)
Do You Feel Like I Feel (Top of the Pops)
Interview with Caron Keating (Summer Scene)
Big Scary Animal (Top of the Pops)
Lay Down Your Arms (Live & Kicking)
Interview with John Barrowman (Live & Kicking)
California (National Lottery)
A Place on Earth: The Greatest Hits (EPK)
The Best of Belinda (TV ad)
A Place on Earth: The Greatest Hits (TV ad)
Live Your Life Be Free (TV ad)
The Collection (Edsel (U.K.), 2014)
Disc 1: CD
(We Want) The Same Thing (Single Remix)
Heaven is a Place on Earth
Live Your Life Be Free
Leave a Light On
I Get Weak
I Plead Insanity
Runaway Horses
Half the World
Sun
Little Black Book
Circle in the Sand
In Too Deep
Do You Feel Like I Feel?
World Without You
La Luna
Vision of You ('91 Mix)
Goodbye Just Go
Disc 2: DVD (track list identical to CD minus "Goodbye Just Go")