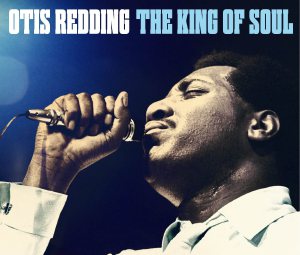 All hail The King and Queen.
The careers of Otis Redding and Aretha Franklin have been inextricably linked since Franklin entered New York's Atlantic Studios on Valentine's Day, 1967, with producer Jerry Wexler to record Redding's "Respect."  Even before that pivotal moment, however, the two artists shared a label in Atlantic Records (distributor of Redding's Stax records) and an ability to invest any song with raw honesty and unvarnished emotion.  Atlantic and Rhino Records have recently issued two newly remastered 4-CD retrospectives dedicated to Redding and Franklin: respectively, The King of Soul and The Queen of Soul.
"Respect" was originally cut by the soul shouter supreme and producer Steve Cropper at Stax's Memphis, Tennessee studios in July 1965, and became his second-biggest pop hit to that point.  In Redding's original, he's insistent as he addresses his woman.  His intensity is as blazing as the song's horns are frantically bleating.  She can do him wrong, do what she wants to, take his money – but he demands "a little respect" when he comes home.  It's what he wants, sure.  But moreover, it's what he needs.  It's no surprise that Redding's urgent entreaty to maintain his pride and self-worth took on greater depth against the backdrop of the civil rights movement.  Redding's personal plea had universal resonance.
When Franklin approached "Respect," she turned it on its ear.  Whereas Redding asked, "What you want?  Honey, you got it!  What you need, baby you got it!," Aretha  taunted with equal measures of command and sass, "What you want?  Baby, I got it!  What you need?  You know I got it!"  Franklin and Wexler fleshed the song out, adding an instrumental bridge courtesy of saxophone great King Curtis, and dialing up the funk but relaxing the frenetic tempo.  Aretha, with her sisters/background singers Erma and Carolyn, also personalized the song, throwing in some indelible ad libs ("Sock it to me," "Take care, T.C.B.!") and demanding her "propers."  She might give her man all her money, but there's no doubt of who's in control.  The anthemic quality already inherent in Otis' "Respect" came to the fore in Aretha's empowered reading, which was crowned by one final, key touch – the spelling out of "R-E-S-P-E-C-T."  Her electrifying reinvention went to the top of both the Pop and R&B (Black Singles) charts, prompting Redding to kiddingly stammer that it was the song "that a girl took away from me, a friend of mine, this girl, she just took this song!"
"Respect," of course, features on both box sets – twice on Redding's collection, once in the studio and once in a live setting.  But that immortal song is just the tip of the iceberg for these compilations.  In addition to offering a wealth of some of the most sublime soul music ever recorded, The King of Soul and The Queen of Soul serve as affordable, no-frills primers for those who don't own all of the artists' individual Atlantic albums on compact disc.  The Redding set is particularly valuable in this regard; while most of Franklin's CD releases are still in print, Rhino's reissues of Redding's Stax/Volt/Atco catalogue are considerably more difficult to find.
The King of Soul (Atlantic/Rhino R2 541306, 2014) coincides with the fiftieth anniversary of the late legend's debut album, 1964's Pain in My Heart.  Over its 92 tracks, these four discs trace Redding's meteoric rise to superstar status, spanning the fast and furious period between 1962 and his tragic passing in 1967.  King of Soul draws on both studio and live recordings, including key singles and tracks from such landmark albums as 1965's Otis Blue, 1967's Carla Thomas duets set King and Queen, and 1968's posthumously-released The Dock of the Bay.  Every one of Redding's original studio albums through 1970 is represented here,  and compiler Reggie Collins has also drawn upon the 1968 various-artists album Soul Christmas and 1993's lavish, now out-of-print Rhino box set Otis! The Definitive Otis Redding.  (Collins was credited as the "research director" on that box.)  As Redding's catalogue is limited in size, some albums are nearly-complete here, such as 1965's torrid Otis Blue: Otis Redding Sings Soul.  Ten out of the original LP's eleven tracks are reprised.  (The lone omission is Redding's version of the Sam Cooke hit "Wonderful World.")  As Stax did not begin recording in stereo until 1965, the majority of the first three CDs are in mono; the fourth disc is nearly all-stereo.
After the jump: more on Otis, plus the lowdown on Aretha's Queen of Soul!
With 92 tracks vs. the 96 on the 1993 box, the newly-compiled King of Soul covers much of the same musical territory as its predecessor.  The '93 set did include three tracks from Otis' short pre-Stax career, but these aren't a great loss.  What this package also lacks, of course, is the 100-page that accompanied The Definitive and its numerous essays and testimonials.  The King of Soul contains just a 12-page booklet with credits and discographical annotation.  There are no liner notes, new or old, here.  Charles Benson has newly remastered all tracks, though, shining fine detail on the contributions of the Stax house band that supported Redding – typically including Steve Cropper (guitar), Booker T. Jones (organ/piano), Isaac Hayes (organ/piano), Donald "Duck" Dunn (bass) and Al Jackson, Jr. (drums) plus the sizzling horn section.  One just can't find fault in 92 slabs of fiery R&B showcasing Otis Redding's prodigious gifts as both an interpretive vocalist and an impassioned singer-songwriter; these songs are purely essential listening.  Those looking to dig deeper might wish to explore Shout! Factory's 2013 box The Complete Stax/Volt Singles Collection, with 72 single sides on three discs.  The King of Soul offers a broader view on Redding's career at a lower price point, but The Complete Stax/Volt Singles – beautifully remastered by Bill Inglot and Dan Hersch – is a truly worthy companion for those collectors who already own his albums on CD.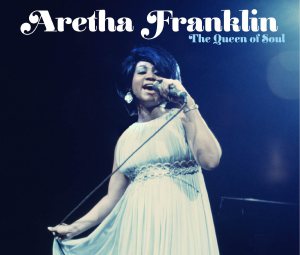 While Otis Redding's near-complete career is encapsulated on King of Soul, its companion Queen of Soul (Atlantic/Rhino R2 541305, 2014) for 18-time Grammy winner Aretha Franklin draws solely on the artist's most acclaimed period at Atlantic.  (All three major eras of Franklin's galvanic career – at Columbia, Atlantic and Arista – have never been addressed on one large-scale retrospective release.)   Like the Redding set, this collection is a latter-day successor to a prior box set, 1992's Queen of Soul: The Atlantic Recordings.  That set boasted 86 tracks on four CDs; this box has 87 with the same disc count.  The new iteration of Queen of Soul includes music from each of Franklin's Atlantic albums between 1967's I Never Loved a Man the Way I Love You and 1976's Sparkle with the exception of the still-not-on-CD With Everything I Feel in Me (1974) and You (1975).  In addition to prime album cuts and hit singles such as "(You Make Me Feel Like A) Natural Woman," "Chain of Fools," "Think" and "Baby, I Love You," the collection also features numerous non-LP sides and a smattering of outtakes first issued on Rhino's indispensable 2007 rarities compendium Rare and Unreleased Recordings from the Golden Reign of the Queen of Soul as well as the compilations Atlantic Blues: Vocalists (1986) and Atlantic Unearthed: Soul Sisters (2006).
Some albums here are presented nearly in full.  Every single track from Aretha's 1967 Atlantic debut I Never Loved a Man the Way I Love You is here, except for "A Change is Gonna Come."  The entirety of 1970's This Girl's in Love with You is reprised on Queen of Soul save, inexplicably, the Burt Bacharach/Hal David title track.  Naturally, Burt and Hal are heard via Franklin's 1968 Top 10 reinvention of "I Say a Little Prayer," and Queen of Soul  includes songs written or co-written by many of their contemporaries in R&B hitmaking like Kenny Gamble ("A Brand New Me"), Dan Penn ("Do Right Woman – Do Right Man"), Don Covay ("Chain of Fools"), Curtis Mayfield ("Something He Can Feel"), Carole King and Gerry Goffin ("(You Make Me Feel Like A) Natural Woman"), Nickolas Ashford and Valarie Simpson ("You're All I Need to Get By") and Stevie Wonder ("Until You Come Back to Me (That's What I'm Gonna Do).")
At Atlantic, Franklin found the most pure expression of her gospel-soaked voice, combining her interpretive skills honed on jazz material at Columbia with a previously unexplored grit and fervor.  Her transformative powers also shone on material from rock superstars like Elton John ("Border Song"), The Beatles ("Let It Be," "Eleanor Rigby") and Paul Simon (the Grammy-winning "Bridge Over Troubled Water").  As on the Otis set, Queen of Soul makes room for the artist's own impressive songwriting: in Aretha's case, stone-cold classics like "Day Dreaming," "Rock Steady" and "Don't Let Me Lose This Dream."  Jazz and gospel tracks take their place here alongside the more familiar R&B repertoire, as well.
In addition to losing the 80-page squarebound book included with the 1992 box, this iteration of Queen of Soul drops the tracks from three of Aretha's still-not-on-CD albums With Everything I Feel in Me (1974), You (1975) and Sweet Passion (1977).  Her final two Atlantic albums, Almighty Fire (1978) and La Diva (1979) remain wholly unacknowledged in the CD era despite a promising June 2012 announcement that reissues of all five albums were on the way from Aretha herself.  Charles Benson has freshly remastered all tracks, and the booklet includes credits and helpful discographical annotation for every track, but no liner notes.  Most of the box is presented in stereo, notably excluding most of the first CD and three cuts on the second disc.  A full list of mono and stereo tracks can be found here.
Though the music on The King of Soul and The Queen of Soul has been anthologized numerous times before, these sets are ideal introductions for those fans looking for a reasonably-priced sampler of some of the most timeless music ever recorded in R&B – or any other genre, for that matter.   (And in the case of the Otis Redding, this box is more than a sampler; it represents a substantial amount of his entire catalogue.)  If these sublime recordings aren't yet a part of your music collection, it's time to take care of business…T-C-B!
Otis Redding's The King of Soul can be ordered at Amazon U.S. or Amazon U.K. !
Aretha Franklin's The Queen of Soul can be ordered at Amazon U.S. or Amazon U.K. !