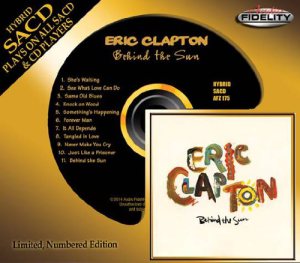 All that glitters is not (necessarily) gold.  Two of the U.S.' preeminent audiophile labels, Mobile Fidelity Sound Lab and Audio Fidelity – the latter a successor to DCC Compact Classics – made their name on Gold CDs, and have in recent years made the gradual change to hybrid stereo SACDs.  These discs, playable on all CD players in standard CD quality, are remastered to the same high standard as the gold releases but also give consumers with SACD playback capabilities the opportunity to listen in high-resolution, superior-to-CD sound.   Both Mobile Fidelity and Audio Fidelity have been busy in 2014.  The former label has released, or will release, hybrid SACDs from Frank Sinatra, Dean Martin, Chicago, Ray Charles, Aretha Franklin, Los Lobos and Daryl Hall and John Oates; the latter label has just offered titles from Heart, Jon Anderson, Alice Cooper and Peter, Paul and Mary, and has announced forthcoming releases from The Paul Butterfield Blues Band and Eric Clapton.
Though Mobile Fidelity has made the gradual switch to the SACD format, Audio Fidelity has recently issued a statement confirming that the label will no longer manufacture 24K Gold CDs.  Label founder Marshall Blonstein has written in an email to subscribers of AF's limited edition series that "as many of you know, over the past months we have had many delays with our 24K release schedule. Primarily it's been due to the inability of our manufacturer to secure the gold target necessary to make 24K discs.  Since 2013, we've responded to the encouragement of many of our fans and friends by converting to the Hybrid SACD format."
Blonstein continues, "Though it's possible in the future we could release 24K titles, it's not likely.  We've made this decision after a lot of thought and realistic evaluation of market conditions - our 24K manufacturer is unable to assure us that in the future they would be able to deliver the product you expect and we demand.  Meanwhile, we're having a great run with our Hybrid SACD titles, our brand remains intact and our unique and appealing slipcase packaging remains consistent with our tradition.
So, it is with great sadness we are informing you that we will leave an old friend, our 24K Gold disc behind, but with also with great joy, knowing that we are moving forward with a much more consistent and broadly appealing format."
After the jump, we'll take a look at the recent release slate from both Audio Fidelity and Mobile Fidelity!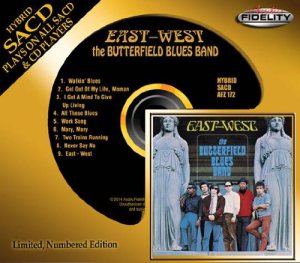 Audio Fidelity will soon deliver SACDs of The Butterfield Blues Band's East-West and Eric Clapton's Behind the Sun.  1966's East-West was the sophomore album by the Chicago blues outfit featuring bandleader Butterfield on vocals and harmonica and the incendiary guitars of Mike Bloomfield and Elvin Bishop plus Mark Naftalin on piano/organ, Jerome Arnold on bass and Billy Davenport on drums.  Recorded in Chicago at Chess Studios, East/West perfected the band's fusion of blues, rock and jazz on songs by Allen Toussaint ("Get Out of My Life, Woman"), Mike Nesmith ("Mary, Mary"), Muddy Waters ("Two Trains Running"), Robert Johnson ("Walkin' Blues"), and Nat Adderley ("Work Song") as well as traditional and the epic, 13-minute-plus Bloomfield/Nick Gravenites original title track.  Kevin Gray has remastered East-West.
Another blues-rock great, Eric Clapton, named his 1985 album Behind the Sun after a line from a Muddy Waters song.  While still embracing modern production (and the attendant synthesizers and drum machines), the album (his ninth solo LP overall and second for Warner Bros. Records) put the spotlight back where it belonged: on Clapton's fiery lead guitar.  Phil Collins, Greg Phillinganes, Michael Omartian, Lindsey Buckingham, Ted Templeman, James Newton Howard, Steve Lukather, Jeff Porcaro and Donald "Duck" Dunn all brought their diverse talents to Behind the Sun, and Clapton was rewarded with hit singles "Forever Man" (Mainstream Rock No. 1/Hot 100 No. 26), "See What Love Can Do" (Mainstream Rock No. 20/Hot 100 No. 89) and "She's Waiting" (Mainstream Rock No. 11).  Collins and Clapton continued their collaboration on 1986's August, furthering Clapton's eighties pop-rock "comeback."  Steve Hoffman has remastered Behind the Sun.
Since the beginning of 2014, Mobile Fidelity Sound Lab has unveiled an even greater number of titles in the hybrid SACD format.  All of the following titles are available for order now at the links provided: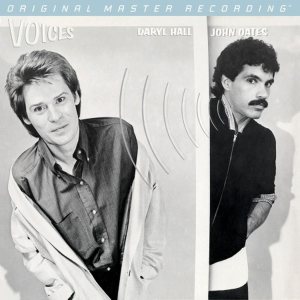 As per the norm, Audio Fidelity and Mobile Fidelity titles typically do not include bonus tracks or new liner notes.  (A notable exception is Martin's This Time I'm Swingin', with the ever-popular "Ain't That a Kick in the Head" added to the disc.)  MFSL's hybrid SACDs are packaged in oversized cardboard sleeve LP replicas, while AF's titles continue to be released in the slipcase packaging that dates back to the DCC Compact Classics days.
You can order the two upcoming Audio Fidelity titles, due in stores March 18, at the links below!
Eric Clapton, Behind the Sun (Warner Bros. CD 9 25166-2, 1985 – reissued Audio Fidelity, 2014) (Amazon U.S. / Amazon U.K. )
She's Waiting
See What Love Can Do
Same Old Blues
Knock on Wood
Something's Happening
Forever Man
It All Depends
Tangled in Love
Never Make You Cry
Just Like a Prisoner
Behind the Sun
The Paul Butterfield Blues Band, East-West (Elektra LP EKS 7315 – reissued Audio Fidelity, 2014) (Amazon U.S. / Amazon U.K.  )
Walkin' Blues
Get Out of My Life, Woman
I Got a Mind to Give Up Living
All These Blues
Work Song
Mary, Mary
Two Trains Running
Never Say No
East-West