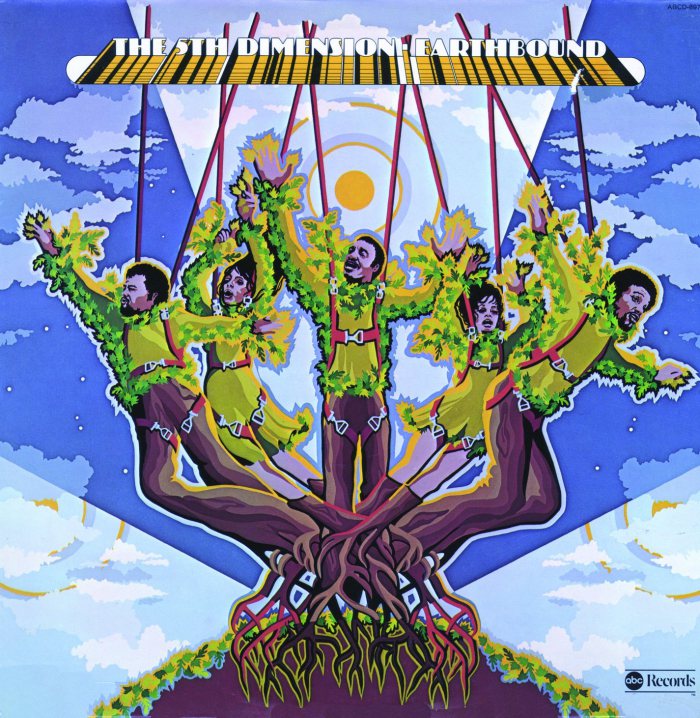 Real Gone Music isn't letting up, with six heavy-hitting reissues announced for an April 29 release, including compilations for Vanilla Fudge and The 5th Dimension, long-lost recordings by Bob Wills and His Texas Playboys and more!
We've already told you about RGM's plans to release 10 tracks from the band's famed radio-only "Tiffany Transcriptions" - four of which won't be available on any other release - as a Record Store Day exclusive. A two-disc, 50-track set of those recordings from 1946-1947 will be available in the label's latest release batch. So, too, will a single-disc set of Vanilla Fudge's complete single sides for Atco Records, Yes keyboardist Rick Wakeman's soundtrack for the 1976 Olympics documentary White Rock, an expansion of punk titans X's 1982 album Under the Big Black Sun and jazz saxophonist Cannonball Adderley's long-out-of-print live double album Black Messiah from 1970.
If we can allow our biases to show for just a second, our most anticipated release of this batch is handily The 5th Dimension's Earthbound: The Complete ABC Recordings. The psychedelic group was best known for their works on Soul City and Bell, of course, but this final album of the original band's from 1975 is ripe for rediscovery. And what better way to help rediscover this period than with new liner notes from The Second Disc's own Joe Marchese? These liners, a perfect sequel to Joe's work for Real Gone's reissued soundtracks to Together? and Toomorrow and Keith Allison's forthcoming In Action: The Complete Columbia Sides Plus, include brand-new interviews he conducted with Marilyn McCoo and Billy Davis, Jr. - and I'll say it again: in this writer's humble opinion, there are fewer writers who'd approach this project with as much professionalism and unencumbered enthusiasm.  This title is now scheduled for June 3, 2014 release.
So make sure you keep your eyes peeled for these new sets, all of which - save Earthbound - are due on April 29. Hit the jump for the full press release and Amazon links!
Los Angeles, California -- A major addition to the canon of American music recordings, a key link between psychedelia and metal, a superstar pop-soul outfit, a prog keyboard god, a legendary punk group and a tenor sax jazz titan -- it's all in a day's work for Real Gone Music. The day of April 29, to be exact (plus a bonus release on Record Store Day), when the label will be releasing a half-dozen releases that explore every nook and cranny of popular music -- and come up with some major finds! Like, first and foremost, 50 lost Tiffany Transcriptions sides from Bob Wills and His Texas Playboys! Recorded during 1946 and 1947 on 16-inch transcriptions and distributed only to radio stations, the Tiffany Transcriptions have long been the crown jewel of the King of Western String's discography, and our 2-CD release includes 50 recently unearthed sides that either have not been released since the original transcription discs or never been released at all, while our Record Store Day (April 19) limited edition red vinyl release features ten previously unreleased Tiffany recordings! With all modesty, we think this is the biggest American music find in recent memory.
Wills and his band covered songs from every walk of American music--and the next band on our list was, in its own right, one of the great cover bands of its era. Well, we don't want to keep you hangin' on--we are speaking, of course, of the Vanilla Fudge! Real Gone's 19-track collection is the first ever devoted to the band's (mostly) original mono single sides, spanning their entire career and featuring such Shadow Morton-produced epics as "You Keep Me Hangin' On," "Season of the Witch Parts 1 & 2," "Take Me for a Little While" and "Where Is My Mind," with track-by-track annotation provided by the band. Then, the label fills the last remaining gap in the catalog of the iconic pop-soul group the 5th Dimension with its release of the album Earthbound -- produced, arranged and largely written by the great Jimmy Webb. With memories of the Winter Olympics still fresh, Real Gone also revisits Yes keyboardist Rick Wakeman's 1977 album White Rock, the soundtrack he wrote to Tony Maylam's documentary on the 1976 Winter Olympics in Innsbruck. And the label takes a sharp, slalom-like stylistic turn with its reissue of the expanded and remastered edition of X's classic 1982 album Under the Big Black Sun. Finally, with its release of the double album The Black Messiah, Real Gone at long last puts back into print one of the key collaborations between jazz giant Cannonball Adderley and ace producer David Axelrod.
With its release of Bob Wills and His Texas Playboys: "Riding Your Way -- The Lost Transcriptions for Tiffany Music", 1946-1947, Real Gone Music is offering folks a chance to own some of the most revered--and rare--recordings in the history of American music. In 1946 and 1947, Bob Wills and His Texas Playboys cut nearly 400 full songs for Tiffany Music, Inc., recordings that came to be known as the Tiffany Transcriptions. These recordings were distributed only to radio stations on 16-inch transcription discs, and were intended for airplay as part of a syndicated radio show featuring Wills and the Playboys. However, the transcriptions proved to be a financial failure, and Tiffany Music, Inc. folded by the end of the '40s, seemingly relegating the Tiffany Transcriptions to obscurity (and leaving over 200 songs in the can).
But that was not the end of the story. The Tiffany Transcriptions were unlike anything else in the King of Western Swing's discography. Typically recorded on a Monday in between tours, they usually consisted of on-the-spot arrangements of everything from Wills hits to western swing standards to sentimental ballads to blues and hot swing instrumentals, and the 16", 33 1/3 rpm recording format allowed some of the songs to be longer than the normal, three-minute limitation of the 10-inch, 78 rpm commercial records of the day. This meant that Wills and his incredible band -- with the great Tommy Duncan on vocals--had a chance to stretch out and have fun with the material. The result: the Tiffany Transcriptions are generally regarded as the best recordings Bob Wills and His Texas Playboys ever made.
For decades, the Tiffany Transcriptions were more legend than fact. Collectors passed copies of them around on poorly recorded reel-to-reel tapes and, later, cassettes. Finally, in the early '80s, Kaleidoscope Records began releasing a series of vinyl volumes of the Tiffany Transcriptions, followed by a CD release on Kaleidoscope and Rhino Records in the '90s. To date, however, less than half of the songs recorded by Wills and the Playboys have seen the light of day since the original transcription pressings of the '40s.
Flash forward 60 years. One day, Warner/Rhino tape vault honcho Mike Johnson spies the master tape reels for the Kaleidoscope Records releases on the shelf -- but what's on those 49 other tape reels right next to them?! That's right -- only the biggest discovery in American popular music this millennium, all the missing recordings Wills and his band made for Tiffany, both released and unreleased. Now, Bob Wills and His Texas Playboys: "Riding Your Way -- The Lost Transcriptions for Tiffany Music", 1946-1947 presents 50 of those long-lost transcription sides--20 of them never released even on transcription disc--inside a package worthy of the material, a 6-panel DVD-style digipak featuring photos and memorabilia from the collection of Kaleidoscope Records co-founder Tom Diamant. The 20-page, DVD-sized booklet includes notes featuring quotes from the original Playboys by Western Swing expert Cary Ginell, plus a foreword from Johnson (who co-produced the set) and a complete discography of the Tiffany recordings. The recordings are mastered by Bob Fisher from recently discovered tapes to preserve their vintage sonic vibrancy while eliminating excess background surface noise.
Also, on Record Store Day (April 19), Real Gone will release a limited-edition (of 1500) pressing of Bob Wills and His Texas Playboys: "Transcriptions". The set presents ten of those long-lost, never before released transcription sides inside a package designed to mimic the mailers in which they were sent to radio stations back in the '40s, with "pre-distressed," trompe l'oeil wrinkles and wear on the record jacket and a cutaway hole in front showing the vintage Tiffany logo on the vinyl label, which continues the Tiffany numbering system of assigning a record number to each side. The back cover also shows vintage graphics from the period, and the records are pressed on red vinyl (150-gram), as that's how some Tiffany Transcriptions were originally manufactured. Four of the songs are unique to this release and will not appear on the 2-CD release. A Record Store Day exclusive.
To quote from Ginell's notes to the 2-CD release: "As the years go by, it has become more than appropriate to compare Bob Wills' Tiffany Transcriptions with Tiffany & Co., the elegant New York-based jeweler that markets itself as an arbiter of taste and style. These newly released performances only brighten the luster of the Tiffany catalog, which is now acknowledged as being one of the most important single collections in the history of twentieth century music."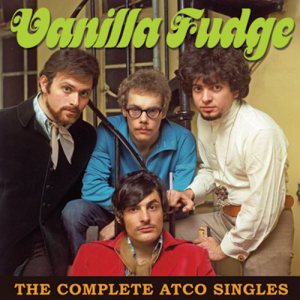 They are on the short list of the heaviest bands ever to hit the charts, which they did eight times. They are also quite possibly the greatest cover rock band of all time, with their version of the Supremes' "You Keep Me Hangin' On" easily among the most inventive covers ever recorded. And they are the missing link between psychedelia and heavy metal. They are Vanilla Fudge, and this 19-track collection is the first dedicated to their classic singles for the Atco label, all here in their (mostly mono) original single versions, over half of which have never been reissued. Composed of organist Mark Stein, guitarist Vince Martell, and the superstar rhythm section of bassist Tim Bogert and drummer Carmine Appice (who went on to form Cactus and play with Jeff Beck, Rod Stewart, etc.), Vanilla Fudge teamed with legendary producer Shadow Morton (Shangri-Las, New York Dolls) to record their first three albums and about half the singles on this set, including "You Keep Me Hangin' On," "Season of the Witch Parts 1 & 2," "Take Me for a Little While" and "Where Is My Mind." Vanilla Fudge: The Complete Atco Singles continues the story from there with the singles taken from the band's epic, self-produced album Near the Beginning -- featuring their fantastic cover of Lee Hazlewood's "Some Velvet Morning" -- and from their last album for Atco, Rock & Roll, recorded while the band was headlining a tour with Led Zeppelin. Also included are the two single sides ("Mystery"/"The Stranger") from their 1984 comeback, and, as a bonus, the DJ promo edit of "Some Velvet Morning." With track-by-track liner notes from three members of the band, great photos, and remastering by Mike Milchner at SonicVision,Vanilla Fudge: "The Complete Atco Singles" represents the finest single-CD distillation of the Vanilla Fudge discography yet assembled.
The Soul City and Bell recordings of the original line-up of the 5th Dimension -- Billy Davis, Jr., Marilyn McCoo, Florence LaRue (Gordon), Lamonte McLemore and Ron Townson -- have been amply reissued in the digital age, with reissues of all their albums and collections too numerous to name. But "Earthbound", the final album they recorded together after moving to the ABC label in 1975, has, due to some contractual confusion, been lost in limbo for almost four decades. Now, after years of persistent efforts, the legal logjam has come unstuck and the album has been "unearthed" on CD for the first time! This album's use of synthesizers marked a real departure for the band and moved them in a new, funky direction; it also marked a highly anticipated reunion and final collaboration with legendary songwriter Jimmy Webb ("Up, Up and Away"), as Webb produced and arranged the record and wrote half of its songs. Remastered by Mike Milchner at SonicVision, with liner notes by Joe Marchese and added photos and memorabilia -- The 5th Dimension: "Earthbound" fills a major gap in the discography of one of the greatest pop-soul groups of all time.  This title is now scheduled for June 3, 2014 release.
With the memories of the Sochi Winter Olympics still fresh in our minds, it seemed the perfect time to reissue Rick Wakeman: "White Rock", the soundtrack that the Yes keyboardist composed for Tony Maylam's documentary about the 1976 Winter Olympic games in Innsbruck, Austria (Maylam directed a Genesis concert film around that time, too, and the two films played as a well-received double feature in the U.K.). The genius of Wakeman's music is such that you don't necessarily need to see the film to enjoy the soundtrack or, for that matter, to figure out what Olympic images each composition accompanied, but for those keeping score, the ski jump, luge, downhill skiing, ice hockey and figure skating events were all the lucky recipients of the composer's interpretation. And for fans of vintage keyboard sounds, this 1977 album is a treasure trove, with the moog, clavinet, mellotron, Hammond organ and Fender Rhodes all prominently featured. First time on CD in America, with liner notes by Gene Sculatti and added photos -- this one definitely belongs on the podium with Wakeman's other solo releases.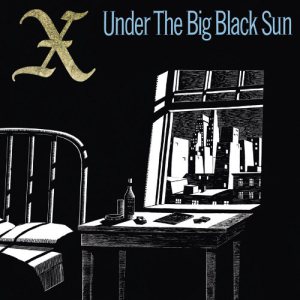 A lot of people consider 1982's "Under the Big Black Sun" to be X's best album. And even those people who don't think it's their best album still consider it one of the best albums of the '80s. That's because it's their most personal and fearless record. The death of Exene Cervenka's sister spurred her to write some of the most wrenching, evocative lyrics ("Riding with Mary;" "Come Back to Me") of her career, and the band departed from their hard-and-fast roots to explore everything from Latin-cum-surf-tinged Tin Pan Alley ("Dancing with Tears in My Eyes") to something close to country rock ("The Have Nots"), while still serving up some anthemic rock and roll with "The Hungry Wolf." X: "Under the Big Black Sun (Expanded & Remastered Edition)" includes five bonus tracks, photos and notes. Essential music from a legendary L.A. band.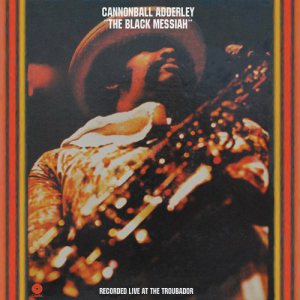 In 1970, Cannonball Adderley recorded a series of concerts that resulted in three cult classic live albums, of which "The Black Messiah" -- produced, like other landmark double albums of the time like Soul Zodiac and Soul of the Bible, by David Axelrod -- is the hardest to find. It captures Cannonball and the Quintet (brother Nat Adderley on cornet, Roy McCurdy on drums, Walter Booker on bass and George Duke -- fresh from replacing Joe Zawinul, who had left to form Weather Report--on keyboards) at the forefront of the burgeoning electronic jazz-rock fusion movement, sounding at times every bit like the early '70s band of Cannonball's former bandleader Miles Davis, except maybe even funkier and more out there. But Cannonball always had a populist streak to him -- after all, the man had a Top 20 hit with "Mercy, Mercy, Mercy" -- and so The Black Messiah also features flat-out rock and roll (guest guitarist Mike Deasy's "Little Benny Hen") as well as dips into the soul-jazz style that had landed him on the charts several years earlier, all punctuated by his always entertaining between-song raps. The band is killer, too, with guests including, in addition to Deasy, percussionists Airto Moreira and Buck Clark, clarinetist Alvin Battiste and saxman Ernie Watts. How this fascinating double live album -- which was recorded at the Troubadour in Los Angeles during the same concerts that yielded the album Music, You All -- has eluded reissue till now is anybody's guess, but our Real Gone Music/Dusty Groove release of Cannonball Adderley: "The Black Messiah" features liner notes by Cannonball devotee Bill Kopp, with original art and added photos. Remastered by Maria Triana at Battery Studios in NYC -- one of the most mindblowing collaborations between Adderley and Axelrod!
April 19, 2014 (Record Store Day) Release from Real Gone Music
Bob Wills and His Texas Playboys: Transcriptions (Limited-Edition of 1500 on red vinyl)
April 29, 2014 Releases from Real Gone Music
Bob Wills and His Texas Playboys, Riding Your Way -- The Lost Transcriptions for Tiffany Music, 1946-1947 (2-CD Set) Amazon U.S. / Amazon U.K.
Vanilla Fudge, The Complete Atco Singles Amazon U.S. / Amazon U.K.
Rick Wakeman, White Rock Amazon U.S. / Amazon U.K.
X, Under the Big Black Sun (Expanded & Remastered Edition) Amazon U.S. / Amazon U.K. (TBD)
Cannonball Adderley, The Black Messiah (2-CD Set) Amazon U.S. / Amazon U.K.
Now Scheduled for June 3, 2014 from Real Gone Music
The 5th Dimension, Earthbound  Amazon U.S. / Amazon U.K.