What made the swinging sixties swing?  Cherry Red's él label continues to explore the various corners of early 1960s pop music with a trio of releases that, in large part, offer answers to that very question.  Pop Goes the Easel: The Start of the Swinging Sixties takes its name from maverick director Ken Russell's 1962 documentary film, and over two eclectic CDs, boasts 65 tracks from thirteen different films and television programs.  Artists range from Buddy Holly to Anthony Newley.  A fine companion disc is Bowler Hats and Leather Boots: Personalities Go Pop Art.  If Pop Goes the Easel shows how music infiltrated cinema, Bowler Hats shows how silver-screen personalities infiltrated music.  Hence, you'll hear songs from such offbeat singing stars as Oliver Reed, Anthony Perkins and even Orson Welles.  Lastly, Modernism and Bossa Nova offers a heaping helping of songs with lyrics by the poet Vinicius de Moraes, frequent collaborator of Antonio Carlos Jobim and the co-writer of "The Girl from Ipanema."  The 29 tracks on this anthology laid the foundation of bossa nova, which set the musical tone for countless swinging bachelor pads!
Ken Russell's BBC documentary Pop Goes the Easel introduced the British public to four "pop artists" –Peter Philips, Pauline Boty, Derek Boshier and future Sgt. Pepper cover artist Peter Blake.  Pop Goes the Easel: The Start of the Swinging Sixties looks at the musical soundtracks to many of the films and television shows that bade farewell to the 1950s and ushered in the 1960s.  James Darren, Buddy Holly and Clay Cole tunes populated Russell's film.  For 1959's Elvis-inspired Idle on Parade (also known as Idol on Parade), Anthony Newley played the titular idol and supplied songs with titles like "Sat'day Night Rock-a-Boogie" and "Idle Rock-a-Boogie."  1962's drama All Night Long was a hip jazz take on Shakespeare's Othello, and its soundtrack (included here in full) featured performances from Dave Brubeck, Charles Mingus and John Dankworth.  The same year, Play It Cool starred real-life pop idol Billy Fury; five songs are heard here from its soundtrack including Fury's hit "Once Upon a Dream."
Future A Hard Day's Night director Richard Lester helmed It's Trad, Dad! from that pivotal year of 1962, a youth-oriented comedy about two teens fighting the local establishment over their right to enjoy the new jazz!  Stars Helen Shapiro and Craig Douglas are heard on the soundtrack here, performing their own songs from the film.  Chubby Checker, Gene McDaniels, Del Shannon and The Paris Sisters are also featured.  On the television side, Pop Goes the Easel features songs heard in The Avengers and The Prisoner.  This slipcased anthology also features early works from composers John Barry ("The Lolly Theme," from The Amorous Prawn) and Lionel Bart ("Sparrows Can't Sing," from Joan Littlewood's movie of the same name).
After the jump, we'll dive into Bowler Hat and Leather Boots: Personalities Go Pop Art and Modernism and Bossa Nova.  Plus: full track listings and order links for all three titles!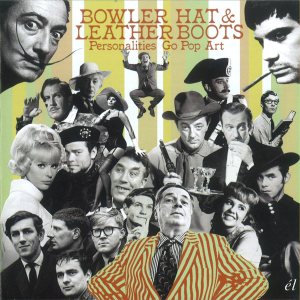 Bowler Hat and Leather Boots: Personalities Go Pop Art isn't quite a lost volume of Golden Throats, but nonetheless offers surprising musical turns, most from the turn of the 1960s.  Some of the choices aren't off-the-wall, such as Hayley Mills' performance of The Sherman Brothers' "Let's Get Together" from 1961's Walt Disney production The Parent Trap.  Others are more off the beaten path, like bombshell Elke Sommer's playful "Be Not 'Notty'" from 1961's Don't Bother to Knock, or four sides from the notorious hellraiser/actor Oliver Reed including songs like Dave Clark and Ron Ryan's "Sometimes" and Phil Spector and Doc Pomus' "Ecstasy."  Matinee idol Dirk Bogarde croons three standards ("Where or When," "You Go to My Head," "Just One of Those Things") from 1960.  Anthony Newley returns with the novelty song "That Noise," from 1962, co-written with Leslie Bricusse (his collaborator on musicals such as Stop the World – I Want to Get Off! and The Roar of the Greasepaint – The Smell of the Crowd).  Robert Mitchum and George Sanders get into the act with "What is This Generation Coming To?" and "Try a Little Tenderness."  Stranger still is Orson Welles' "You Made Me Love You" from his 1942 radio show as sung to Lana Turner!  Tom Courtenay is represented with the original version of "Mrs. Brown, You've Got a Lovely Daughter," later a smash hit for Herman's Hermits.  Dramatic recitations from David Niven and Vincent Price round out the pop culture treasure trove.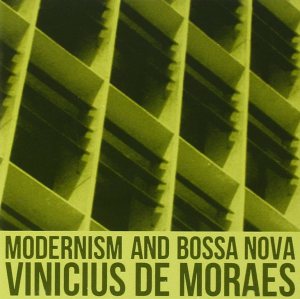 The él label returns to the bossa nova songbook (previously represented on Festival of Bossa Nova and individual releases by Joao Gilberto and Joao Donato, among others) with Modernism and Bossa Nova celebrating Vinicius de Moraes.  The Brazilian poet and diplomat (1913-1980) was one of the first songwriters to work in the bossa nova idiom, teaming with Antonio Carlos Jobim for Elizete Cardoso's groundbreaking 1958 album Canção do Amor Demais.  The next year, de Moraes and Jobim's songs for the movie Black Orpheus helped popularize the Brazilian sound around the world, but Black Orpheus was actually based on de Moraes' own 1956 play – for which he and Jobim had written the lyrics and music, respectively.  The él collection begins with seven de Moraes/Jobim songs from the original 1956 Black Orpheus performed by Jobim, Roberto Paiva and Luis Bonfá (including "Someone to Light Up My Life" from that production, later recorded by Frank Sinatra) before presenting an anthology of de Moraes lyrics recorded by artists like Jon Hendricks, Carlos Lyra, Joao Gilberto, Cardoso, Bonfá and de Moraes himself.  Future jazz/bossa standards "Agua de Beber (Water to Drink)," "How Insensitive" and "The Girl from Ipanema" can all be sampled here in their original Portuguese.  All but five songs here were written by the team of Jobim and de Moraes, making this collection a tribute to the enduring music of both men.
All three titles from él are made possible by current U.K. public domain laws, and all feature booklets with historical liner notes that add background to the subjects but don't comment directly upon the songs featured.  (The 16-page booklets for Pop Goes the Easel and Bowler Hat are particularly extensive; each of the booklets also features numerous illustrations and photos.)  You can order these titles below!
Various Artists, Pop Goes the Easel: The Start of the Swinging Sixties (él ACMEMD264CD, 2014) (Amazon U.S. / Amazon U.K.)
CD 1
Her Royal Majesty – James Darren
Goodbye Cruel World – James Darren
Brigitte Bardot – Achilles and His Heels
Got a Girl – The Four Preps
This ere – Bobby Timmons
Everyday – Buddy Holly
Twist Around the Clock – Clay Cole
The Avengers Theme – Johnny Dankworth and His Orchestra
Idle on Parade – Anthony Newley
Sat'day Night Rock-a-Boogie – Anthony Newley
I've Waited So Long – Anthony Newley
Idle Rock-a-Boogie – Anthony Newley
Overture from All Night Long
Noodlin' – Charles Mingus, bass
Sapphire
Scott Free
It's a Raggy Waltz – Dave Brubeck, piano
Blue Shadows in the Street – Dave Brubeck, piano
Fall Guy – Johnny Dankworth, alto saxophone
Wingate's Spot
Muy Rapido
Dedication to Johnny Hodges
Skin Fever
Sax Reference
The Chase
Frenzy
Finale
Long Stringy Baby – Jimmy Crawford
A Painted Smile – Craig Douglas
Another You – Craig Douglas
The Lolly Theme – The John Barry Seven and Orchestra
CD 2
Whistle Down the Wind – The Wayfarers
Play It Cool – Billy Fury
Once Upon a Dream – Billy Fury
Twist Kid – Billy Fury
Let's Paint the Town – Billy Fury
You're Swell – Billy Fury
It's Gonna Take Some Magic – Shane Fenton and the Fentones
Hey Little Girl – Shane Fenton and the Fentones
Cry My Heart Out – Helen Shapiro
I Don't Care – Helen Shapiro
At a Time Like This – Bobby Vee
Tavern in the Town – Terry Lightfoot's New Orleans Jazzmen
Lonely City – John Leyton
Another Tear Falls – Gene McDaniels
In a Persian Market – Acker Bilk and His Paramount Jazz Band
Let's Talk About Love – Helen Shapiro
Down by the Riverside – Ottilie Patterson & Chris Barber and His Jazz Band
Ring-a-Ding – Craig Douglas
Spaceship to Mars – Gene Vincent
Everybody Loves My Baby – The Temperance Seven
Dream Away – The Temperance Seven
Rainbows – Craig Douglas
Frankie and Johnny – Acker Bilk and His Paramount Jazz Band
The Lose-Your-Inhibitions Twist – Chubby Checker
Sometime Yesterday – Helen Shapiro
When the Saints Go Marching In – Ottilie Patterson & Chris Barber and His Jazz Band
What Am I to Do – The Paris Sisters
You Never Talked About Me – Del Shannon
The Man from Nowhere – Jet Harris and Tony Meehan
My Bonnie – The Spotnicks
The Night Has a Thousand Eyes – Bobby Vee
Sparrows Can't Sing – Barbara Windsor
I Yi, Yi, Yi, Yi (I Like You Very Much) – Carmen Miranda
Dry Bones – The Four Lads
CD 1, Tracks 1-7 from Pop Goes the Easel (1962)
CD 1, Track 8 from The Avengers (1961)
CD 1, Tracks 9-12 from Idle on Parade (1959)
CD 1, Tracks 13-27 from All Night Long (1962)
CD 1, Track 28 from Victim (1961)
CD 1, Tracks 29-30 from The Painted Smile (1962)
CD 1, Track 31 from The Amorous Prawn (1962)
CD 2, Track 1 from Whistle Down the Wind (1961)
CD 2, Tracks 2-11 from Play It Cool (1962)
CD 2, Tracks 12-28 from It's Trad Dad! (1962)
CD 2, Tracks 29-31 from Just for Fun (1963)
CD 2, Track 32 from Sparrows Can't Sing (1962)
CD 2, Tracks 33-34 featured in The Prisoner Episode 17 (1967-1968)
Various Artists, Bowler Hat and Leather Boots: Personalities Go Pop Art (él ACMEM261CD, 2014) (Amazon U.S. / Amazon U.K.)
Sounds That Saved My Life – George Melly
Let's Get Together – Hayley Mills
Johnny Jingo – Hayley Mills
The Navy Lark – Leslie Phillips
Be Not "Notty" – Elke Sommer
The Wild One – Oliver Reed
Lonely for a Girl – Oliver Reed
Sometimes – Oliver Reed
Ecstasy – Oliver Reed
Just One of Those Things – Dirk Bogarde
You Go to My Head – Dirk Bogarde
Where or When – Dirk Bogarde
Yer Gotta Get Aht – Norman Wisdom
That Noise – Anthony Newley
Gurney Slade – Maz Harris
Lost Art – Kenneth Williams
Peace – Kenneth Williams
What is This Generation Coming To – Robert Mitchum
The Arrest of Oscar Wilde at the Cadogan Hotel – John Betjeman
Bangers and Mash – Peter Sellers and Sophia Loren
Bing! Bang! Bong! – Sophia Loren
Lemon Twist – Ian Carmichael
All's Going Well (My Lady Montmorency) – Frankie Howerd and Margaret Rutherford
Strictly for the Birds – The Dudley Moore Trio
Bollard – The Cast of Beyond the Fringe
TVPM – Peter Cook
Mrs. Brown, You've Got a Lovely Daughter – Tom Courtenay
Stop the Music for a Moment – Quentin Crisp
St. Trinians' School Song – Malcolm Arnold
Love Letter from Henry VIII to Anne Boleyn – David Niven
Try a Little Tenderness – George Sanders
Ozymandias – Vincent Price
Music, When Soft Voices Die – Vincent Price
Moonlight Swim – Anthony Perkins
You Made Me Love You – Orson Welles
Dali Paints a Picture – Salvador Dali
Vinicius de Moraes, Modernism and Bossa Nova (él ACMEM265CD, 2014) (Amazon U.S. / Amazon U.K.)
Overture – Antonio Carlos Jobim
Monologo de Orfeu (Orfeu Da Conceicao) – Antonio Carlos Jobim and Vinicius de Moraes
Um nome mulher (A Woman's Name) – Antonio Carlos Jobim and Roberto Paiva
Se todas fossem iguias a voce (Someone to Light Up My Life) - Antonio Carlos Jobim and Roberto Paiva
Mulher, sempre, mulher (Always a Woman) - Antonio Carlos Jobim and Roberto Paiva
Eu e o meu amor (My Love and I) - Antonio Carlos Jobim and Roberto Paiva
Lamento no morro (Lament on the Hill) - Antonio Carlos Jobim and Roberto Paiva
Agua de Beber (Water to Drink) – Ana Lucia
Amor em paz (Love In Peace) – Agostinho Dos Santos
A Felicidade (Happiness) – Agostinho Dos Santos and Roberto Menescal
Samba em preludio – Agostinho Dos Santos and Rosana Toledo
Sem voce (Without You) – Alaide Costa and Baden Powell
Primiera Namorada (First Girlfriend) – Carlos Lyra
Valsa de Euridice – Lenita Bruno
15.   Canção do amor demasis (Song for an Excessive Love) – Lenita Bruno
16.   Lamento no morro (Lament on the Hill) – Lucio Alves
Lamento no morro (Lament on the Hill) – Luis Bonfá
O que tinha de ser (What Has to Be) – Sylvia Telles
Canta canta mais (Sing, Sing Some More) – Sylvia Telles
Chega de Saudade (No More Blues) – Os Cariocas
Valsa do amor de nos dois – Elza Laranjeira
Garota de Ipanema (The Girl from Ipanema) – Pery Ribiero
Luciana – Elizete Cardoso
Insensatez (How Insensitive) – Joao Gilberto
Voce e eu (You and I) – Maysa
You and I – Jon Hendricks
Love and Peace – Jon Hendricks
Eu nao existo sem voce (I Don't Exist Without You) – Sylvia Telles and Lucio Alves
Pelz luz dos olhos teus (By the Light in Your Eyes) – Vinicius de Moraes
Tracks 1-7 from Orpheus of the Carnival, 1956
All songs written by Jobim/de Moraes except Track 11 by Powell/de Moraes, Tracks 13, 25 & 26 by Lyra/de Moraes and Track 29 by de Moraes