Cherry Red's Big Break Records label continues its deep exploration into the vaults of Salsoul Records with two releases that might seem like business as usual for these artists, but are anything but. Street Sense, from The Salsoul Orchestra, isn't a Vince Montana-led extravaganza but rather a project helmed by Tom Moulton, "the father of the 12-inch remix." And Loleatta Holloway's self-titled 1979 album isn't a Philly-style banquet but rather a feast of southern soul.
Street Sense is another indispensable entry in BBR's definitive reissue series for The Salsoul Orchestra. The 1979 release is a transitional album in virtually every sense, bridging the gap between the Philadelphia soul era represented by Montana (and then Bunny Sigler, Ron Baker and Ron Tyson) and the Orchestra's two final albums from producer Patrick Adams (Phreek, Inner Life). Don't fear, however: BBR will soon return to the Philly period with Montana's final album as bandleader, the Hollywood-inspired Up the Yellow Brick Road, along with the Sigler/Tyson/Baker-helmed How High.
For Street Sense, Moulton stayed in place at Philly's Sigma Sound Studios, utilizing a number of the studios' key players (Earl Young, Keith Benson, Larry Washington, Don Renaldo's Horns and Strings) to maintain musical continuity. But Moulton and arranger Thor Baldursson brought their own cutting-edge style to Sigma. This was signaled on the album's opening track. On Donny Hathaway and Richard Evans' "Zambezi," the old meets the new. Renaldo's brassy horns and swelling strings recalled the Vince Montana-led efforts of The Salsoul Orchestra, but the song's funky bass, overtly jazz rhythms and prominent, spacey synthesizers conjured up a somewhat leaner, decidedly more contemporary Euro-disco spin on the Orchestra's Philadelphia-honed sound.
Arranger/conductor Baldursson's futuristic synths are at the forefront of Evans' "Burning Spear," which also offers relaxed saxophone work from Michael Pedecine, Jr. straddling the line between fusion and smooth jazz. The overtly Salsoul touches are evident in the strings and bright Latin percussion, with the original Orchestra's Larry Washington among the three conga players. (Tom Moulton amusingly recalls in Stephen "SPAZ" Schnee's excellent liner notes that "[Salsoul's Ken Cayre said the album needed more] 'percussion like congas and cowbells' and all that crap. So I started adding the percussion to it and that's how the album came out." More cowbell, indeed!
The album's title centerpiece, "Street Sense," is an epic 7+-minute length call to the dancefloor with choral vocals imploring for life as a natural high: "You've got to check it out," "feel the motion," etc. As intended, it sets the pulse racing. ("Street Sense" appears as Track 3 rather than Track 4 as indicated on the sleeve and CD label.) Moulton didn't veer too far from the Montana blueprint in including a cover of Jefferson Airplane's "Somebody to Love." Montana's Orchestra had previously made over such songs as "Let's Spend the Night Together" (Cuchi-Cuchi, with Charo), "Short Shorts" (Magic Journey), "We've Only Just Begun" and "Feelings" (Nice 'n' Naasty) and even the standards "Tangerine" and "Love Letters" (The Salsoul Orchestra); Moulton and Baldursson's contemporary "Somebody" lacks the bite of the Grace Slick-written and sung original, but is a fun diversion for fans of the classic rock staple. (And who isn't?)
But the catchy instrumental "212 North 12th" - Sigma Sound Studios' address - is the quintessential Tom Moulton Mix here, the album's most pure fusion of the Philadelphia brass-and-strings sound with Baldursson's synths and the sleek, European flavor. The arc of Moulton's mix allows each element of the Orchestra's style to come into focus, individually and collectively. Closing track "Sun After the Rain," co-written by Salsoul labelmate Bebu Silvetti, isn't as intoxicatingly breezy as Silvetti's previous, wordless "Spring Rain" (which certainly inspired it to some degree) but applies its predecessor's bright, refreshing mood in a more driving context.
There's much more after the jump on both Street Sense and Loleatta Holloway, including full track listings and order links!
Four bonus tracks appear here, including single edits of "Somebody to Love" and "Street Sense" (the latter in a particularly crisp, punchy mix) plus two 12-inch mixes of "Sun After the Rain." The instrumental-only rendition makes the pretty tune's debt to "Spring Rain" even more apparent. (The single edit of "Sun" is pictured in the booklet but not included.) In addition to Schnee's fine notes, this edition of Street Sense has also been sonically upgraded courtesy of reissue producer Wayne A. Dickson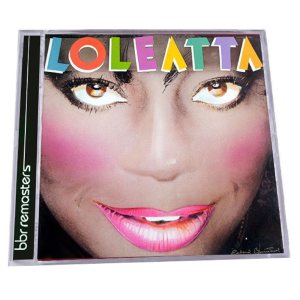 With BBR's reissue of 1979's Loleatta Holloway, the label complete its reissue campaign for Ms. Holloway's Salsoul tenure. Her penultimate long-player for Norman Harris' Salsoul imprint Gold Mind Records, Loleatta is also the least Philadelphia-centric of her four albums there. The productions of Holloway's husband Floyd Smith were reliably included on her Gold Mind LPs, but Loleatta found them dominating the album. It features no tracks from the Ronnie Baker-Norman Harris-Earl Young triumvirate and just one track from the Sigma Sound crew. But with the production slack also picked up by the great Bobby Womack at Muscle Shoals, Loleatta still had its fair share of soaring moments.
Floyd Smith, nearly 30 years Holloway's senior, preferred to set her powerful pipes in more traditional settings. On her Gold Mind debut Loleatta, he gave her a southern soul setting for Sam Dees' "Worn Out Broken Heart" and a supper club treatment for Curtis Mayfield's "What Now." On Queen of the Night, the Chicago-based Smith helmed Bobby Womack's torrid "I'm in Love." For his four (of seven) productions on Loleatta Holloway, Smith blended both contemporary dance and classic soul styles. He embraced disco with the big production of "The Greatest Performance of My Life" (famously belted by another big-voiced songstress, Shirley Bassey as well as by the smooth-voiced Nancy Wilson) and the sassy "All About the Paper."  Smith's old-fashioned "There'll Come a Time," co-written with The Chi-Lites' Eugene Record, is deliciously sung by Holloway, and "Sweet Mother of Mine" is simple but wholly heartfelt, with an infusion of pure gospel.
Bobby Womack's "There Must Be a Reason" is a retro throwback to the vintage deep soul of Muscle Shoals, Alabama. Holloway's furious, pained, pleading vocal is one of her gutsiest on the album. Womack also brought Burt Bacharach, Mack David and Luther Dixon's Shirelles hit "Baby It's You" into the disco era with an unusual uptempo revival that stands as one of Loleatta Holloway's most inventive cuts. Bunny Sigler produced and co-wrote the catchy Philly-disco of "That's What You Said," supported by his frequent collaborators in Instant Funk as well as stalwarts like Larry Washington (congas), The Sweethearts of Sigma (background vocals), T.J. Tindall (guitar) and Don Renaldo's Horns and Strings. MFSB/Salsoul Orchestra flautist Jack Faith provided the strong arrangement.
Four extended remixes have been added to Loleatta Holloway, including the great DJ Larry Levan's take on the dramatic "The Greatest Performance of My Life." Each of BBR's Holloway reissues has featured liner notes from a different writer. This time, J. Matthew Cobb tells her story and reflects on her legacy with aplomb and affection. Reissue producer Wayne A. Dickson has again remastered all tracks.
Both Street Sense and Loleatta Holloway are available now at the links below!
The Salsoul Orchestra, Street Sense (Salsoul LP SA-8516, 1979 - reissued Big Break Records CDBBR 0264, 2014) (Amazon U.S. / Amazon U.K.)
Zambezi
Burning Spear
Street Sense
Somebody to Love
212 North 12th
Sun After the Rain
Somebody to Love (Single Version) (Salsoul (Japan) SS-3217, 1979)
Street Sense (Single Version) (Salsoul SS-2093, 1979)
Sun After the Rain (12" Disco Version) (Salsoul SG-209, 1979)
Sun After the Rain (12" Instrumental Version) (Salsoul SG-209, 1979)
Loleatta Holloway, Loleatta Holloway (Gold Mind LP GA-5904, 1979 - reissued Big Break Records CDBBR 0263, 2014) (Amazon U.S. / Amazon U.K.)
The Greatest Performance of My Life
All About the Paper
There Must Be a Reason
That's What You Said
Baby It's You
There'll Come a Time
Sweet Mother of Mine
The Greatest Performance of My Life (12" Disco Version) (Gold Mind GG 503, 1979)
That's What You Said (12" Disco Version) (Gold Mind GG 503, 1979)
All About the Paper (Extended Version) (Discographical info TBD)
The Greatest Performance of My Life (Larry Levan Remix) (Salsoul SA-8533, 1980)