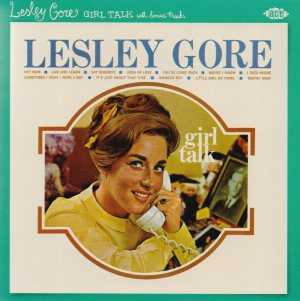 The inviting cover image of Lesley Gore's 1964 LP features the teenage star on the telephone, poised for some Girl Talk with her best girlfriends. Ace Records, following its expanded version of Gore's shelved album Magic Colors, has recently reissued Girl Talk in similarly lavish fashion, with thirteen bonus tracks (Ace CDCHD 1383).
Ace's disc spotlights one of the great, largely unheralded "triangle marriages" in pop music – artist Lesley Gore, producer Quincy Jones and arranger Claus Ogerman. With engineer Phil Ramone in the mix, the trio crafted music that transcends the "teenage" tag. With background singers Jean Thomas and Mikie Harris prominent on Girl Talk, the LP has a girl-group feel that was quintessentially American at the height of the British Invasion. Yet, as a result of Beatlemania, the sound of music was changing faster than ever. Would Lesley Gore be able to keep up with the times? The answer was a resounding "Yes!" as this eclectic album and its bonus tracks proves.
Two Jeff Barry and Ellie Greenwich songs on Girl Talk kept Gore prominent on the Top 40. Their stunning pop confection "Look of Love" packs a range of emotions in just under two minutes, during which the lovelorn Lesley wistfully reflects on "the way he looks at her, the way he smiles...I remember when he was mine, I remember when things were fine/Look at the way he looks at her now...isn't that the look of love?" Lesley's winsome yet grounded delivery keeps the tune from being bitter or maudlin, in perfect synch with the bright melody. "Maybe I Know" (No. 14) from the same team became another quintessential Gore classic. It finds the singer in a familiar setting, lamenting that "Maybe I know he's been cheating/Maybe I know he's been untrue...but what can I do?" as she insists "deep down inside, he loves me, though he may run around..." The character voiced by Lesley might be delusional, but the catchy record, unsurprisingly, struck a universal chord.
Though overshadowed by "Look of Love" and "Maybe I Know," the album's lesser-known tracks are worthy of rediscovery. Sonny Gordon's mod, swinging, hand-clapping "Hey Now" was a perfect opening salvo to a collection of songs that paint Gore in transition, poising her for the career that continues to this very day. Larry Marks, a mainstay on both the A&M and Lee Hazlewood Industries (LHI) labels, wrote the dark and dramatic ballad "Say Goodbye." Lesley and producer Jones turned to "You Don't Own Me" songwriters John Madara and David White for "Live and Learn" ("I'm an expert loser/No more sweet little girl now, I've learned my lesson and I vow/I won't make the same mistakes now..."). Like "Maybe I Know," its bright, dreamy melody stands in sharp contrast to the lyrics. The groundbreaking "You Don't Own Me" itself is echoed in Ogerman's haunting arrangement for Jeffrey Davis and Curtis Mann's "Little Girl Go Home," not to mention Steve Donroy and John Gluck's "Sometimes I Wish I Were a Boy." Though the song is far from the most mature on Girl Talk and was never a favorite of Lesley's, it has an undeniably pointed message as Gore confidently sings of her frustration that a woman could not make the first move in a relationship.
Gore became a successful, Oscar-nominated songwriter, and her lone song on Girl Talk, the melodramatic "I Died Inside," received a spicy Latin flavor from Ogerman. More standard teenage fare came with "Wonder Boy" and "Movin' Away, but R&B great and future "Hustle" man Van McCoy supplied the soulful "You've Come Back" and lush album closer, "It's About That Time." Ogerman, whose arrangements graced numerous bossa nova albums including Frank Sinatra's first and best collaboration with Antonio Carlos Jobim, adds a bossa flavor to the song.
What bonuses will you find here?  Hit the jump for that and more!
Girl Talk has been expanded with thirteen bonus tracks, all recorded circa 1963-1965 – most from the Jones/Ogerman team, but also including one from producer Shelby Singleton, another from arranger Teddy Randazzo and three from arranger Jack Nitzsche. Seven of these tracks appeared on Lesley's album My Town, My Guy and Me, and five first appeared on Bear Family's 1994 complete Lesley-at-Mercury box. (One wonders why Girl Talk wasn't paired with the entirety of My Town, My Guy and Me, as seven of its twelve songs are included.) A final track, Lesley and Carole Bayer (pre-Sager)'s driving folk-rock-style "I Just Don't Know If I Can" from the Singleton session, was issued by Mercury in 1965 on 45.
The bonus tracks are typically top-tier, with songs from Greenwich and Barry ("What's a Girl Supposed to Do"), Madara and White (the booming, "You Don't Know Me"-esque "I Don't Care"), Barry Mann and Cynthia Weil ("That's the Boy," with its stirring Righteous Brothers feel), and Russ Titelman and Gerry Goffin ("What Am I Gonna Do with You"). ("That's the Boy" was also recorded by Donna Loren at Capitol and unveiled by Ace on its Mann and Weil compendium Glitter and Gold. It's now available, too, on Now Sounds' Complete Capitol Recordings for Loren.) Of particular interest will doubtless be the tracks recorded with Jack Nitzsche in California, far from Lesley's usual New York home base. Both tracks bear the Phil Spector imprint, and it's no surprise as Nitzsche was a major architect of The Wall of Sound. "Baby That's Me" was co-written by Nitzsche and Jackie DeShannon and most famously recorded by girl group The Cake. "Baby That's Me" represents a softer variation on the Wall of Sound, but Mike Post and Dick St. John's "No Matter What You Do" is an all-out rocker with electric guitar and a ferociously growled vocal from Lesley. (There's another Donna Loren connection here, as Nitzsche also arranged a number of splendid tracks for her.)
"I Cannot Hope for Anyone," Gore's adaptation of an Italian song, first premiered on Bear Family's It's My Party complete Gore-at-Mercury collection, and makes a welcome reappearance here. "What Am I Gonna Do with You," with its big, echo-laden production, was first recorded with Nitzsche in Hollywood during the March 1965 sessions. Gore then recut it in New York with Jones at the helm in July, still with Nitzsche's arrangement, for the My Town sessions. The Bear Family box has both versions; Ace re-presents the Jones production with its more polished, less raw vocal. 1965's "A Girl in Love," arranged by Teddy Randazzo ("Goin' Out of My Head," "Hurts So Bad") shows Gore's songwriting already having matured in leaps and bounds.
This impressively deluxe reissue of Girl Talk, produced by Mick Patrick and remastered by Nick Robbins, boasts a deluxe booklet with new liner notes from Sheila Burgel based on the participation of Lesley Gore. Let's hope Ace continues bringing Lesley's output to CD. Her albums for Motown's Mowest imprint and A&M remain unreleased on CD and ripe for re-evaluation; the 1976 A&M release Love Me By Name even marked a reunion with "Q," Quincy Jones. It's Ace's party, but no need to cry – you're invited! It's an invitation that shouldn't be passed up.
Lesley Gore, Girl Talk with Bonus Tracks (Mercury LP SR 60943, 1964 – reissued Ace CDCHD 1383, 2014) (Amazon U.S. / Amazon U.K.)
Hey Now
Live and Learn
Say Goodbye
Look of Love
You've Come Back
Maybe I Know
Sometimes I Wish I Were a Boy
Little Girl Go Home
I Died Inside
Wonder Boy
Movin' Away
It's Just About That Time
Consolation Prize
After He Takes Me Home
Don't Deny It
I Just Don't Know If I Can
That's the Boy
What's a Girl Supposed to Do
I Cannot Hope for Anyone
I Don't Care
You Didn't Look 'Round
Baby That's Me
No Matter What You Do
What Am I Gonna Do With You
A Girl in Love
Tracks 13-25 are bonus tracks
Tracks 13-15, 17 & 19 rec. 1963-1965, originally released on Bear Family CD BCD 15742, 1994
Track 16 from Mercury single 72553, 1965
Tracks 18, 20-25 from My Town, My Guy and Me, Mercury LP SR 61042, 1965