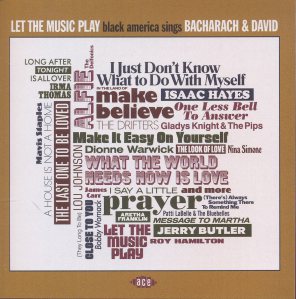 In retrospect, it might be telling that Burt Bacharach's first recorded song, "Once in a Blue Moon," was cut in 1952 by Nat "King" Cole. From those earliest days, Bacharach and his lyrical partner Hal David saw their songs recorded by a host of African-American artists: Johnny Mathis, Gene McDaniels, Joe Williams, Lena Horne, and Etta James among them. Once the duo began to change the sound of American music with their ultra-cool, sophisticated pop-soul compositions, those songs were most frequently interpreted by African-Americans: The Shirelles, Jerry Butler, Lou Johnson, The Drifters, Aretha Franklin, and of course, Dionne Warwick. It's no small feat to distill the best of Bacharach and David's R&B recordings onto one disc, but Ace Records has proved up to the task with the release of Let The Music Play: Black America Sings Bacharach and David. This 24-track compilation follows similar releases for Lennon and McCartney, Bob Dylan, and Otis Redding, and draws from the halcyon period between 1962 and 1975. For much of that period, Bacharach and David's songs were rarely far from the top of the pop and R&B charts. As per Ace's custom, the set includes both the familiar hits and the lesser-known tracks that just might become future favorites.
Songwriter-producers Jerry Leiber and Mike Stoller were among the earliest professionals to champion Bacharach and David's work. Both teams were integral to the sound of so-called "uptown soul" in which strings and Latin rhythms melded with gutbucket R&B to create some of the most indelible records ever made. Both of those elements are present on Leiber and Stoller's production of Marv Johnson's majestic 1963 recording of "Another Tear Falls," one of B&D's songs that fell short of hit status. Johnson passionately navigates its martial beat and darkly brooding orchestration, and Bacharach's signature unexpected melodic shifts and rhythms are already in place. (Just listen to the song seemingly end around the 2 minute, 7 second mark, only to return with a coda – a device which Bacharach would revisit in the future.) Leiber and Stoller also produced a couple of other stunning tracks here, like Jerry Butler's booming original recording of "Message to Martha" (later "Michael" in Dionne Warwick's version) and The Drifters' dramatic "In the Land of Make Believe." With its nearly-operatic vocals and offbeat jazzy instrumental noodling, it's one of the more unusual items in the Bacharach and David catalogue and all the more beguiling for it.
Thom Bell, along with his Mighty Three music partners Kenneth Gamble and Leon Huff, updated the "uptown soul" ethos for a new generation with The Sound of Philadelphia. Bell, who recently (and correctly) described his own music as "Bacharach-strange," is represented on Black America Sings Bacharach and David with his 1968 production and arrangement of "Alfie" for The Delfonics. Bell delivered his ultimate homage to Bacharach with his reinvention of "You'll Never Get to Heaven" for The Stylistics in 1972, but the lush, William Hart-led "Alfie" is no less classy. Bacharach's influence on Philly soul is evident elsewhere, too. The Orlons made the most of a straightforward Richard Rome arrangement of "Anyone Who Had a Heart," but it wasn't enough to restore the "South Street" group to chart supremacy. Future "Hustle" man Van McCoy produced and arranged "Don't Make Me Over" for Philly's Brenda and the Tabulations, and also hewed closely to Bacharach's original template.
Cissy Houston more radically overhauled her niece Dionne's second hit, "This Empty Place," in 1970. The funky arrangement takes liberties with Bacharach's original time signatures but gives the powerfully-voiced Houston the opportunity to get down-and-dirty with her vocal. Aretha Franklin, like Houston a powerhouse vocalist, knew when to cut loose and when to play it cool on her hit 1968 recording of "I Say a Little Prayer." Even the piano that opens Aretha's "Prayer" is slinky and sexy. Bacharach has always been unduly harsh on his bright arrangement of the song for Dionne Warwick, but Aretha's recording more vividly brought out its longing and passion. Bobby Womack and Isaac Hayes are expectedly and excitingly torrid on "(They Long to Be) Close to You" and "I Just Don't Know What to Do with Myself," respectively. More restrained is Nina Simone's detached, smoky reading of the sultry "The Look of Love" from 1967, one of the now-ubiquitous song's first covers.
After the jump, we have plenty more for you, including the complete track listing with discography and order links!
A common thread here is that numerous quintessential Bacharach and David songs inexplicably never broke through as hit records. Lou Johnson's "The Last One to Be Loved" is one of the team's most striking, thunderous compositions, rendered sublimely by the vocalist who should have been the male answer to Dionne Warwick. Gene McDaniels' "There Goes the Forgotten Man" is another quirky, unusual song, with future Harry Nilsson collaborator Perry Botkin, Jr. orchestrating it in Bacharach-goes-western style. This anthology's title track comes courtesy of soul man Roy Hamilton; his 1968 recording sat on the shelf until Ace first excavated it in 1997.
Still other familiar songs are heard here in adventurous versions. Willie Tee's funky, David Axelrod-produced "Reach Out for Me" adds an exotic flavor to the song introduced by Lou Johnson in 1963. "Always Something There (To Remind Me)," introduced by Johnson and successfully covered by Sandie Shaw and much later, Naked Eyes, gets a brash, boisterous treatment from Patti LaBelle and the Bluebelles. If you'd expect southern soul giant James Carr's "What the World Needs Now" to sizzle, you'd be right. The most scorching track here, though, is Mavis Staples' interpretation of "A House is Not a Home." If Bacharach's elegant style might seem at odds with the gritty sound of Stax, Staples and producer Steve Cropper definitively prove otherwise with the nakedly vulnerable, emotional track here. The ultimate adaptability of the Bacharach and David songbook is crystal-clear on Gloria Gaynor's disco-fied "Walk on By" arranged by Meco Monardo and mixed by Tom Moulton in 1975.
Of course, the collection also offers the "pure" Bacharach and David with one track by Dionne Warwick and one by the composer himself, with a vocal by Tony Middleton. Dionne's "Make It Easy on Yourself" appeared on her very first LP, and from her graceful, immaculately controlled vocal, it's not hard to see why Bacharach and David knew they had found their muse. Like no other interpreter, Dionne mined the abundant heart of David's lyrics and made Bacharach's intricate melodies sound effortless. The swingin' "My Little Red Book" presents the song as its composer intended, with its killer piano part. It's about as close to rock as B&D would get; Love would seal the deal with their simplified hit version (of which Bacharach wasn't fond).
Let the Music Play features a 20-page booklet with lavish illustrations and detailed track-by-track notes from compiler/producer Tony Rounce. Duncan Cowell has superbly remastered all 24 songs. You'll likely be echoing the lyrics as sung by Roy Hamilton: "Let the music play, just a little longer..."
Various Artists, Black America Sings Bacharach and David (Ace CDCHD 1398, 2014) (Amazon U.S. / Amazon U.K.)
Make It Easy on Yourself – Dionne Warwick (Scepter LP SPS 508, 1963) (*)
My Little Red Book – Burt Bacharach & His Orchestra featuring Tony Middleton (Kapp 685, 1965)
Long After Tonight Is All Over – Irma Thomas (rec. 1964, issued on EMI CDP-97988, 1992)
Another Tear Falls – Marv Johnson (United Artists 590, 1963)
I Say a Little Prayer – Aretha Franklin (Atlantic 2546, 1968)
Message to Martha – Jerry Butler (Vee-Jay LP VJLP 1076, 1963)
This Empty Place – Cissy Houston (Janus 131, 1970)
In the Land of Make Believe – The Drifters (Atlantic 2216, 1964) (*)
I Cry Alone – Ruby and the Romantics (Kapp 615, 1964)
Let the Music Play – Roy Hamilton (rec. 1967, issued on Kent CDKEND 141, 1997)
Always Something There to Remind Me – Patti LaBelle & The Bluebelles (Atlantic 2390, 1967)
The Last One to Be Loved – Lou Johnson (Big Hill 553, 1964) (*)
Reach Out for Me – Willie Tee (Capitol 2982, 1970)
Alfie – The Delfonics (Philly Groove 152, 1968)
(There Goes) The Forgotten Man – Gene McDaniels (Liberty 55752, 1964)
The Look of Love – Nina Simone (RCA LP LSP 3837, 1967)
Anyone Who Had a Heart – The Orlons (Calla 113, 1966) (*)
What the World Needs Now is Love – James Carr (rec. 1968, issued on Kent CDKEND 231, 2004) (*)
Walk On By – Gloria Gaynor (MGM 14808, 1975)
(They Long to Be) Close to You – Bobby Womack (Edit of track from United Artists LP UAS 5539, 1971)
One Less Bell to Answer – Gladys Knight and the Pips (Soul LP SS 731, 1971)
I Just Don't Know What to Do with Myself – Isaac Hayes (Enterprise 9017, 1970)
Don't Make Me Over – Brenda and the Tabulations (Top & Bottom 404, 1970) (*)
A House is Not a Home – Mavis Staples (Volt 4020, 1969)
All tracks stereo except (*) Mono