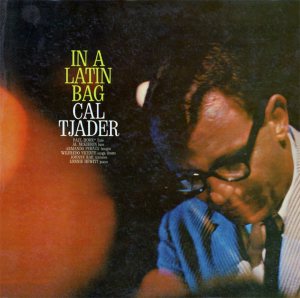 Fans of vintage jazz can thank Cherry Red's él label for a number of recent reissues from such artists as Cal Tjader, Dave Lambert and Jon Hendricks, Herbie Mann and Antonio Carlos Jobim.
In a Latin Bag and Saturday Night/Sunday Night at the Blackhawk combines two albums on one CD from Latin jazz pioneer Cal Tjader. The vibraphonist/percussionist recorded these long out-of-print albums in 1961 and 1962, respectively, at Verve under the aegis of future CTI chief Creed Taylor. By the time he joined Verve, Tjader was already a seasoned leader, having recorded nearly 30 albums for the Savoy and Fantasy labels. Though born in St. Louis and raised in California, Tjader became enamored with Latin and Afro-Cuban styles, exploring them on LPs like Tjader Plays Mambo, Mambo with Tjader, Plays Afro-Cuban, and Latin for Lovers with Strings. He would stick with these sounds for his entire life.
For In a Latin Bag, Tjader was joined by flautist Paul Horn, bassist Al McKibbon, pianist Lonnie Hewett, and the percussion section of Armando Peraza (bongos), Wilfredo Vicente (congas) and Johnny Rae (timbales). The album blended originals from Tjader and Horn with standards including "Misty" and "Speak Low," and movie material like Bronislau Kaper's "On Green Dolphin Street" and Miklos Rosza's "Theme from Ben-Hur." Saturday/Sunday at the Blackhawk returned Tjader to the San Francisco venue where he had recorded live albums in 1957 and 1959. Leading a quartet consisting of Rae, Hewitt and bassist Freddy Schreiber, Tjader excelled at reinvention as he improvised on classic melodies by Richard Rodgers ("This Can't Be Love"), Benny Goodman ("Stompin' at the Savoy") and George Gershwin ("Summertime") and more contemporary ones by Gary McFarland and Benny Golson. Schreiber, Hewitt and Tjader all contributed compositions, too. It would take Tjader a couple more years to break through on Verve, which he accomplished with 1964's Soul Sauce, said to be the album that popularized the term "salsa" for the kind of Latin dance music in which Tjader excelled. The two-for-one reissue includes the original liner notes for both albums.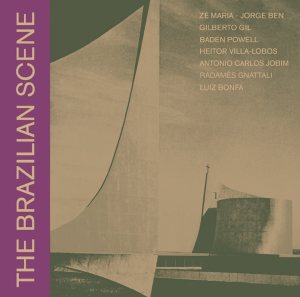 The music of Brazil has been featured on numerous él CDs in recent months, from artists including Antonio Carlos Jobim, Joao Gilberto, Joao Donato, Vinicius de Moraes, and Luis Bonfá. The latest of the label's explorations of bossa nova and beyond is The Brazilian Scene, a 24-track compendium.   This collection draws on music recorded between 1955 and 1962 from a number of diverse Brazilian artists. The legendary Jobim (sometimes referred to as "the Gershwin of Brazil") is heard teaming with Herbie Mann on his own "One Note Samba," while his "Garota de Ipanema" ("The Girl from Ipanema"), "Samba do Aviao" and "So Danco Samba" are heard in renditions by organist Ze Maria and bossa nova/tropicalist composer Jorge Ben. Maria's 1962 album Todo Azul is included in full here, noteworthy as Ben's professional recording debut. Ben's signature song "Mas Que Nada" (later a smash hit by Sergio Mendes and Brasil '66) is among its tracks. The Brazilian Scene also includes music from Herbie Mann and Baden Powell, Luis Bonfá, Radames Gnattali with Laurindo Almeida, Gilberto Gil, and even composer Heitor Villa-Lobos (1887-1959). Villa-Lobos' classical/art music predated bossa nova and tropicalia but shares with those movements a spellbinding, exotic quality. It all adds up to some of the most beguiling "world music" ever made.
After the jump: a look at Lambert and Hendricks (no Ross, sorry) and a melange of music from the classic film The Quiet Man, as sung by Bing Crosby and one somewhat more unexpected crooner!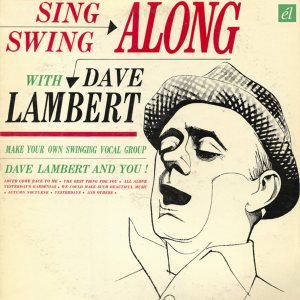 Though the trio of Lambert, Hendricks and Ross - so named for Dave, Jon and Annie - only existed between 1957 and 1962, the group remains synonymous today with the art of "vocalese," or singing lyrics to melodies that were originally instrumental and/or improvised. In fact, "vocalese" was coined specifically to describe the genre-bending vocal jazz of Lambert, Hendricks and Ross. The trio's discography is small, but él has discovered two side projects from the LH&R years deserving of reissue. Sing and Swing Along with Dave Lambert has been paired with Jon Hendricks' Evolution of the Blues Song on one CD, a perfect match as both albums were recorded in 1960 (the same year as the group's Sing Ellington release).
Sing and Swing boasted "Make your own swinging vocal group - Dave Lambert and you!" Who could resist such an invitation? Lambert (1917-1966) was already a veteran jazz singer when he teamed with Hendricks and Ross, having sung in front of the big bands of Johnny Long and Gene Krupa. It was with Krupa's band that Lambert sang and scatted "What's This" with Buddy Stewart, creating what's considered the first vocal version of a bebop melody. He went on to collaborate with jazzmen (Charlie Parker) and singers (Jo Stafford) alike before striking the perfect blend with Hendricks and Ross. Sing and Swing, however, is pure Lambert - and you. As the liner notes advise, "Sing in unison with him when he sings melody, or if you're a bit adventurous, harmonize. During his improvisations, two courses are open. Either sing the melody behind him or rest. If you want to try your wings as a scat singer/improviser, there are spaces left open in certain tunes for that." It all sounds like a lot of work - the notes go on to describe what your parts could/should be for every song! - but it's a lot of fun, too, and a rare opportunity to hear a master at work. You can sing (and swing) with Lambert on tunes by Jerome Kern, Irving Berlin, Sigmund Romberg and Lambert himself, and it's all been co-produced by the great arranger Don Costa.
Like Sing and Swing, Jon Hendricks' Evolution of the Blues is also entertaining as well as edifying. Accomplished lyricist and scat singer supreme Hendricks (born 1921) had attracted the attention of Charlie Parker, and worked with Art Tatum and Dave Lambert, in the years prior to solidifying his relationship with Lambert as part of LH&R. At the 1960 Monterey Jazz Festival, Hendricks first narrated and presented the program that was released on record as Evolution of the Blues. He was joined by a cast including Hanna Dean, "Pony" Poindexter, Jimmy Witherspoon, The Ike Isaacs Trio and "Big" Miller for the show which traced the blues from Africa to America, from spirituals to R&B. "Write about what you know," Hendricks emphasized in the original liner notes (reprinted in the él CD). And he certainly knew the blues. The eclectic selections performed by the cast for Columbia Records include "Swing Low, Sweet Chariot," "Please Send Me Someone to Love," "See See Rider" and "Sometimes I Feel Like a Motherless Child." This unusual recording blurs the lines between blues and jazz as only Jon Hendricks could have.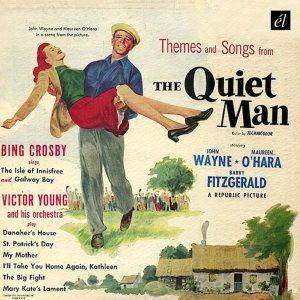 The friendship between director John Ford and actor John Wayne spanned over 50 years, dating back to the days when The Duke was just plain Marion Morrison, a college student working a summer job on the Fox studio lot. At Fox, the director befriended the future western star and recommended him for his earliest film roles. But when Ford took a chance on the struggling actor as the lead of 1939's Stagecoach, a star was born - and one of cinema's most enduring partnerships was, too.  When World War II called, Ford was at the ready to his country but Wayne was reluctant to sign up; Wayne's reluctance caused a major rift in his relationship with Ford. But between the end of World War II in 1945 and 1972, The Duke made twelve films with "Pappy." Among the most beloved of these remains 1952's The Quiet Man, a seriocomic romance quite atypical of their work together.
Ford picked up a Best Director statuette at the Academy Awards for the film which co-starred Wayne as American Sean Thornton and Maureen O'Hara as the Irish firebrand Mary Kate Danaher with whom he falls in love when seeking to reclaim his family farm abroad. The movie's lush music was provided by Victor Young, a prolific composer of both songs ("When I Fall in Love," "Stella by Starlight") and scores (For Whom the Bell Tolls, The Uninvited) who picked up an astounding 22 Oscar nominations in his lifetime. (Young's only Oscar win was posthumous - for the 1956 Around the World in Eighty Days.)
A true soundtrack album wasn't released for The Quiet Man; instead, Decca issued the 10-inch LP Themes and Songs from The Quiet Man with orchestral selections from Young alongside three songs performed by Bing Crosby with John Scott Trotter's Orchestra. RCA Victor released a competing EP, Songs from John Ford's The Quiet Man, with Merv Griffin - then a young big band singer, later to be a talk show host, game show creator and resort mogul - on vocals in front of Sydney Green's Orchestra. Years later, in 1957, Decca reissued The Quiet Man on an LP with Young's score to Samson and Delilah, adding Young's orchestral track of "I'll Take You Home Again, Kathleen" not on the earlier record.
Now, él has crafted the most complete edition yet of the music from The Quiet Man, combining the original Victor Young, Bing Crosby and Merv Griffin recordings as its main program. It's been supplemented by thirteen tracks (out of seventeen) from Maureen O'Hara Sings Her Favorite Irish Songs, a 1961 Columbia Records release featuring O'Hara singing mainly traditional Irish ballads. This composite Quiet Man includes a new booklet with detailed (if uncredited) notes about the film though little about its music. This expanded Themes and Songs from The Quiet Man makes a case for the enduring power of Young's timeless music from Hollywood's Golden Age.
All of the él titles mentioned above are available now, and can be ordered at the links below!
Cal Tjader, In a Latin Bag & Saturday Night/Sunday Night at the Blackhawk (él ACMEM266CD, 2014) (Amazon U.S. / Amazon U.K.)
Ben-Hur (Love Theme)
Davito
Green Dolphin Street
Pauneto's Point
Speak Low
Triste
Misty
Mambo in Miami
Ecstasy
Half and Half
Summertime
222 Time
Noonie's Groove
This Can't Be Love
Stablemates
Weep
Fred's Ahead
Stompin' at the Savoy
Tracks 1-10 from In a Latin Bag, Verve LP V6-8419, 1961
Tracks 11-18 from Saturday Night/Sunday Night at the Blackhawk, Verve LP V6-8459, 1962
Various Artists, The Brazilian Scene (él ACMEM267CD, 2014) (Amazon U.S. / Amazon U.K.)
One Note Samba - Antonio Carlos Jobim with Herbie Mann
Consolacao - Baden Powell with Herbie Mann
Tudo Azul - Ze Maria and Jorge Ben
Por Causa de Voce Menina - Ze Maria and Jorge Ben
Samba do Aviao- Ze Maria and Jorge Ben
Japoninho - Ze Maria and Jorge Ben
So Danco Samba - Ze Maria and Jorge Ben
Joao Sem Vintern - Ze Maria and Jorge Ben
Mas Que Nada - Ze Maria and Jorge Ben
Influencia do Jazz - Ze Maria and Jorge Ben
A Vida do Negro - Ze Maria and Jorge Ben
Garota de Ipanema - Ze Maria and Jorge Ben
Deixa Eu Ficar - Ze Maria and Jorge Ben
Gostoso E Sambar - Ze Maria and Jorge Ben
Serenata Do Telecoteco - Gilberto Gil
Maria Tristeza - Gilberto Gil
Vontade de Amar - Gilberto Gil
Meu Luar Minhas Cancoes - Gilberto Gil
Murmurio - Luis Bonfa
Lento (Cantando com simplicidade) - Laurindo Almeida and Martin Ruderman
Adagio - Laurindo Almeida and Martin Ruderman
Movido - Laurindo Almeida and Martin Ruderman
Uirapuru - Heitor Villa-Lobos
The Little Train of the Caipira - Heitor Villa-Lobos
Tracks 3-14 from Tudo Azul - Bossa Nova E Balanco, 1962
Tracks 20-22 from Sonatina for Flute and Guitar composed by Radames Natali, recorded 1961
Sing and Swing Along with Dave Lambert / Jon Hendricks, Evolution of the Blues Song (él ACMEM269CD, 2014) (Amazon U.S. / Amazon U.K.)
All Alone
The Best Thing for You
Autumn Nocturne
Blues
We Could Make Such Beautiful Music Together
Short Blues Around the Broadway Bridge
Lover Come Back to Me
Yesterday's Gardenias
Over the Weekend
Yesterdays
Evolution of the Blues Song - Introduction
Amo
Some Stopped on de Way
Swing Low, Sweet Chariot
New Orleans
If I Had My Share
Please Send Me Someone to Love
Sufferin' Blues
That's Enough
Aw, Gal
See See Rider
Jumpin' with Symphony Sid
Sun Gonna Shine in My Door
WPA Blues
Sometimes I Feel Like a Motherless Child
Tracks 1-10 from Sing and Swing Along with Dave Lambert, United Artists 3084, 1960
Tracks 11-25 from Evolution of the Blues Song, Columbia CS 8383, 1960
Various Artists, The Quiet Man: Themes and Songs (él ACMEM268CD, 2014) (Amazon U.S. / Amazon U.K.)
Danaher's House - Victor Young
The Isle of Innisfree - Merv Griffin
The Humour Is On Me Now - Merv Griffin
My Mother - Victor Young
Galway Boy - Merv Griffin
The Big Fight - Victor Young
The Wild Colonial Boy - Merv Griffin
The Kerry Dance - Merv Griffin
Forlorn (Mary Kate's Lament) - Victor Young
I'll Take You Home Again, Kathleen - Merv Griffin
I'll Take You Home Again, Kathleen - Victor Young
Mush Mush Mush Tural I Addy - Merv Griffin
The Young May Moon - Merv Griffin
St. Patrick's Day - Victor Young
The Isle of Innisfree - Bing Crosby
Galway Bay - Bing Crosby
I'll Take You Home Again, Kathleen - Bing Crosby
A Kerry Cow
The Rich Man Died
Wee Hughie
There Was an Old Woman
There Was an Old Man
He Moved Through the Fair
Which of Them Will I Marry
It's True That the Women are Worse Than the Men
The Next Market Day
Nora Lee
I Once Loved a Boy
I'm Going to Be Married on Sunday
Come Back to Erin
Tracks 1, 4, 6, 9, 14-17 from Themes and Songs from the Quiet Man, Decca DL 5411, 1952
Tracks 2, 3, 5, 7-8, 10, 12-13 from Songs from John Ford's The Quiet Man, RCA Victor EPB-3089, 1952
Track 11 from Samson and Delilah/The Quiet Man, Decca DL 8566, 1957
Tracks 18-30 performed by Maureen O'Hara from Sings Her Favorite Irish Songs, Columbia, 1961