This month, Omnivore Recordings turns its attention to two singer-songwriters who could be said to embody the spirit of American music, Hank Williams and Dave Van Ronk.
Though he died just aged 29 in 1953, Hank Williams remains a towering figure in country-and-western music.  The likes of "I'm So Lonesome I Could Cry," "Your Cheatin' Heart," "Cold, Cold Heart," "Jambalaya (On the Bayou)" and "Hey Good Lookin'" have been recorded countless times in country, pop, R&B and rock renditions by artists young and old.  Naturally the appetite for unheard Williams music has hardly diminished over the passing years, resulting in numerous archival excavations of rare material.   Omnivore's The Garden Spot Programs 1950 is 2014's major Williams find.
The label previewed the title, which arrives in stores on May 20, with a Record Store Day exclusive vinyl release containing eight songs.  On February 24, we wrote, "Culled from rare radio show recordings Williams cut for Naughton Farms, a plant nursery in Waxahachie, Texas (with a session band, not his familiar Drifting Cowboys ensemble), these recordings found Williams tackle hits, standards and material he rarely, if ever, recorded anywhere else. Sourced from newly-discovered transcription discs, these tunes haven't been heard for nearly six decades."
The 24 tracks on The Garden Spot Programs collects material from the four such programs that still exist, and preserve Williams' between-song patter, as well. Among the full release's 24 tracks are songs such as "Oh Susanna," "A Mansion on the Hill," "I Can't Get You Off of My Mind," "Lovesick Blues" and "I'll Be a Bachelor 'Til I Die," with some songs presented in multiple versions.  The CD packaging contains rare photos from the collection of historian and co-producer Colin Escott, as well as his new liner notes.  The release will be available on both CD and LP, with the first vinyl pressing on limited-edition, translucent red vinyl (with black vinyl to follow).  The LP package also contains Escott's notes as well as a download card.  Williams' daughter Jett Williams commented of The Garden Spot Programs, "It's incredible to me that we're still finding new recordings by my dad. Great ones, at that! No one even suspected that these recordings existed. We partnered with Omnivore Recordings for this release, and I especially love it that they're taking my dad back to vinyl."
After the jump:  we travel from Hank's native Alabama to the heart of Greenwich Village with "The Mayor of MacDougal Street," Dave Van Ronk!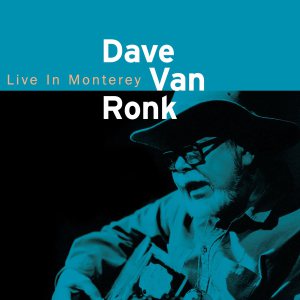 With Golden Globe and Academy Award nominations to its name, Joel and Ethan Coen's 2013 film Inside Llewyn Davis was one of the year's most acclaimed pictures. The filmmakers didn't make a secret of the fact that the movie was, in part, inspired by the life and career of Dave Van Ronk (1936-2002).  Van Ronk, the so-called Mayor of MacDougal Street, befriended young future icons like Bob Dylan, Tom Paxton and Phil Ochs, and became a key figure in the New York acoustic folk revival of the early 1960s.  Like the fictional Llewyn Davis, Van Ronk was a sometime-Merchant Marine and struggling singer.  And like the character portrayed in the movie by future Star Wars: Episode VII star Oscar Isaacs, he could often be found heckling his fellow performers from the audience at the Gaslight Café.
Omnivore's May 13 release of Live in Monterey places the spotlight squarely where it belongs, on the real man behind the movie.  This set focuses not on Van Ronk's early days in the Village but rather in 1998, when he still remained a live performer with the power to transfix an audience with just one voice and a guitar.  The 16-song concert was recorded at Monterey, California's Carleton Hall and features a typical Van Ronk blend of blues staples, traditional, and original songs.    Omnivore's first-time release of this concert is housed in a digipak and features liner notes from co-producer Rick Chelew (who actually recorded the concert in 1998) and folksinger Happy Traum.    "At one point in
his career, Dave would surely have liked to become famous," Traum observed. "But he lived his life and made his music on his own terms and settled reluctantly for being a 'legend.'"  The legend's music shines on tracks including "He Was a Friend of Mine," "Cocaine Blues," "Going Down Slow," and "St. James Infirmary."
Dave Van Ronk's Live in Monterey hits stores on May 13 on CD and digital download.  Hank Williams' The Garden Spot Programs 1950 arrives on LP, CD and digital download one week later on May 20.  You can pre-order both titles at the links below!
Hank Williams, The Garden Spot Programs 1950 (Omnivore Recordings, 2014) (Amazon U.S. / Amazon U.K.)
The Garden Spot Jingle
Lovesick Blues
A Mansion on the Hill
Fiddle Tune
I've Just Told Mama Goodbye
Closing/Oh! Susanna
The Garden Spot Jingle
Mind Your Own Business
Lovesick Blues
Fiddle Tune
At the First Fall of Snow
Closing/Oh! Susanna
The Garden Spot Jingle
I Can't Get You Off My Mind
I Don't Care (If Tomorrow Never Comes)
Fiddle Tune
Farther Along
Closing/Oh! Susanna
The Garden Spot Jingle
I'll Be a Bachelor 'Til I Die
Wedding Bells
Fiddle Tune
Jesus Remembered Me
Closing/Oh! Susanna
Tracks 1-6 from Naughton Farms Garden Spot Program Show # 4
Tracks 7-12 from Naughton Farms Garden Spot Program Show # 9
Tracks 13-18 from Naughton Farms Garden Spot Program Show #10
Tracks 19-24 from Naughton Farms Garden Spot Program Show # 11
Dave Van Ronk, Live in Monterey (Omnivore Recordings, 2014) (Amazon U.S. / Amazon U.K.)
You've Been a Good Old Wagon But You've Done Broke Down
Blood Red Moon
Jesus Met the Woman at the Well
Going Down Slow
Losers
Cocaine Blues
Winin' Boy Blues
Did You Hear John Hurt?
Jelly, Jelly
Spike Driver Blues
Sportin' Life Blues
Come Back Baby
Candy Man
He Was a Friend of Mine
St. James Infirmary
Four Strong Winds
All tracks recorded in 1998 and are previously unreleased.