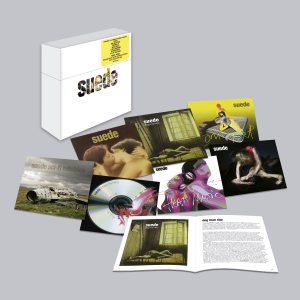 Demon Music Group's Edsel Records has a packed release slate this week from a number of artists returning to the label's roster.
From Britpop heroes Suede (a.k.a. The London Suede), the label has Royal Albert Hall, 24 March 2010, a 2-CD/1-DVD set preserving the band's reunion concert (with Brett Anderson, Neil Codling, Simon Gilbert, Richard Oakes and Mat Osman) benefiting Teenage Cancer Trust; and Sci-Fi Lullabies, a reissue of the original 2-CD anthology of the group's B-sides released between 1992 and 1997. Edsel's reissue adds a new booklet with full lyrics. Both of these titles anticipate the May 26 arrival of the 8-CD box set The Albums Collection with seven albums (including Lullabies) in mini-LP replica sleeves and an 80-page book featuring band comments on every song.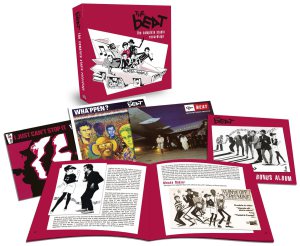 In 2011, Edsel overhauled Suede's catalogue in deluxe editions; in 2012, the label gave its most lavish treatment to the albums from Birmingham ska-pop legends The (English) Beat.   This week, the 4-CD set The Complete Studio Recordings arrives from The Beat, a.k.a. Dave Wakeling and Ranking Roger Charlery on lead vocals, Andy Cox on guitar, bassist David Steele, drummer Roger Morton and Lionel "Saxa" Martin on saxophone. The box, the latest in a string of Beat catalogue projects from labels on both sides of the Atlantic, presents the original configurations of the band's three original albums on three CDs and adds a bonus disc of singles and seven dub versions plus a new booklet.
We'll soon be detailing Edsel's future expansions of titles from more returning artists - Todd Rundgren, Belinda Carlisle and Jim Croce – but this week also sees the U.S. arrival of a new 3-CD/1-DVD box set from British post-punk rockers The Sound.  The group, formed in South London in 1979 by Adrian Borland (vocals/guitar), Graham Bailey (bass), Mike Dudley (drums) and Benita "Bi" Marshall (keyboard/saxophone/clarinet), disbanded in 1988, leaving behind just a handful of album. Their first three, from 1980-1982, are collected here: Jeopardy, From the Lion's Mouth and All Fall Down. These three seminal recordings on the Korova and WEA labels are joined by the DVD BBC Live in Concert featuring performances at the Beeb from 1981 and 1985.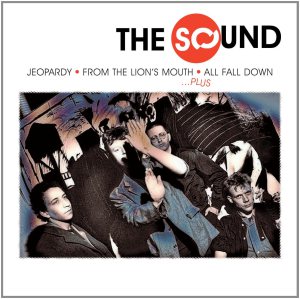 Edsel intends this box set as "the perfect opportunity to reappraise the career of The Sound," noting that the band "should have had an impact on the post-punk era on the level achieved by the likes of Joy Division, Echo and the Bunnymen, or The Cure." Each disc features copious bonus material. Jeopardy adds four live recordings from October 1980 at the BBC as well as the Live Instinct EP, "Physical World" from the Physical World EP, and "Brute Force," the non-LP B-side of "Heyday." From the Lion's Mouth adds another four live tracks from a November 1981 BBC performance plus four non-LP flips. All Fall Down adds four session outtakes and the 1983 EP This Cover Keeps Reality Unreal from singer-songwriter Kevin Hewick and The Sound.
All of the discs are housed in mini-LP replica sleeves and have been remastered by Phil Kinrade at Alchemy Mastering. A 36-page booklet is also included, with eight pages of detailed liner notes from Record Collector contributor Tim Peacock and full lyrics for all three albums. It's all housed in a sturdy clamshell case.
Take a closer look at these titles after the jump! You'll find order links and track listings for all of Edsel's titles mentioned above!
Suede, Royal Albert Hall, 24 March 2010 (Edsel EDSG 8040, 2014) (Amazon U.S. Link TBD / Amazon U.K.  )
CD 1
Intro
She
Trash
Filmstar
Animal Nitrate
Heroine
Pantomime Horse
The Drowners
Killing of a Flashboy
Can't Get Enough
Everything Will Flow
He's Gone
The Next Life
CD 2
The Asphalt World
So Young
Metal Mickey
The Wild Ones
New Generation
Beautiful Ones
The Living Dead
The 2 of Us
Saturday Night
DVD
Intro/She
Trash
Filmstar
Animal Nitrate
Heroine
Pantomime Horse
The Drowners
Killing of a Flashboy
Can't Get Enough
Everything Will Flow
He's Gone
The Next Life
The Asphalt World
So Young
Metal Mickey/Ovation
The Wild Ones
New Generation
Beautiful Ones/Offstage
The Living Dead
The 2 of Us/Speech
Saturday Night
Suede, Sci-Fi Lullabies (Nude NUDE9CD/Columbia (U.S.) C2K 68857, 1997 – reissued Edsel, 2014) (Amazon U.S. / Amazon U.K.)
CD 1
My Insatiable One
To The Birds
Where Pigs Don't Fly
He's Dead
The Big Time
High Rising
The Living Dead
My Dark Star
Killing of a Flashboy
Whipsnade
Modern Boys
Together
Bentswood Boys
Europe is Our Playground
CD 2
Every Monday Morning Comes
Have You Ever Been This Low?
Another No One
Young Men
The Sound of the Streets
Money
W.S.D.
This Time
Jumble Sale Mums
These Are The Sad Songs
Sadie
Graffiti Women
Duchess
Suede, The Albums Collection (Edsel, 2014) (Amazon U.S. Link TBD / Amazon U.K.  )
Box set includes:
Suede
Dog Man Star (in gatefold wallet)
Coming Up
Head Music
A New Morning
Bloodsports (in gatefold wallet)
Sci-Fi Lullabies (2 CDs, in gatefold wallet)
Plus Suede Songs 8-page book
The Beat, The Complete Studio Recordings (Edsel, 2014) (Amazon U.S. / Amazon U.K.  )
CD 1: I Just Can't Stop It Original LP (released as Go Feet BEAT-001 (U.K.)/I.R.S. SP-70606 (U.S.), 1980)
Mirror in the Bathroom
Hands Off…She's Mine
Two Swords
Twist & Crawl
Rough Rider
Click Click
Big Shot
Whine & Grine/Stand Down Margaret
Noise in This World
Can't Get Used to Losing You
Best Friend
Jackpot
CD 2: Wha'ppen? Original LP (released as Go Feet BEAT-003 (U.K.)/I.R.S. SP-70607 (U.S.), 1981)
Doors of Your Heart
All Out to Get You
Monkey Murders
I Am Your Flag
French Toast (Soleil Trop Chaud)
Drowning
Dream Home in NZ
Walk Away
Over and Over
Cheated
Get-a-Job
The Limits We Set
CD 3: Special Beat Service Original LP (released as Go Feet BEAT-005 (U.K.)/I.R.S. SP-70032 (U.S.), 1982)
I Confess
Jeanette
Sorry
Sole Salvation
Spar Wid Me
Rotating Head
Save It for Later
She's Going
Pato and Roger A Go Talk
Sugar and Stress
End of the Party
Ackee 1-2-3
CD 4: Bonus material
The Tears of a Clown (single A-side – 2 Tone TT6A, 1979)
Ranking Full Stop (single A-side – 2 Tone TT6A, 1979)
Too Nice to Talk To (single A-side – Go Feet FEET4, 1980)
Psychedelic Rockers (single B-side – Go Feet FEET4, 1980)
Hit It (single A-side – Go Feet FEET11, 1981)
Which Side of the Bed…? (single B-side – Go Feet FEET11, 1981)
What's Your Best Thing? (B-side to "Save It for Later" – Go Feet FEET333, 1982)
Cool Entertainer (B-side to "Pat & Roger A Go Talk" – Go Feet FEET 14, 1982)
March of the Swivelheads (B-side to "Jeanette" – Go Feet FEET15, 1982)
Can't Get Used to Losing You (1983 Remix) (single A-side – Go Feet FEET 17, 1983)
Too Nice to Talk To (Dubweiser) (12″ A-side – Go Feet FEET124, 1980)
Psychedelic Rockers (Dubweiser) (12″ B-side – Go Feet FEET124, 1980)
Doors of Your Heart (Dub) (12″ A-side – Go Feet FEET129, 1981)
Drowning (Dub) (12″ B-side – Go Feet FEET129, 1981)
Save It For Later (Extended) (12″ A-side – Go Feet FEET12333, 1982)
A Go Talk (Tappy Luppy Dub) (12″ A-side – Go Feet FEET1214, 1982)
Stand Down Margaret (Dub) (12″ B-side – Go Feet FEET3, 1980)
The Sound, Jeopardy/From the Lion's Mouth/All Fall Down...Plus (Edsel EDSB 4012, 2014) (Amazon U.S. / Amazon U.K.  )
CD 1: Jeopardy (originally released as Korova KODE 2, 1980)
I Can't Help Myself
Heartland
Hour of Need
Words Fail Me
Missiles
Heyday
Jeopardy
Night vs. Day
Resistance
Unwritten Law
Desire
Physical World (Tortch TOR 003, 1979)
Brute Force (B-side of "Heyday," Korova KOW 10, 1980)
Heartland (from Live Instinct EP, originally a promotional issue in Holland, 1981)
Brute Force (from Live Instinct EP, originally a promotional issue in Holland, 1981)
Jeopardy (from Live Instinct EP, originally a promotional issue in Holland, 1981)
Coldbeat (from Live Instinct EP, originally a promotional issue in Holland, 1981)
Heartland (Live at the BBC, recorded September 26, 1980)
Unwritten Law (Live at the BBC, recorded September 26, 1980)
Jeopardy (Live at the BBC, recorded September 26, 1980)
I Can't Help Myself (Live at the BBC, recorded September 26, 1980)
CD 2: From the Lion's Mouth (originally released as Korova KODE 5, 1981)
Winning
Sense of Purpose
Contact the Fact
Skeletons
Judgement
Fatal Flaw
Possession
The Fire
Silent Air
New Dark Age
Point of No Return (B-side of "Sense of Purpose," KOW 21, 1981)
Hot House (A-side of KOW 23, 1981)
Coldbeat (B-side of "Sense of Purpose," KOW 21, 1981)
New Dark Age (Live in Holland) (B-side of "Hot House," KOW 23, 1981)
Fatal Flaw (Live at the BBC, recorded November 9, 1981)
Skeletons (Live at the BBC, recorded November 9, 1981)
Hothouse (Live at the BBC, recorded November 9, 1981)
New Dark Age (Live at the BBC, recorded November 9, 1981)
CD 3: All Fall Down (WEA 2 40019-1, 1982)
All Fall Down
Party of the Mind
Monument
In Suspense
Where the Love Is
Song and Dance
Calling the New Tune
Red Paint
Glass and Smoke
We Could Go Far
The One and a Half Minute Song (Outtake)
Sorry (Outtake)
As Feeling Dies (Outtake)
We Could Go Far (Original Version)
Plenty (from This Cover Keeps Reality Unreal, 1983)
'Neath Dancing Waves (from This Cover Keeps Reality Unreal, 1983)
Amber (from This Cover Keeps Reality Unreal, 1983)
Scapegoat in a Country Churchyard (from This Cover Keeps Reality Unreal, 1983)
DVD: BBC Live in Concert
BBC Intro – Pete Drummond
Unwritten Law
Skeletons
Fatal Flaw
Winning
Sense of Purpose
Heartland
New Dark Age
BBC Intro – Pete Drummond & Intro Music
Golden Soldiers
Under You
Total Recall
Burning Part of Me
Whirlpool
Missiles
BBC live tracks originally released on CD on The BBC Recordings, Renascent, 2004
DVD, Tracks 1-8 originally broadcast November 21, 1981
DVD, Tracks 9-15 originally broadcast June 15, 1985