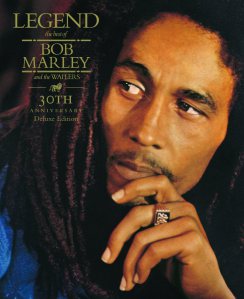 The biggest reggae album of all time is getting bigger - 5.1 channels bigger.
Island/Tuff Gong/UMe will reissue Bob Marley & The Wailers' Legend for its 30th anniversary. The posthumous compilation album (Marley had died of cancer three years earlier at only 36) has been a stalwart of catalogue music since its release in 1984, becoming the highest-selling reggae album of all time (15 million copies certified shipped by the RIAA alone, and some 27 million worldwide) and spending 992 non-consecutive weeks on Billboard's charts, second only to Pink Floyd's Dark Side of the Moon. Its most recent reissue was in 2002, featuring all 14 tracks (including two cassette bonus tracks, "Easy Skanking" and "Punky Reggae Party") in their original album versions. (A double-disc deluxe edition added a baker's dozen of 12" remixes.)
The 30th anniversary edition of Legend features a new variant on the 14-track album, with the live version of  "No Woman, No Cry" being replaced by its album version from 1973's Natty Dread. The cassette bonus tracks have also been replaced by previously unreleased alternate versions. That playlist will be available in one set on both CD and Blu-Ray Pure Audio, featuring a new 5.1 surround mix by legendary mixer Bob Clearmountain. The 28-page casebound book package promises new liner notes (including forewords from the likes of Paul McCartney and Stevie Wonder) and unseen photos. For the vinyl enthusiast, a double LP will also be pressed on tri-colored red, yellow and green wax.
The Legend continues on July 1, and you can get your copies after the jump.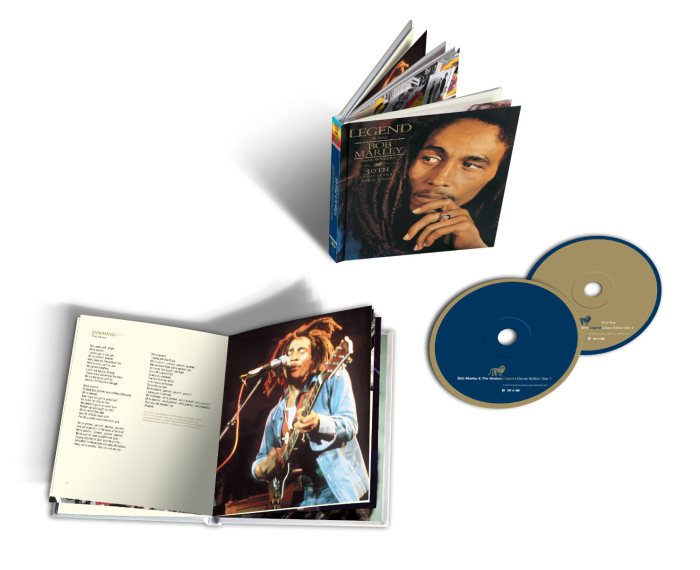 Legend: 30th Anniversary Edition (released as Island 90169, 1984 - reissued Island/Tuff Gong/UMe B0020866-00, 2014)
CD/BD: Amazon U.S. / Amazon U.K.
2LP: Amazon U.S. / Amazon U.K.
Is This Love
No Woman, No Cry
Could You Be Loved
Three Little Birds
Buffalo Soldier
Get Up, Stand Up
Stir It Up
Easy Skanking (Alternate) *
One Love/People Get Ready
I Shot the Sheriff
Waiting in Vain
Redemption Song
Satisfy My Soul
Exodus
Jamming
Punky Reggae Party (Alternate) *
Tracks 1 and 13 from Kaya (Island, 1978)
Track 2 from Natty Dread (Island, 1974)
Tracks 3 and 12 from Uprising (Island, 1980)
Tracks 4, 9, 11, and 14-15 from Exodus (Island, 1977)
Track 5 from Confrontation (Island, 1983)
Tracks 6 and 10 from Burnin' (Island, 1973)
Track 7 from Catch a Fire (Island, 197
Tracks 8 and 16 previously unreleased. Original versions from Kaya (Island, 1978) and "Jamming" single (Island, 1977)