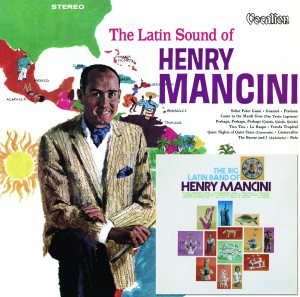 The Vocalion label continues to mine Henry Mancini's RCA Victor catalogue for two new releases, each containing two of the late composer's albums.  The Big Latin Band of Henry Mancini/The Latin Sound of Henry Mancini brings together the recordings from 1968 and 1965, respectively; Symphonic Soul /The Cop Show Themes combines the LPs from 1976 and 1975, respectively.
The Latin Sound of Henry Mancini arrived in 1965, the same year as Mancini's score album on RCA for his frequent collaborator Blake Edwards' epic romp The Great Race.  The composer-conductor was no stranger to Latin sounds; in fact, he had released an entire album of Latin-styled arrangements in 1961 with Mr. Lucky Goes Latin.  On Latin Sound, he only recorded one of his own compositions, a reworking of his famous Peter Gunn theme.  The cover depicted Mancini in front of a map, and indeed, on the album he visited the music of Brazil (Antonio Carlos Jobim's "Corcovado (Quiet Nights of Quiet Stars)", Zequinha de Abreu's "Tico Tico"), Cuba (Ernesto Lecuona's "Andalucia (The Breeze and I)"), Argentina (Edmundo Zaldivar's "Carnavalito"), Mexico ("La Raspa," a.k.a. The Mexican Hat Dance), Puerto Rico (Rafael Hernandez's "Preciosa"), and other locales.
Mancini belatedly followed up The Latin Sound with The Big Latin Band of Henry Mancini in 1968 not long after providing Blake Edwards and Peter Sellers with a swinging soundtrack to their absurdist comedy The Party.  The bandleader's sense of humor shone through on these recordings which emphasized movie music.  Big Latin Band added a playful sensibility to Elmer Bernstein's theme to The Magnificent Seven and took Mel Brooks' ode to bad taste "Springtime for Hitler" in a cha-cha direction.  Though tightly arranged and far from improvisatory, Mancini's charts also frequently allowed for soloists to take the spotlight including trumpeter Graham Young on Ennio Morricone's theme to A Fistful of Dollars and Dominic Frontiere's Hang 'Em High, and saxophonist Ronny Lang on Mancini's own theme to Touch of Evil.  Mancini also wrote one new composition in the Latin spirit, "Las Cruces,"  Other composers represented included the great Cuban bandleader Perez Prado ("Patricia") and Lalo Schifrin ("Mission: Impossible").
After the jump, we'll take a look at Symphonic Soul and The Cop Show Themes!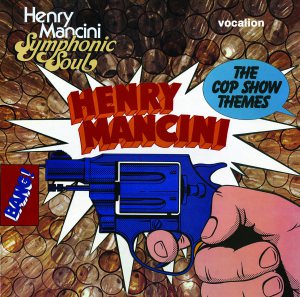 1975's The Cop Show Themes and the following year's Symphonic Soul both found Mancini in a very different style than the two Latin-themed albums.  The forward-thinking musician had been an early adopter of the electronic textures provided by keyboards and synthesizers, and the ARP synthesizer and the ubiquitous Fender Rhodes electric piano both play key roles.  While never losing sight of his prodigious gift for melody, Mancini also embraced the sounds of R&B and funk in the seventies.  For these albums which arrived around the same time as his scores for the latest Pink Panther films, he enlisted a top-drawer rhythm section with many players well-versed in jazz/R&B fusion.  For The Cop Show Themes, Mancini led Artie Kane (keyboards), Dennis Budimir and Lee Ritenour (guitars), Abe Laboriel (bass), Alan Estes (percussion) and Harvey Mason (drums).  On Symphonic Soul, Ritenour, Budimir, Laboriel and Mason were joined by The Crusaders' Joe Sample on keyboards, David T. Walker on guitar, Brazil's Mayuto Correa on "Latin percussion," and Dale Anderson and Emil Richards on standard percussion.  Every track on these two albums featured a soloist.  (Mancini was a particular champion of Kane for whom he produced and arranged the 1972 album Henry Mancini Presents – Artie Kane Plays Organ!)
The repertoire of The Cop Show Themes included Mancini's own "Mystery Movie Theme" and "Bumper's Theme" from The Blue Knight, CBS' crime drama starring George Kennedy.  He also doffed his hat to many of his prolific colleagues like Patrick Williams (The Streets of San Francisco), Billy Goldenberg (Kojak), Dave Grusin ("Keep Your Eye on the Sparrow" from Baretta), Morton Stevens (Hawaii Five-O and Police Woman) and Mike Post (The Rockford Files).  Soloists on the LP include Clare Fischer on organ, Dick Nash on trombone, Graham Young on trumpet, Ronny Lang on alto sax, Don Menza on flute, and Oscar Brashear on trumpet as well as Artie Kane, Lee Ritenour and Abe Laboriel.
For the jazz-funk-orchestral fusion of Symphonic Soul, Mancini again revived "Peter Gunn" with turns from Laboriel, Joe Sample and Bud Brisbois (on trumpet and piccolo trumpet) and composed a new title track.  He also revisited "Slow Hot Wind" from Mr. Lucky Goes Latin, but the emphasis for the LP was on contemporary material.  Joe Sample stood out on The Average White Band's "Pick Up the Pieces," Barry White's "Satin Soul," Herbie Hancock's "Butterfly," Maurice White and Jon Lind's "Sun Goddess," Van McCoy's "African Symphony" and Quincy Jones' "Soul Saga."  Symphonic Soul showed Mancini's willingness to stay current as it flirted with not just R&B and funk but even disco.
Both two-fers from Vocalion have been newly remastered by Michael J. Dutton.  Oliver Lomax supplies a lengthy, detailed essay illuminating The Cop Show Themes and Symphonic Soul; unfortunately there are no liner notes for The Latin Sound/The Big Latin Band.  Both of these releases are available now and can be ordered at the links below!
Henry Mancini, The Big Latin Band of Henry Mancini/The Latin Sound of Henry Mancini (Vocalion, 2014) (Amazon U.S. / Amazon U.K.)
The Magnificent Seven (Bernstein) Theme from the film
Springtime for Hitler (Brooks) from the film The Producers
A Fistful of Dollars (Morricone) Theme from the film – soloist: Graham Young (trumpet)
Touch of Evil (Mancini) Theme from the film – soloist: Ronny Lang (saxophone)
Patricia (Prado/Marcus)
The Good, the Bad and the Ugly (Morricone) – Theme from the film
Mission: Impossible (Schifrin) – Theme from the TV series
Norma la de Guadalajara (Prado)
Zacatecas (Codina) – soloist: Bud Brisbois (trumpet)
Hang 'em High (Frontiere) Theme from the film-  soloist: Graham Young (trumpet)
Las Cruces (Mancini)
"Señor" Peter Gunn (Mancini)
Baía (Barroso/Gilbert)
Carnavalito (Zaldivar)
Quiet Nights of Quiet Stars Corcovado (Jobim/Lees)
Vereda Tropical (Curiel)
Guararé (Fábrega/Eigel/Marbot)
La Raspa (Traditional, adaptation Mancini)
The Breeze and I/Andalucía (Lecuona/Stillman)
Preciosa (Hernández)
Come to the Mardi Gras Não Tenho Lagrimas (Bulhões; de Oliveira/Drake/Shirl)
Perhaps, Perhaps, Perhaps (Quizás, Quizás, Quizás) (Farrés/Davis)
Tico-Tico Tico-Tico No Fubá (Abreu/Oliveira/Larici/Drake)
Tracks 1-11 from The Big Latin Band of Henry Mancini, RCA Victor LP SF 7999 (1968)
Tracks 12-23 from The Latin Sound of Henry Mancini, RCA Victor LP SF 7725 (1965)
Henry Mancini, The Cop Show Themes/Symphonic Soul (Vocalion, 2014) (Amazon U.S. / Amazon U.K.)
Mystery Movie Theme (Mancini) from the TV series – soloists: Clare Fischer (organ), Graham Young (trumpet)
The Streets of San Francisco (Williams) Theme from the TV series – soloist: Artie Kane (electric piano)
Bumper's Theme (Mancini) from the TV series The Blue Knight – soloists: Graham Young (trumpet/flugelhorn), Artie Kane (electric piano), Ronny Lang (alto sax)
Medley: Kojak (Goldenberg) theme from the TV series; soloist: Graham Young (trumpet) – S.W.A.T. (DeVorzon) theme from the TV series soloist: Lee Ritenour (guitar)
Keep Your Eye on the Sparrow (Grusin/Ames) Theme from the TV series Baretta – soloists: Abraham Laboriel (bass guitar), Don Menza (flute), Oscar Brashear (trumpet)
The Rockford Files (Post/Carpenter) Theme from the TV series – soloists: Artie Kane (harpsichord), Don Menza (tenor sax)
Hawaii Five-0 (Stevens) Theme from the TV series – soloist: Dick Nash (trombone)
Police Woman (Stevens) Theme from the TV series – soloist: Abraham Laboriel (bass guitar)
Symphonic Soul (Mancini) – soloist: Bud Brisbois (piccolo trumpet)
Butterfly (Hancock) – soloists: Abraham Laboriel (bass guitar), Joe Sample (electric piano)
Satin Soul (White) – soloist: Joe Sample (organ)
Peter Gunn new version (Mancini) – Theme from the TV series soloists: Abraham Laboriel (bass guitar), Joe Sample (organ), Bud Brisbois (piccolo trumpet/trumpet)
Slow Hot Wind/Lujon (Mancini/Gimbel) – soloist: Louise DiTullio (flute)
Pick up the Pieces (Ball/Stuart) – soloist: Joe Sample (organ)
Sun Goddess (White/Lind) – soloist: Joe Sample (organ)
Soul Saga/Song of the Buffalo Soldier (Jones/Brown/Bahler/Greene) – soloist: Tommy Morgan (harmonica)
African Symphony (McCoy) – soloist: Mayuto Correa (African finger piano)
Tracks 1-8 from The Cop Show Themes, RCA Victor LP RS 1086 (1976)
Tracks 9-17 from Symphonic Soul, RCA Victor LP APL1 1025 (1975)