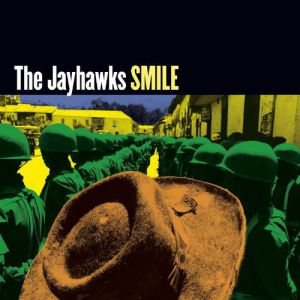 Years after their early major label discography was expanded on CD by Legacy Recordings, the remainder of the alt-country band's output for the American Recordings label will be remastered and expanded by Universal this summer.
The band's last three albums for American - Sound of Lies (1997), Smile (2000) and Rainy Day Music (2003) - caught the band in an interesting time of transition. Marc Olson, who with Gary Louris formed the band's primary singer/songwriter/guitarist unit, unexpectedly left the band after the release of 1995's Tomorrow the Green Grass, leaving Louris, bassist Marc Perlman and keyboardist Karen Grotberg to continue without him. The lineup was greatly expanded on the somewhat darker Sound of Lies, adding guitarist Kraig Johnson, drummer Tim O'Reagan and violinist Jessy Greene. The band, sans Greene, worked with producer Bob Ezrin (KISS, Alice Cooper, Pink Floyd) toward a brighter, pop-oriented sound on Smile and, following the exit of Johnson and Grotberg (and subsequent addition of Stephen McCarthy on guitar), returned to their roots on Rainy Day Music, in fact their highest charting album.
The Jayhawks went on hiatus in 2005, after which Louris and Olson reunited as a duo; the band reunited in 2009, releasing the album Mockingbird Time with the Tomorrow the Green Grass-era lineup in 2011. To promote these new reissues, the band's Sound of Lies-era lineup of Louris, Perlman, Grotberg, O'Reagan and Johnson will tour this summer.
Each CD is remastered and expanded with a handful of bonus tracks, many of them previously unreleased. (Rainy Day Music does not feature the six-track bonus EP More Rain included with certain original copies, though all six of its bonus tracks are being released for the first time. Additionally, American will release all three as deluxe double-vinyl titles on August 5 (this will be Smile's first release on the format in the U.S.).
The vinyl titles are not yet available for pre-order, but the CDs, which hit stores July 1, can be found on Amazon after the jump!
Sound of Lies: Expanded Edition (originally released as American Recordings CK 65677, 1997 - reissued American Recordings B0020888-02, 2014) (Amazon U.S. / Amazon U.K.)
The Man Who Loved Life
Think About It
Trouble
It's Up to You
Stick in the Mud
Big Star
Poor Little Fish
Sixteen Down
Haywire
Dying on the Vine
Bottomless Cup
Sound of Lies
I Hear You Cry (U.K. bonus track - American Recordings 74321 46406-2, 1997)
Sleepyhead (B-side to "Big Star" - American Recordings 74321 48677-2 (U.K.), 1997)
Kirby's Tune (Studio Outtake) *
It's Up to You (Alternate Version) *
Sound of Lies (Rough Mix) *
Smile: Expanded Edition (originally released as American Recordings CK 69522, 2000 - reissued American Recordings B0020871-02, 2014) (Amazon U.S. / Amazon U.K.)
Smile
I'm Gonna Make You Love Me
What Led Me to This Town
Somewhere in Ohio
A Break in the Clouds
Queen of the World
Life Floats By
Broken Harpoon
Pretty Thing
Mr. Wilson
(In My) Wildest Dreams
Better Days
Baby, Baby, Baby
Who Made You King (Studio Outtake) (from U.K. promo version of album (cat. # unknown), 2000)
Gypsy in the Mood (Studio Outtake) (from U.K. promo version of album (cat. # unknown), 2000)
A Part of You (Demo) *
Life's Little Ups and Downs (Live) *
Greta Garbo (Demo) *
Five Cornered Blues (Demo) *
Rainy Day Music: Expanded Edition (originally released as American Recordings B0000076-02, 2003 - reissued American Recordings B0020887-02, 2014) (Amazon U.S. / Amazon U.K.)
Stumbling Through the Dark
Tailspin
All the Right Reasons
Save It for a Rainy Day
Eyes of Sarahjane
One Man's Problem
Don't Let the World Get in Your Way
Come to the River
Angelyne
Madman
You Look So Young
Tampa to Tulsa
Will I See You in Heaven
Stumbling Through the Dark (Reprise)
Tailspin ("Inbred" Version/Demo) *
Waiting for Salvation (Demo) *
The Book You Wrote (Demo) *
False Eyelashes (Blue-Eyed Soul) (Demo) *
Won't Last Long (Demo) *
In the Canyon (Live) *