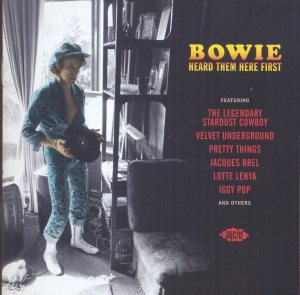 David Bowie did the unthinkable in this media-obsessed age when, on the date of his sixty-sixth birthday (January 8, 2013), he managed to catch the world off-guard to announce his first new album in a decade.  Bowie and his cohorts had kept The Next Day a secret, proving that the iconoclastic artist could still do things his way.  In six decades, from the 1960s through the present, David Bowie has kept his fans guessing what might come next.  And while Bowie's sound is one of the most distinctive in popular music, it was shaped from a myriad of influences.  Many of those artists are represented on Ace Records' recent release Bowie Heard Them Here First.  Following similar volumes for Ramones, Elvis Presley, Cliff Richard, The New York Dolls, and Dusty Springfield, this compilation features the original versions of songs recorded by Bowie over the years.
Bowie's status as a songwriter par excellence has rarely been in doubt, so it's no surprise that he's felt comfortable enough to pay tribute to his colleagues over the years.  The songs on Bowie Heard Them Here First are presented in the sequence which Bowie recorded them.  The earliest pair of songs on the compilation, however, date from the period before Bowie had blossomed as a songwriter.  The opening cut, Paul Revere and the Raiders' honking garage rocker "Louie, Go Home," appeared on the B-side of Bowie's very first record with his R&B group Davie Jones and The King Bees.  It's followed by Bobby Bland's torrid original recording of "I Pity the Fool," which he had recorded with his second band, The Manish Boys - named, like The Rolling Stones, after a Muddy Waters song.
From there, Bowie Heard Them Here First surprises by addressing just how many of Bowie's albums have featured cover songs in integral roles.  Though his first three albums - the 1967 self-titled Deram debut, 1969's David Bowie a.k.a. Space Oddity and 1970's The Man Who Sold the World - all eschewed others' songs, Bowie surprisingly opened the second side of his 1971 LP Hunky Dory with a song by Biff Rose and Paul Williams.  The latter had already achieved major fame with smash hits like "We've Only Just Begun" and "Rainy Days and Mondays" (both via The Carpenters) when Bowie interpreted "Fill Your Heart" which co-writer Rose had recorded in 1968.  Rose's recording is included here, but Tiny Tim also recorded the sweetly twee ballad in 1968 for his debut album and the B-side of "Tip-Toe Thru the Tulips."
Bowie's glam breakthrough The Rise and Fall of Ziggy Stardust and the Spiders from Mars had one choice cover version, too, closing its first side with singer-songwriter Ron Davies' 'It Ain't Easy" (also covered by Three Dog Night, Shelby Lynne and Dave Edmunds.)  Davies' A&M single from 1969 is featured here.  The cover tradition continued on the Ziggy follow-up Aladdin Sane with The Rolling Stones' "Let's Spend the Night Together," which likely was unavailable for licensing to Ace.  Hence, Bowie Heard Them Here First continues with a brace of five tracks representing Bowie's first and only all-covers album, 1973's Pin Ups.  Bowie intended the album to celebrate the period of 1964-1967 in London when pop, rock and roll and R&B all merged into a whole thanks to groups like The Kinks ("Where Have All the Good Times Gone"), The Mojos ("Everything's Alright"), The Pretty Things ("Rosalyn"), The Easybeats ("Friday on My Mind") and The Merseys ("Sorrow").  The B-side of Bowie's single release of the catchy "Sorrow" was from the same period but in a very different style: Jacques Brel's 1964 chanson "Port of Amsterdam."  Brel's French original is included by Ace.  Brel's louche story-songs also inspired another prime influence on Bowie, the romantic balladeer-turned-avant garde hero Scott Walker.  It took Bowie until 1993 to get around to recording one of Walker's songs; the dark disco-styled "Nite Flights" from The Walker Brothers' final album in 1978 is reprised on this collection.
Don't miss a thing - hit the jump for more including the complete track listing with discography!
Since Pin-Ups, Bowie has recorded numerous songs spanning a wide variety of genres from punk to pop, many of which Bowie Heard Them Here First touches upon.  Only a compilation inspired by this eclectic artist could find Johnny Mathis (the haunting "Wild is the Wind," covered on Station to Station) alongside Tom Verlaine ("Kingdom Come," covered on Scary Monsters...and Super Creeps), or Lotte Lenya ("Alabama Song," recorded by Bowie for a 1980 single) alongside Roxy Music ("If There is Something," which Bowie recorded with his band Tin Machine in 1991.)  Other selections hail from Bowie friends Lou Reed (The Velvet Underground's massive sonic attack "White Light/White Heat") and Iggy Pop ("Don't Look Down") and inspirations Chuck Berry ("Around and Around") and Eddie Floyd ("Knock on Wood").  Of course, Martha and the Vandellas' original version of "Dancing in the Streets," which led to Bowie and Mick Jagger's U.K. No. 1/U.S. Top 10 version in 1985, has made the cut.
Though 2013's The Next Day didn't include any cover songs, per se, Bowie did pay homage to Jerry Lordan's 1960 instrumental "Apache," which he almost certainly would have heard growing up in The Shadows' hit rendition.  He incorporated Lordan's song into his own new composition, "How Does the Grass Grow"   Indeed, Bowie continues to be the rare artist to synthesize disparate influences and inspirations into a sound and style entirely his own.  There are notable omissions here - The Beach Boys' "God Only Knows," The Beatles' "Across the Universe," Morrissey's "I Know It's Gonna Happen Someday" and more - but this collection is a fun, fascinating listen that makes it possible to hear the ingredients that went into Bowie's own songwriting.
Bowie Heard Them Here First, compiled by Mick Patrick, contains a lengthy and detailed essay about Bowie's career by Ian Johnston as well as numerous images of the original records contained on the CD. The track listing also helpfully indicates where you can find each of Bowie's own recordings.  All tracks have been remastered by Nick Robbins.  The anthology is available now from Ace Records at the links below!
Various Artists, Bowie Heard Them Here First (Ace CDCHD 1387, 2014) (Amazon U.S. / Amazon U.K.)
Louie - Go Home - Paul Revere and the Raiders (Columbia 43008, 1964)
I Pity the Fool - Bobby Bland (Duke 332, 1961)
Fill Your Heart - Biff Rose (Tetragrammaton LP T-103, 1968) (*)
It Ain't Easy - Ron Davies (A&M 1188, 1969) (*)
White Light/White Heat - The Velvet Underground (Verve VK 10560, 1967) (*)
Everything's Alright - The Mojos (Decca F 11853, 1964)
Friday on My Mind - The Easybeats (United Artists UP 1157, 1966)
Rosalyn - The Pretty Things (Fontana TF 469, 1964)
Sorrow - The Merseys (Fontana TF 694, 1966)
Where Have All the Good Times Gone - The Kinks (Pye 7N 15981, 1965)
Around and Around - Chuck Berry (Chess 1691, 1958)
Knock on Wood - Eddie Floyd (Stax 194, 1966) (*)
Amsterdam - Jacques Brel (Barclay EP 70 725 M, 1964)
Wild is the Wind - Johnny Mathis (Columbia 41060, 1957)
Alabama Song - Lotte Lenya and the Three Admirals (Ultraphon A 371, 1930)
Kingdom Come - Tom Verlaine (Elektra LP ELK 52156, 1979) (*)
Criminal World - Metro (Transatlantic BIG 560, 1976) (*)
Don't Look Down - Iggy Pop (Arista LP AB 4237, 1979) (*)
Dancing in the Street - Martha and the Vandellas (Gordy 7033, 1964)
If There is Something - Roxy Music (Island LP ILPS 9200, 1972) (*)
Nite Flights - The Walker Brothers (GTP LP GTLP 033, 1978) (*)
Cactus - Pixies (4AD CAD 803CD, 1988) (*)
Pablo Picasso - The Modern Lovers (Home of the Hits LP HH 1910, 1976) (*)
I Took a Trip on a Gemini Spaceship - The Legendary Stardust Cowboy (Mercury 72891, 1969)
All tracks mono except (*) in stereo