In every job that must be done
There is an element of fun
You find the fun, and - SNAP!
The job's a game!

-Julie Andrews, "A Spoonful of Sugar," Mary Poppins (song written by Richard M. Sherman and Robert B. Sherman)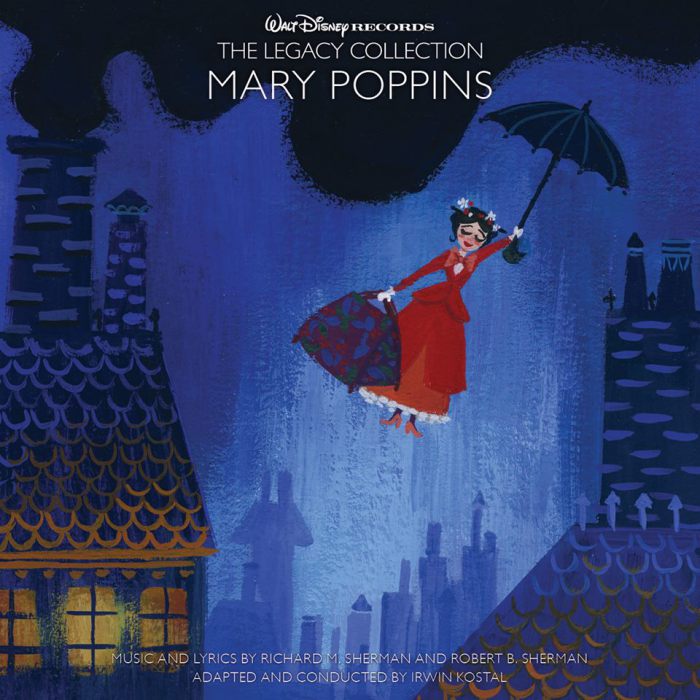 There's certainly an element of fun in catalog music, particularly catalog soundtracks, particularly the somehow oft-ignored discography of The Walt Disney Company. Disney's somewhat passive approach to a catalog initiative (tempered by their licensing deal with the Intrada label) finally made an about face this spring with the announcement of several titles in "The Legacy Collection": expanded anniversary editions of classic Disney film soundtracks with gorgeous artwork to match. The Lion King was the first title in the line, released this week, and August will see the release of the next: a 50th anniversary edition of the music to Mary Poppins.
As dramatized in last year's Saving Mr. Banks, Walt Disney was an unabashed fan of P.L. Travers' series of children's books about a magical nanny. Travers was reticent to allow her books to be adapted, but ultimately allowed Disney to pursue the idea. The result, though somewhat deviated from the books, was pure Disney magic: Julie Andrews (star of My Fair Lady and Camelot on Broadway but untested enough onscreen to be replaced for the My Fair Lady film adaptation by Audrey Hepburn) as the practically perfect heroine, bona-fide TV star Dick Van Dyke as the everyman/one man band/pavement artist/chimney sweep Bert, great supporting turns by David Tomlinson, Glynis Johns and Ed Wynn, a stunning multimedia presentation (that deftly mixed live action with animation in several key sequences)...and the songs.
Brothers Richard and Robert Sherman were already known quantities in both the songwriting world ("You're Sixteen") and on the Disney backlot (Annette Funicello's Top 10 hit "Tall Paul," simple, singable and sincere tunes for 1964 World's Fair and Disneyland attractions) when Walt asked "the boys" to compose a song score for Poppins. But who could have imagined just what a triumph it would be? With instant standards like "A Spoonful of Sugar," "Jolly Holiday," "Supercalifragilisticexpialidocious" (a song this author is proud to have typed from memory) and "Feed the Birds (Tuppence a Bag)" - a song that Walt would often ask the Shermans to play for him, just because - Mary Poppins remains one of the brightest works of art in the Disney canon. Ultimately, the film won five Oscars, including two trophies for the Sherman Brothers and one for Julie Andrews, winning Best Actress over - you guessed it - Audrey Hepburn in My Fair Lady. (Disney passed away in 1966, leaving Poppins as the company's last major work he lived to see to completion.)
So how is Disney's Legacy Collection celebrating this soundtrack masterpiece? Hit the jump to find out!
While the Legacy Collection version of The Lion King was a two-disc affair, Poppins will be featured across three discs. Much of this material has been heard before: Discs 1 and 3 (featuring vintage story conferences between the Shermans, musical director Don DiGradi and author Travers, plus interviews with cast and crew) were in fact released as a handsome 40th anniversary edition in 2004. But Disc 2 features some very exciting treats for fans: 15 "pre-demos" recorded by the Shermans during pre-production of the film, including a handful of songs that never made it to the final film. (A smattering of these recordings were heard on the deluxe edition of the film score to Saving Mr. Banks.) Additionally, seven of the unused tracks have been re-recorded as "Lost Chords" versions - intriguing full arrangements of the tracks with talented voice actors to imagine what final film versions might sound like. Several songs will be immediately familiar to longtime Poppins fanatics, including favorite demos "The Eyes of Love," "The Chimpanzoo" and "The Land of Sand," which was rewritten and repurposed for 1967's The Jungle Book. The disc will close out with the rare original LP version of the film's overture.
The Legacy Collection of Mary Poppins looks to brilliantly continue this exciting product line when it's released August 26. Pre-order links are now active, and the official track list is below.
Mary Poppins: Original Motion Picture Soundtrack - The Legacy Collection (Walt Disney Records, 2014) (Amazon U.S. / Amazon U.K.  )
Disc 1: Original soundtrack (this arrangement first released as Walt Disney Records 61202-7, 2004)
Buena Vista Fanfare
Overture *
One Man Band
Sister Suffragette - Glynis Johns with Hermione Baddeley & Reta Shaw *
The Life I Lead - David Tomlinson *
The Perfect Nanny - Karen Dotrice & Matthew Garber *
Air Mail/Admiral Boom/The Not-So-Perfect Nannies/Mary Poppins Arrives
A Spoonful of Sugar - Julie Andrews *
Pavement Artist - Dick Van Dyke *
Jolly Holiday - Julie Andrews & Dick Van Dyke with Bill Lee, Ginny Tyler, Paul Frees, Marc Breaux, Marni Nixon & Thurl Ravenscroft *
Jolly Holiday (Reprise) - Julie Andrews & Dick Van Dyke with Daws Butler, Peter Ellenshaw, Dal McKennon, J. Pat O'Malley, Richard Sherman & David Tomlinson
Penguin Dance
The Carousel Horses
Supercailfragilisticexpialidocious - Julie Andrews & Dick Van Dyke with Richard Sherman & J. Pat O'Malley *
Pavement Artist (Reprise) - Dick Van Dyke
Stay Awake - Julie Andrews *
Trouble At Uncle Albert's
I Love to Laugh - Ed Wynn, Julie Andrews & Dick Van Dyke *
A British Bank (The Life I Lead) - David Tomlinson & Julie Andrews *
Feed the Birds (Tuppence a Bag) - Julie Andrews *
Father's Footsteps
Fidelity Fiduciary Bank - David Tomlinson and "Nackvid Keyd" with Arthur Malet, Bill Lee, Thurl Ravenscroft, Allan Davies & William R. Cole *
Panic At the Bank
Chim Chim Cher-ee/March Over the Rooftops - Dick Van Dyke, Julie Andrews, Karen Dotrice & Matthew Garber *
Step in Time - Dick Van Dyke, The Chimney Sweep Chorus & Cast *
A Man Has Dreams (The Life I Lead/A Spoonful of Sugar) - David Tomlinson & Dick Van Dyke *
Mr. Banks is Discharged
Let's Go Fly a Kite - David Tomlinson, Dick Van Dyke, The Londoners & Cast *
* edits first released on Buena Vista Records LP 4026, 1964
Disc 2: Pre-Demos and Lost Chords (previously unreleased except where noted)
The Perfect Nanny (Pre-Demo) - Richard M. Sherman & Robert B. Sherman
Jolly Holiday (Pre-Demo) - Richard M. Sherman & Robert B. Sherman
The Pearly Song (Supercalifragilisticexpialidocious) (Pre-Demo) - Richard M. Sherman & Robert B. Sherman *
Stay Awake (Pre-Demo) - Richard M. Sherman
Chim Chim Cher-ee (Pre-Demo) - Richard M. Sherman & Robert B. Sherman *
I Love to Laugh (Pre-Demo) - Richard M. Sherman & Robert B. Sherman
Feed the Birds (Tuppence a Bag) (Pre-Demo) - Richard M. Sherman *
Let's Go Fly a Kite (Pre-Demo) - Richard M. Sherman & Robert B. Sherman *
Mary Poppins Melody (Pre-Demo) - Richard M. Sherman & Robert B. Sherman
Mary Poppins Melody (New Recording) - Kate Higgins
Admiral Boom (Demo) - Richard M. Sherman
Admiral Boom (New Recording) - Randy Crenshaw, Jeff Gunn & Dennis Kyle
The Right Side (Pre-Demo) - Richard M. Sherman & Robert B. Sherman
The Right Side (New Recording) - Juliana Hansen
The Chimpanzoo (Demo) - Richard M. Sherman
The Chimpanzoo (New Recording) - Bob Joyce, Jeff Gunn, Randy Crenshaw & Dennis Kyle
The Land of Sand (Pre-Demo) - Richard M. Sherman & Robert B. Sherman
The Land of Sand (New Recording) - Kate Higgins, Juliana Hansen, Jeff Gunn & Bob Joyce
The North Pole Polka (Pre-Demo) - Richard M. Sherman
The North Pole Polka (New Recording) - Jeff Gunn, Bob Joyce, Richard M. Sherman, Kate Higgins & Dennis Kyle
The Eyes of Love (Pre-Demo) - Richard M. Sherman
The Eyes of Love (New Recording) - Juliana Hansen
Overture (LP Version) (from Buena Vista Records LP 4026, 1964)
* first released on Saving Mr. Banks: Original Motion Picture Soundtrack - Deluxe Edition (Walt Disney Records D0019311-02, 2013)
Disc 3: Story Meeting Excerpts with P.L. Travers and bonus material (first released as Walt Disney Records 61202-7, 2004 except where noted)
Cherry Tree Lane
Mr. Banks Decided to Hire a Nanny Himself
The Children Write Their Own Advertisement
The Line of Applicants/Mary Poppins Arrives
Notes on Mary Meeting The Banks
Up to the Nursery
Bert and the Talking Pictures
A Carousel Horse Ride to the Seashore
The Return Home
The Next Morning We Meet the Seweep
Uncle Albert's
A Change in the Wind and An Adventure with Admiral Boom
The Bird Woman
Mr. Banks and The Compass
The Compass Sequence: Timbuktu
The Compass Sequence: The Land of Sand
The Compass Sequence: Tea in China
The Compass Sequence: The North Pole
The Return Home
Everyone Descends on Cherry Tree Lane
Mary Departs
Hollywood Spotlight Microphone Interview, 1964
The Sherman Brothers Reminisce (also released on Walt Disney Records CD016, 1989)